Bill & Ted Face The Music Casts Titular Duo's Daughters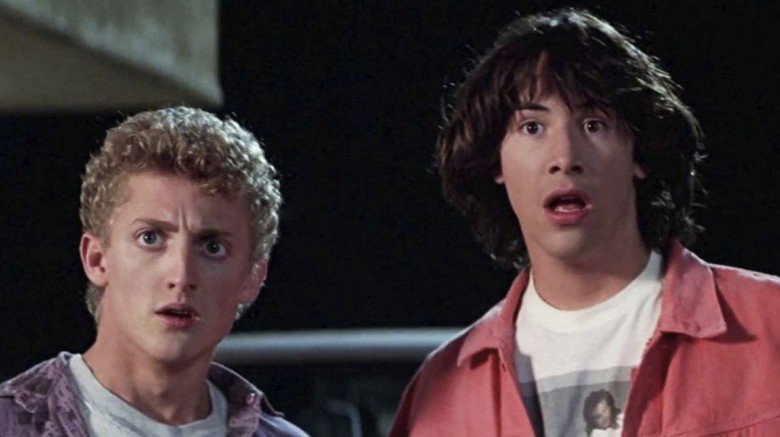 Bill and Ted must face the music in their third big-screen feature — but they won't do it alone. 
The Hollywood Reporter confirmed Wednesday that Bill & Ted Face the Music has selected the actresses who will fill two very important roles: the daughters of the time-traveling rockers Bill S. Preston Esquire (Alex Winter) and Theodore "Ted" Logan (Keanu Reeves). 
The Babysitter and Three Billboards Outside Ebbing, Missouri star Samara Weaving is set to play Bill's daughter, Thea Preston, while Atypical and The Glass Castle actress Brigette Lundy-Paine will portray Ted's daughter, Billie Logan. Sounds like Bill probably gave Thea the full name "Theodora" in honor of Ted, and Ted named Billie after Bill. They really are best friends forever!
Fans may remember learning about Bill and Ted's children in the second franchise installment, Bill & Ted's Bogus Journey, the sequel to Bill & Ted's Excellent Adventure. The film introduced them to the story, along with their mothers Elizabeth and Joanna — both 15th-century-princesses-turned-musicians. Reeves previously teased that Bill & Ted Face the Music will bring Thea and Billie to the forefront of all the awesomeness, and hinted that audiences are in for a treat when they meet the grown-up gals: "They were introduced in the second film, and they've grown up a spell, and I'm sure they can't help but have a bit of their mothers and fathers in them. So we'll see how that expresses itself."
Bill & Ted Face the Music producer Scott Kroopf had nothing but wonderful things to say about Lundy-Paine and Weaving. Let his comments inspire in you excitement about their casting in the next Bill & Ted movie: "When we saw Samara and Brigette together, it was like déjà vu. It was exactly the way we felt when we first saw Keanu and Alex. We are so thrilled to have this funny and unique pair join the Bill and Ted team!" 
Beyond looking the part of Bill and Ted's darling daughters, Lundy-Paine and Weaving have the acting chops needed to bring bright performances to Face the Music. The film is expected to be just as timey-wimey as its two predecessors, with Bill and Ted under the gun to write a universe-saving song at the behest of a pseudo-prophet from the future, repair their marriages, and get back into good graces with Thea and Billie. It should be fun to see how Lundy-Paine and Weaving get along with Winter and Reeves on-screen.
Bill & Ted Face the Music is set for release on August 21, 2020.