How Kit Harington Reacted When He Found Out How GoT Ended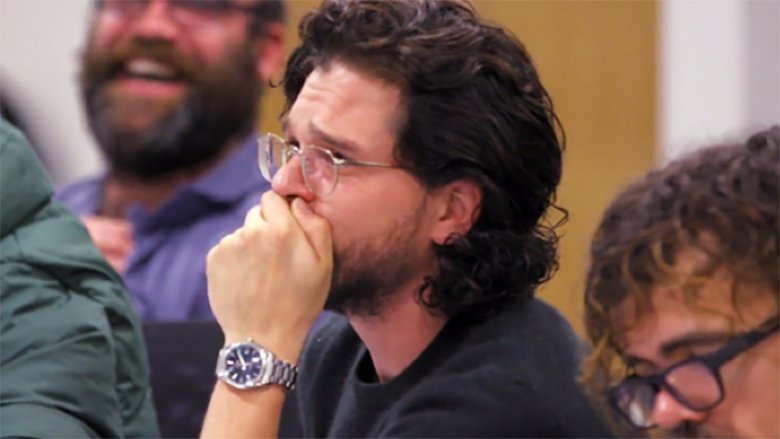 Contains spoilers for Game of Thrones season 8, including the series finale
Whether you're a diehard Game of Thrones fan or someone who has never seen a single episode, you've likely heard that the series ended its eight-season run on a heart-wrenching note. Fans expressed anguish and distress all over social media, but that response now pales in comparison to Thrones actor Kit Harington's emotional reaction to learning how the show concluded. 
During the recently released Game of Thrones documentary The Last Watch that takes viewers behind the scenes of the show's final season, the cast sits down for the season 8 table read, which includes the run-through for the last-ever episode. Entitled "The Iron Throne," the series finale features the shocking moment in which Harington's character Jon Snow, the rightful heir to the Seven Kingdoms, meets with Emilia Clarke's Daenerys Targaryen in the Throne Room, embraces her, and then murders her by stabbing her through the heart. 
It's a scene few Game of Thrones enthusiasts saw coming — and one that took Harington by complete surprise. 
In the documentary, viewers watch as writer and co-executive producer Bryan Cogman reads the scene's script direction aloud: Jon and Dany share a "perfect kiss," Dany's eyes "open suddenly as she draws a sharp breath," and Jon's eyes flicker open and fill with tears. "We see Jon with his hand still on the hilt of the dagger he just lodged in Dany's heart," says Cogman, and Harington breaks down. 
The actor puts his head in his hands, then leans back in his chair and covers his mouth. A literally gobsmacked Harington looks directly across the table at Clarke, who nods at him knowingly and attempts to make him laugh by pulling a funny face that can only be interpreted as "sorry you didn't find out sooner!" Harington shakes his head in utter disbelief that his character really killed the woman he loved, and is visibly shaken as Cogman finishes narrating the scene. 
"Kneeling down to the floor beside her, he looks down at what he's done — terrible and necessary," Cogman says. "End of Game of Thrones."
The cast applauds, then the camera shows Harington crying as he claps and Clarke using the sleeve of her shirt to wipe away tears of her own. Anyone watching the doc at home will undoubtedly end up doing the same.
As Clarke previously revealed in an interview with Entertainment Weekly, Harington's stunned reaction to how Game of Thrones wrapped up is down to the fact that he avoided reading the scripts until the table read. The pair even sat next to each other on the flight to Belfast for the table read, and it took every ounce of will power Clarke had to not discuss what happens on the final episode. 
"This literally sums up Kit and I's friendship," said Clarke, who shared that she intentionally sat opposite Harington at the table so she could "watch him compute all of this." Harington told the outlet that the weight of the moment between Jon and Daenerys truly hit him when he locked eyes with Clarke: "I looked at Emilia and there was a moment of me realizing, 'No, no.'" 
"He was crying," Clarke added. "And then it was kind of great him not having read it."
Harington's emotional response to arguably the biggest moment of the Game of Thrones finale extended to his final day on set, during which he shot sequences for Daenerys' siege of King's Landing that took place on episode 5 of season 8. When it was announced he had officially wrapped all scenes on the series and would never step in front of the camera for Thrones ever again, Harington was quickly reduced to tears. 
"I feel like my heart is breaking. I love this show," said an already-crying Harington in The Last Watch, pausing to take a breath and clear the lump in his throat. "More than, I think, anything. It has never been a job for me. It's been my life, and this will always be the greatest thing I'll ever do and be a part of, and you have been just my family. I love you for it, and thank you so much."
Not everyone has had as sweet a reaction to the Game of Thrones finale as Harington did, though they were certainly just as passionate. Some fans felt short-changed by the concluding season and were outraged at how the series ended — with Jon killing Daenerys, the North establishing itself as an independent kingdom with Sansa Stark (Sophie Turner) serving as its queen, and Bran Stark (Isaac Hempstead Wright) becoming the new King of the Six Kingdoms and Protector of the Realm. A petition demanding HBO remake the final season is over 1.5 million signatures strong, and people have been setting the internet on fire with heated takes on the Thrones finale. 
However, just because Harington shed a tears over the ending of Game of Thrones doesn't mean he didn't have some choice words for the naysayers out there. Speaking with Esquire, the actor let it be known that he won't tolerate any Thrones slander: "I don't mean to sound mean about critics here — but whatever critic spends half an hour writing about this season and makes their judgment on it, in my head they can go f*** themselves. Because I know how much work was put into this ... Now if people feel let down by it, I don't give a f*** — because everyone tried their hardest. That's how I feel. In the end, no one's bigger fans of the show than we are, and we're kind of doing it for ourselves. That's all we could do, really. And I was just happy we got to the end."
His watch may have ended, but Harington surely will defend Game of Thrones for the rest of his life — teary eyes and all.