Godzilla: King Of The Monsters: First Reactions Promise Kaiju Battle Royale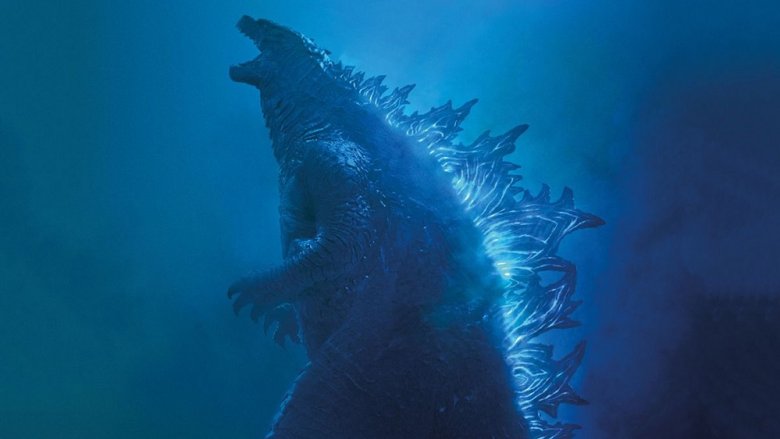 Get ready for a kaiju smackdown.
Godzilla: King of the Monsters has been screened for critics and industry insiders, and while there is still a moratorium on reviews, the early reactions on Twitter are nothing short of ecstatic. The general consensus: if you want to see an all-out monster brawl (and really, who doesn't), then this flick is for you. (via Collider)
Legendary Pictures' MonsterVerse has started off a tad slowly, both narratively and in terms of the frequency of its releases. Its inaugural picture, 2014's Godzilla, was generally well-received — but famously, many audiences found it to have not quite enough Godzilla for their liking, as the big beast only got around 20 minutes of screen time. It was followed by 2017's Kong: Skull Island, a 70's-set period piece which introduced the ginormous ape and further expanded the mythology of Monarch, the universe-linking secret organization which keeps tabs on "Titans," as they are referred to by those in the know, worldwide. That film's post-credits stinger also gave us the first tease of famed kaiju Rodan, Mothra, and the three-headed King Ghidorah — and according to those lucky enough to have caught a screening of King of the Monsters, that tease paid off handsomely in this third entry.
While Kong apparently doesn't make an appearance — that's being saved for next year's Godzilla vs. Kong — all three of the aforementioned icons of kaiju cinema makes their presence felt in a knock-down, drag-out, city-leveling, mind-blowing throwdown for the ages. Collider's Chief Editor Steven Weintraub, who was underwhelmed by the first entry in the series, did an abrupt 180 on King of the Monsters, calling it "awesome," and promising that it provides a heaping helping of monster-on-monster action.
Had real issues with #godzilla (2014). The movie was called Godzilla but he was barely in it. Thankfully @Mike_Dougherty's #GodzillaKingOfTheMonsters is awesome. It's everything I wanted last movie to b but wasn't. If u want to see Godzilla fighting other monsters u will b happy. pic.twitter.com/ksswtSey6O

— Steven Weintraub (@colliderfrosty) May 11, 2019
In a follow-up tweet, Weintraub doled out high praise for the flick's visual effects team, saying, "The VFX in #GodzillaKingOfTheMonsters are insane. I'm so impressed with what @Mike_Dougherty did with the material and monster battles and can't wait to see it again. If you weren't looking forward to the new @GodzillaMovie it's time to buy tickets."
The Blu-Ray news and review Twitter account Reel Cinematics echoed the common refrain of being wholly unprepared for the level of spectacle in the film, calling it the closest thing the U.S. has ever produced to the classic Japanese kaiju films of yore.
#GodzillaKingOfTheMonsters is probably the closest an American film is ever gonna get to Japanese #kaiju. If #godzilla fighting other big ass monsters is your thing than you will be pleased. I was not ready for anything I was seeing onscreen #GodzillaMovie

— ReelCinematics (@ReelCinematics) May 11, 2019
It was a sentiment also shared by Den of Geek associate editor David Crow, who called it "the craziest, most entertaining American kaiju movie in existence," and a flick that "needs to be seen on a monster-sized screen."
Am now free to say #GodzillaMovie King of the Monsters is handily the craziest, most entertaining American kaiju movie in existence. But that doesn't do justice to just how wild a ride this is, jumping from the majesty of the monsters to the wackiness of the humans...

— David Crow (@DCrowsNest) May 11, 2019
This movie is a weird hybrid of worshipful adoration for Godzilla, Ghidorah, et al., and the camp and glee of fight night on the WWE. #GodzillaMovie 2 genuinely works & needs to be seen on a monster-sized screen. Also Mothra fans, keep a sharp eye out during her waterfall reveal.

— David Crow (@DCrowsNest) May 11, 2019
Crow was not the only one to urge viewers to seek out a gigantic screen on which to take in the movie. In a tweet with slightly more profanity than can be reprinted in full here, Nerdist creative director Dan Casey wrote, "Godzilla: King of the Monsters rules so... hard. Easily the most fun I've had in theaters all year and the best MonsterVerse entry yet. The scale is mind-boggling & every action scene could be your new desktop wallpaper. See it on the biggest screen possible."
Fandango managing editor Erik Davis was one of many voices reassuring fans that the film definitively fixes Godzilla's not-enough-Godzilla problem, and also expressing strong enthusiasm for Godzilla vs. Kong, after his viewing.
#GodzillaKingOfTheMonsters ups the monster action considerably. The battle scenes are gorgeous & fierce & feel ripped from the pages of a gnarly graphic novel. You want a giant-monster movie throwdown, this is it and then some. Can't wait for that Godzilla vs Kong movie now pic.twitter.com/3RnAOSc00V

— Erik Davis (@ErikDavis) May 11, 2019
But perhaps nobody was more effusive in their praise than ComicBook.com writer Megan Peters, who threw around words like "thrilling," "breathtaking," and "momentous" as if they were on clearance sale. Peters even urged fans who are not yet on board with the MonsterVerse to go ahead and get on board, already, saying that King of the Monsters sets up more crazy kaiju action "for years to come."
Honestly, #GodzillaMovie is (atomically) breathtaking. If you aren't with the MosterVerse and its kaiju revolution, this film will change your mind.

— Megan Peters (@meganpeterscb) May 11, 2019
We here at Looper have been on board with this movie since the ridiculously awesome trailers dropped, and we have to say, we like being proven right. With that other massive film featuring tons of iconic characters still going gangbusters at the international box office, 2019 is shaping up to yield an embarrassment of riches when it comes to critically acclaimed blockbusters that bring all of our fondest childhood memories to life while delivering the action-packed goods and making all of the money.
Godzilla: King of the Monsters is directed by Michael Dougherty (Trick 'r Treat) from a script he co-wrote with frequent collaborator Zach Shields (Krampus). It stars Millie Bobby Brown (Stranger Things), Vera Farmiga (the Conjuring series), Kyle Chandler (First Man), O'Shea Jackson, Jr. (Straight Outta Compton), and the great Ken Watanabe, reprising his role of Dr. Ishiro Serizawa from the first film. It hits screens on May 30.