Chaos Walking Starring Tom Holland, Daisy Ridley Is Reportedly 'Unreleasable'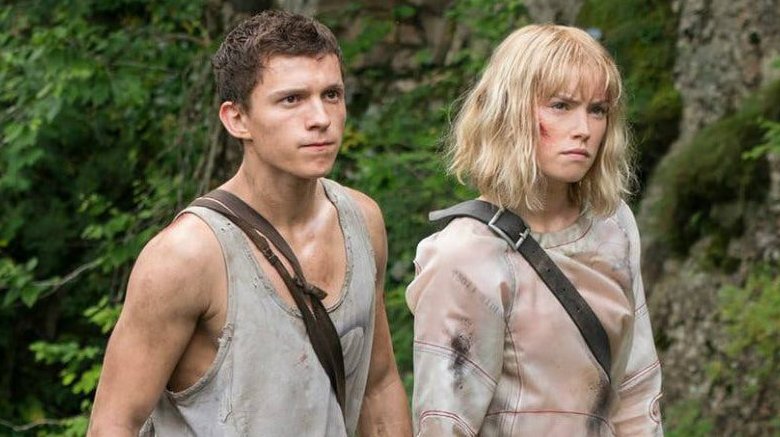 Chaos Walking has walked into chaos. 
In a recent piece published by the Wall Street Journal, Lionsgate Entertainment employees have indicated that the first cut of Chaos Walking, the Tom Holland and Daisy Ridley-starring sci-fi drama initially slated to open in theaters on March 1, is unfit for public consumption.
An adaptation of Patrick Ness' novel The Knife of Never Letting Go, the first entry in his Chaos Walking book trilogy, the film is being called a "major challenge" for Lionsgate, which has already drained $100 million in production costs to get the movie made. After principal photography wrapped in November of 2017, Lionsgate executives watched "initial cuts" of Chaos Walking in 2018 — and what played out was evidently nightmarish. Chaos Walking is said to have "turned out so poorly it was deemed unreleasable" by Lionsgate bigwigs. 
In April of 2018, it was reported that Chaos Walking would undergo two to three weeks of "additionally photography," set to begin either at the end of that year or in early 2019. Lionsgate announced earlier this year that Chaos Walking wouldn't make its planned premiere date in March, and in April, director Doug Liman confirmed the start of the reshoots. 
The studio is expected to spend several million more dollars over the course of the reshoot period, in efforts to save Chaos Walking and incorporate extra sequences that will boost its commercial viability. Lionsgate CEO Jon Feltheimer is quoted as saying of the situation, "We wouldn't be shooting more if we didn't think we could make this movie work."
Sadly, the rough patch Chaos Walking is working through right now has had a disappointing ripple effect: because Holland, who leads Chaos Walking as Todd Hewitt, is tied up on the set of the film, he couldn't make it to the world premiere of Avengers: Endgame in Los Angeles on April 22. Granted, Holland's Marvel character Spider-Man was dusted at the end of Avengers: Infinity War and, as far as anyone knows, is currently still dead as a doornail, so perhaps the actor would have been M.I.A. from the Endgame premiere even if he wasn't trying to revive Chaos Walking.
Executives judging the first cut of Chaos Walking as "unreleasable" is far from the first bump in the road of production Liman has had to overcome. In fact, troubled productions are sort of Liman's thing. 
His most infamous work was The Bourne Identity, which was beset with so many problems that executive producer Frank Marshall essentially replaced him as director by the end of the shoot. According to Den of Geek, "The problems began almost as soon as filming started. Liman had already rubbed Universal up the wrong way by insisting that he shoot in Paris rather than choose a cheaper city like Montreal as a substitute." Saar Klein, who edited The Bourne Identity, once said that the film was "overly chaotic," and that the team "went into production with a script that was just a mess." Suffice to say, Liman's behavior — which, by Liman's own admission, involved a "huge epic screaming fight, the biggest fight on the set ever" — didn't go over well. The filmmaker noted, "Universal hated me. I had an arch-enemy at the studio. They were trying to shut me down."
Liman has also been a part of the troubled Mr. & Mrs. Smith and Edge of Tomorrow, both of which required substantial reshoots and stripped studios' pockets of enormous amounts of cash. The latter reportedly even started shooting without a completed script. 
With any luck, the reshoots on Chaos Walking will be enough to redeem the film. We at home likely won't get an idea of what Chaos Walking looks like until later this year, and the flick probably won't launch until sometime in 2020. Lionsgate is said to be waiting until reshoots are completed before giving Chaos Walking a new premiere date.