Daisy Ridley Shares First Look At Chaos Walking With Tom Holland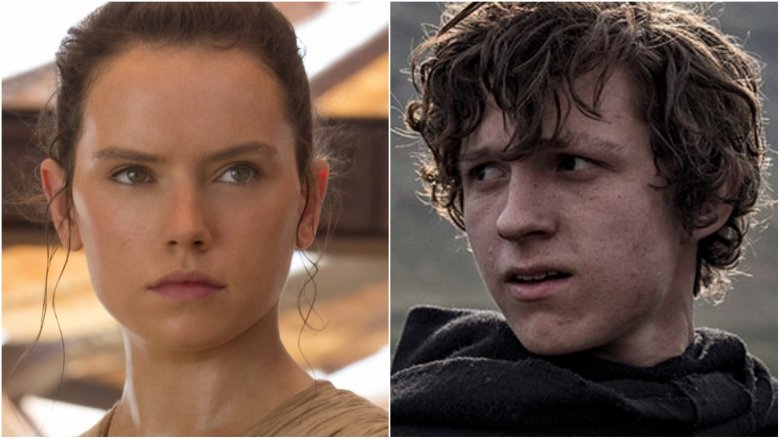 Let the memes begin.
Daisy Ridley posted the first photo from the set of the upcoming adaptation of Chaos Walking, and it provides our first look at the Star Wars: The Force Awakens lead alongside Tom Holland, otherwise known as Spider-Man. Check out the photo below and find out if you can see the actors beyond their iconic roles. It's more difficult than you might think, even with Ridley's blonde wig.
Based on the YA novel series by Patrick Ness, Chaos Walking takes place in a future world where all women have disappeared and every living thing can experience each other's thoughts in an endless stream of sounds and images called "Noise." Todd Hewitt (Holland) believes myths about the source of the Noise, and he finds a mysterious spot in the wilderness where the Noise is silent. He soon meets Viola Eade (Ridley), the girl who is linked to the silence, and the pair team up to warn a group of settlers about an insane preacher named Aaron (David Oyelowo) and the warlike people of Prentisstown. 
While it may seem like pretty standard, dystopian YA fare like The Hunger Games and Divergent, there are a lot of intriguing names attached to Chaos Walking. Doug Liman (Edge of Tomorrow, The Bourne Identity) directs from a script by Ness, Gary Spinelli (American Made), Charlie Kaufman (Eternal Sunshine of the Spotless Mind), John Lee Hancock (Snow White and the Huntsman), and Lindsey Beer (Godzilla vs. King Kong).
The movie is expected to arrive March 1, 2019. But, of course, both Ridley and Holland have pretty good steady gigs if Chaos Walking doesn't work out.