How The Latest Game Of Thrones Episode Might Have Spoiled The Finale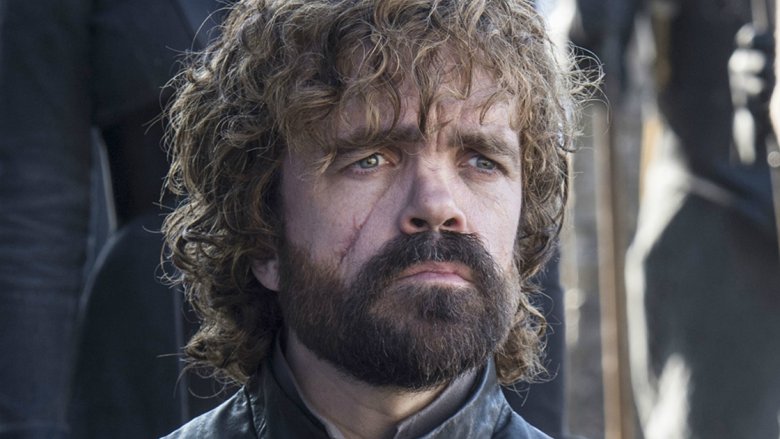 Contains spoilers for Game of Thrones season 8, episode 2, "A Knight of the Seven Kingdoms"
It's hard to anticipate what might happen on Game of Thrones — especially now that the HBO show has surpassed its source material, George R.R. Martin's A Song of Ice and Fire novel series. The eighth and final season of Thrones is no exception to this rule of unpredictability: Episode 2, which aired on Sunday, April 21, surprised viewers with a love scene between Arya Stark (Maisie Williams) and Gendry (Joe Dempsie) and an emotional moment when Jaime Lannister (Nikolaj Coster-Waldau) made Brienne of Tarth (Gwendoline Christie) a knight of the Seven Kingdoms, and ended on a cliffhanger that left audiences everywhere sweating over what would go down next. 
As it happens, though, the latest installment of Game of Thrones might have spoiled the finale just before the concluding scene played out. 
A melancholy song Lady Brienne's squire Podrick (Daniel Portman) sings during "A Knight of the Seven Kingdoms" seems to foreshadow how Thrones will end and teases which person vying for the Iron Throne will truly end up ruling. 
The musical moment happens while Podrick, Brienne, Jaime, Tormund Giantsbane (Kristofer Hivju), Tyrion Lannister (Peter Dinklage), and Ser Davos Seaworth (Liam Cunningham) are gathered around a fire, awaiting the arrival of the Night King and the Army of the Dead. They drink and reminisce on past battles and soak in each other's presence on what could be the last time they're together in one place, or even the final night of their lives. When the wine runs out and most everyone wants to get some rest, Tyrion asks to stay a bit longer and requests someone sing a song. No one but Podrick pipes up, and he begins singing a mournful tune: "High in the halls of the kings who are gone / Jenny would dance with her ghosts / The ones she had lost and the ones she had found / And the ones who had loved her the most." 
He continues, "The ones who had been gone for so very long / She couldn't remember their names / They spun her around on the damp old stone / Spun away all her sorrow and pain / And she never wanted to leave / Never wanted to leave / Never wanted to leave / Never wanted to leave / Never wanted to leave / Never wanted to leave." 
This scene did more than just tug on heartstrings as it played over shots of our heroes in Winterfell readying themselves for battle, or evoke the mood Pippin (Billy Boyd) created when he sang "The Edge of Night" ahead of the Battle of Osgiliath in The Lord of the Rings. In the A Song of Ice and Fire books, this tune is titled "Jenny's Song," and is directly connected to the series' central characters and their ancestors. 
"Jenny's Song" appears in the novels as one of the Ghost of High Heart's favorite songs, which she refers to as "my Jenny's song." Jenny is Jenny of Oldstones, a friend of the Ghost of High Heart and a low-status woman who married Prince Duncan Targaryen. Their union, which Prince Duncan's father King Aegon V Targaryen disapproved of, spurred Prince Duncan, who had been engaged to a daughter of Lyonel Baratheon, to renounce his claim to the Iron Throne despite being the rightful heir. In the same way Jaime Lannister shoved Bran Stark (Isaac Hempstead Wright) out of a Winterfell tower to protect his incestuous relationship with his sister Cersei (Lena Headey), Prince Duncan made the bold decision to abdicate the throne to marry Jenny. The things they do for love, eh?
Not only does Jenny and Duncan's story mirror that of Jaime and Cersei's circa season 1, in that both couples did everything it took to be together, but it also parallels two other Targaryens: Jon Snow (Kit Harington), whose real name is Aegon Targaryen, and Daenerys (Emilia Clarke). 
During episode 2, Jon reveals to his lady love that he's actually her nephew, the son of her brother Rhaegar Targaryen and Lyanna Stark, and the rightful heir to the Iron Throne, given he's a living male descendent of Aerys "The Mad King" Targaryen. Podrick singing "Jenny's Song" just before that conversation happens might foreshadow the events of the Game of Thrones finale: Jon could relinquish his power in order to be with Daenerys, just as Prince Duncan did to have Jenny as his wife. 
It's doubtful that Podrick knew everything about Jon's parentage and the story of Jenny and Duncan when he decided to sing the sad tune, but there's even more hidden meaning in the song that supports the idea Jon may give up the Iron Throne to marry (or at least continue a relationship with) Daenerys. 
The mystical witch who loved it so much, the Ghost of High Heart, is thought to be the first person who delivered the prophesy that Aerys and Rhaella Targaryen, Dany's parents and Jon's grandparents, would give way to the Prince That Was Promised — that he would be related to them by blood. Prince Rhaegar, Dany's brother and Aerys and Rhaella's son, grew obsessive over the prophecy, believing in his youth that he was the Prince That Was Promised; the prophecy indicates that the prince would be born "amidst salt and smoke," and on the day Rhaegar was born, House Targaryen's summer palace Summerhall was engulfed in flames (representing smoke) and many shed tears (representing salt) over those who perished in the tragedy. Rhaegar also thought that if he wasn't the Prince, one of his children would be.
As Vanity Fair notes, Rhaegar became fixated on the idea that he was the Prince That Was Promised, and may have actually written "Jenny's Song." In the books, during the Tourney of Harrenhal, Rhaegar plays a song for Lyanna Stark — the woman he fell in love with, wed in secret, and had a child, Aegon Targaryen/Jon Snow, with. It's not entirely out of the realm of possibilities that the tune was the same one Podrick sang on the most recent episode of Game of Thrones. 
So, how does this all fit together? We'll break it down. 
Pordick sings a song centered on Jenny, whose husband abandoned his claim to the Iron Throne in favor of love. The Ghost of High Heart is thought to be the same woman who accompanied Jenny at her wedding to Duncan, and the witch who first prophesied the Prince That Was Promised being a descendant of Aerys and Rhaella Targaryen. Speculation goes that Rhaegar, who was already convinced he was the Prince That Was Promised, wrote "Jenny's Song" and sang it to Lyanna — who is, in a way, the Jenny to his Duncan, as Rhaegar annulled his marriage to Elia Martell before marrying Lyanna. Just after "Jenny's Song" ends during episode 2 of Game of Thrones season 8, we flash to see Jon and Daenerys standing in front of Lyanna Stark's statue in the Winterfell crypts, with Dany telling Jon that her brother Rhaegar — wait for it — "liked to sing." Because of how closely associated Jenny is to the prophecy of the Prince That Was Promised, there stands a chance that "Jenny's Song" is more about the prophecy than Jenny herself.
What's even more telling is that right as Podrick sings the final line, the episode shifts to Dany and Jon — the last living descendants of Aerys and Rhaella, the sister and son of the man who believed he or one of his sons would be the Prince That Was Promised. Above all else, though, "Jenny's Song" tells the story of the true-born heir to the Iron Throne giving up everything for love. Jon, Rhaegar's son, might be both the Prince That Was Promised and someone who, like his ancestor Duncan, surrenders his claim to kingship to be with Daenerys — and "Jenny's Song" could be the clue to that conclusion. 
This is certainly a complicated idea, dripping with secrets and references, and it proves that showrunners David Benioff and Dan Weiss may have had their minds on the Prince That Was Promised prophecy while crafting season 8 of Game of Thrones. There really is no telling whether "Jenny's Song" and its many meanings reflects how the series will conclude, or whether Jon will actually chose love over power during the finale, but there's a chance that the tune does encapsulate what will happen in the end. If it winds up that "Jenny's Song" is nothing more than a tune sung at an emotional time, at least Podrick actor Daniel Portman got to prove he has the voice of an angel.