The Stunning Arya Romance Scene From Game Of Thrones Explained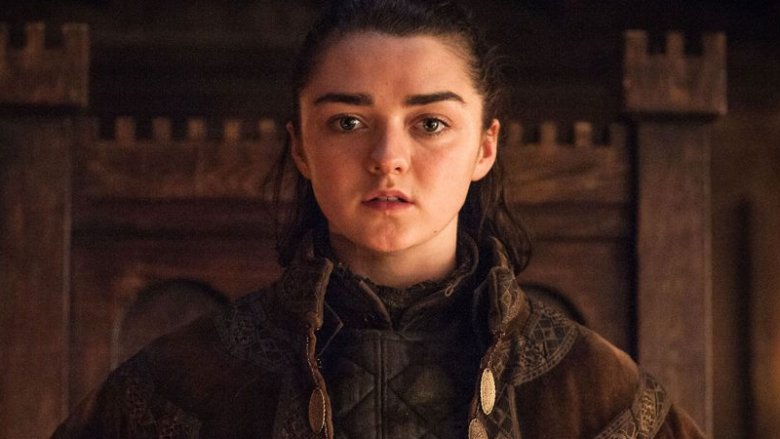 Contains spoilers for Game of Thrones season 8, episode 2, "A Knight of the Seven Kingdoms"
Betty Draper said it, and Arya Stark defied it: "You don't kiss boys. Boys kiss you." 
On the second episode of Game of Thrones season 8, "A Knight of the Seven Kingdoms," those at Winterfell carefully chose how to spend their last few hours before the arrival of the Night King and his army of White Walkers. Jaime Lannister (Nikolaj Coster-Waldau) knighted Brienne of Tarth (Gwendoline Christie) in a scene that left nary a dry eye in any house. The Hound (Rory McCann) sat out in the snow with Beric Dondarrion (Richard Dormer), who bit his tongue when the Hound asked him not to ramble on about the Lord of Light. Tyrion Lannister (Peter Dinklage) drank wine and sat by the fire with Jaime, Brienne, Ser Davos Seaworth (Liam Cunningham), Podrick (Daniel Portman), and Tormund (Kristofer Hivju); Ser Jorah Mormont (Iain Glen) tried and failed to persuade little Lyanna (Bella Ramsey) to sit out the fight with the dead and stay in the crypts; and Jon Snow (Kit Harington) let the direwolf out of the bag when he told Daenerys Targaryen (Emilia Clarke) that he's her nephew, the true heir to the Iron Throne. 
Not bad ways to mark what could be the last moments they spend alive ahead of the White Walkers' invasion — but Arya Stark (Maisie Williams) had everyone beat when she turned the spark between her and her childhood friend Gendry (Joe Dempsie), the blacksmith and bastard of Robert Baratheon, into something more... much more. In a tucked-away corridor of the Winterfell castle, Arya confessed to Gendry, clear as day and with unwavering confidence, "We're probably going to die soon. I want to know what it's like before that happens." And thus, House Stark and House Baratheon formed – ahem — an alliance for the night. 
Game of Thrones co-creator and showrunner David Benioff explained the surprise romance scene on HBO's Inside the Episode for "A Knight of the Seven Kingdoms."
"For us, what was interesting about this episode was that this is our last night together, and I think everyone would face the end in different ways. Some characters want to make love for the first time because they've never done it before, and other characters who are getting drunk and singing songs," said Benioff, referencing Arya's decision and that of the Fireside Chit-Chat Club. "Everyone faces [the end of the world] in different ways, but they're all facing it and that's why this episode was so important to us, because it's all these characters that we've been following for so long and now they're facing a common enemy."
Arya actress Maisie Williams opened up about the steamy scene with Entertainment Weekly, sharing that she initially didn't believe the moment was real. Williams suspected that Benioff and Thrones co-creator Dan Weiss were messing with her, just as they had done with Jon Snow actor Kit Harington during season 1 when they gave him a script featuring a fake scene in which the former Night's Watch Brother has his hair "burnt down to the scalp" and his face permanently disfigured by fire. 
"At first, I thought it was a prank," Williams said, adding that Arya's sex scene was the first one she read for season 8, after Sansa Stark actress Sophie Turner called her up in a frenzy and told her to skip to that moment. She continued, "I was like, 'Yo, good one.' And [the showrunners were] like, 'No, we haven't done that this year.' Oh f***!"
It wasn't until the cast sat down for the table read that Williams accepted that Benioff and Weiss weren't pranking her, and that 18-year-old Arya truly would become a woman on the second episode of the final season. Williams quipped that her mind started racing when she realized what filming the romance scene would entail: "I got to the read-through and I'm reading the scene and thought, 'Oh, we're actually going to do this. When do I shoot this? I need to go to the gym.' A whole list of things." 
Game of Thrones being a series that isn't shy about nudity and with many of its stars appearing in their birthday suits throughout past seasons, the question of whether Arya would strip down on camera needed addressing. Williams, now 22 years old, explained that she was in control of the decision: "David and Dan were like: 'You can show as much or as little as you want.' So I kept myself pretty private. I don't think it's important for Arya to flash. This beat isn't really about that. And everybody else has already done it on the show."
The actress also offered her interpretation of the scene, noting that she feels this represents a moment in time where Arya embraces emotion (both lust and fear) after rejecting it while training to be an assassin and using her hunger for revenge as motivation to keep moving forward. 
"It was really interesting because it's a very human relationship for Arya," said Williams. "This is something she's stayed away from — an emotion we've never really seen her engage with. David and Dan were like, 'It's the end of the world, what else would you have her do?' This may be a moment where Arya accepts death tomorrow, which she never does ... It's interesting to see Arya be a bit more human, speak more normally about things people are scared of."
As for Gendry actor Joe Dempsie, he admitted that shooting the scene was "slightly strange" since he's known Williams for over a decade, first meeting her when he was in his 20s and she was just 11. "At the same time, I don't want to be patronizing toward Maisie," he stated. "So we just had a lot of fun with it."
Back in 2017, Dempsie talked with The Hollywood Reporter about the series exploring a romance between Arya and Gendry, which is hinted at in George R.R. Martin's A Song of Ice and Fire novel series. 
"As a result of the difference in age, I think one of the roles Gendry played in Arya's story was as him being an older guy who sort of awakens certain feelings in Arya for the first time as she's becoming a young woman. There's that scene in season two where I'm forging a sword — fairly inexplicably without a shirt on — and I think the idea was to convey the idea of Arya experiencing feelings she's never felt before. Everyone's had that at some point," Dempsie said at the time. "Whether that means Gendry has a place in Arya's heart or vice versa, I have no idea. I think there's almost a sibling element, too. At that point in the story, Gendry really reminded her of her brothers and of home. That was the comfort with him. But it could go a number of ways. It would just be nice if they met again, wouldn't it? It's a pairing you wouldn't want to mess with."
Meet again they certainly did — and Thrones fans are absolutely freaking out over the Arya-Gendry romance. Reactions have ranged from "shocked and proud" to "happy for Arya because she got to choose and be normal for just a bit." And, of course, fans flooded social media with hilarious memes about the hook-up. 
But what does this all mean for Arya and Gendry post-Army of the Dead battle? Some speculate that Arya will fall pregnant with Gendry's child — who would be the bastard grandson of Robert Baratheon (Mark Addy), the king before his other bastard children Joffrey (Jack Gleeson) and Tommen (Dean-Charles Chapman) sat on the Iron Throne — and that the two will rule Westeros until their offspring comes of age. It's a little far-fetched, but hey, stranger things have happened on Game of Thrones. 
For now, Arya's main focus will be fighting against the White Walkers, using the weapon Gendry forged for her to take the creatures down. On episode 3 of season 8, she and everyone else poised to protect Winterfell will stare in the face of death — and there's only one thing they'll say to death: not today. 
Game of Thrones airs Sundays at 9 PM ET on HBO.