Game Of Thrones Actor John Bradley Talks Sam's Emotional Revelations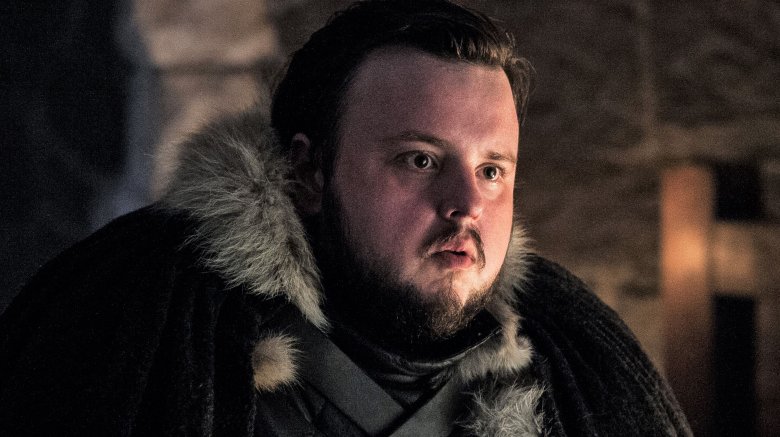 HBO
Contains spoilers for Game of Thrones season 8, episode 1, "Winterfell"
The season 8 premiere of Game of Thrones was a long-awaited and astounding one. Jon Snow (Kit Harington) finally learned the truth about his parentage after believing himself a Stark bastard his entire life, Daenerys Targaryen (Emilia Clarke) unknowingly resembled one of her lover's old flames when she suggested she and Jon cuddle in a cave for the rest of forever, Arya Stark (Maisie Williams) asked Gendry (Joe Dempsie) to construct what very well might be a Night King-killing weapon, and Bran Stark (Isaac Hempstead Wright) had the most intense staring contest with his "old friend" Jaime Lannister (Nikolaj Coster-Waldau) the world has ever witnessed. 
It was also a massive episode for Samwell Tarly (John Bradley), who both delivered and received shocking news. First, Sam discovered that Dany had burnt his father Randyll Tarly (James Faulkner) and his brother Dickon Tarly (Tom Hopper) alive after they refused to bend the knee and recognize her as their queen. Then, Sam had to break the news to Jon that he isn't the bastard son of Ned Stark but the true heir to the Iron Throne (vis-à-vis Jon being the eldest male descendent of the Mad King, the son of Rhaegar Targaryen and Lyanna Stark). Needless to say, Sam's emotions ran high during the opening episode of Thrones season 8. 
Actor John Bradley spoke with Variety on Monday morning, the day after the episode aired, to discuss his character's big revelations. 
"It's hard to huddle up in your little bed and know that you're being watched all over the world at that exact moment. It feels like I'm hungover. It feels like New Year's Day. You've been waiting for it for so long, and the day after you just don't know how to feel," said Bradley, who also shared that he and Jon Snow star Kit Harington spent several days going through their lines for the big scene in the Winterfell crypts to avoid hitting "a stumbling block" or tripping up when it came to film the sequence. 
The actor continued, "He just understandably needs to get that off his chest ... [It's] the most important piece of information in the entire show. From a performance point of view it was very delicate, because I know I had to get all of the emotions into the first half of the scene, and in the second half abandon them. Sam has to calm himself down and explain the situation to Jon very calmly and in terms which are easy to understand. He knows Jon is going to be angry, he knows any blasphemy against the sainted figure of Ned Stark is going to rile Jon up. Sam needs to be as calm as possible to throw a cold blanket on that, to make Jon listen to what he has got to say."
Prior to Sam telling his best bud Jon about his real parents and confirming that he's the rightful heir to the Iron Throne and not his aunt-girlfriend Daenerys, Sam had a heated encounter with the Mother of Dragons herself, who told Sam what she did to his father and brother. It was the first time Bradley and Dany actress Emilia Clarke ever appeared opposite one another on Game of Thrones. Bradley called the experience working with Clarke "a true joy," especially after "watching her like a fan" for seven seasons straight and getting a feel for how Dany's cold and calculated demeanor contrasts against Sam's softer nature. 
"I wanted it to be as uncomfortable a viewing experience as possible," Bradley stated, referencing the heartbreaking moment when Sam's lips started to quiver and his eyes began to water. 
Thankfully, though, Bradley assured that there are "plenty of lighter scenes" ahead on Game of Thrones and promised that fans worried the series will only get darker from here have nothing to fear, as the ending is extremely fulfilling. 
"It's an ending that we're really satisfied with. We're not afraid to talk about it, we're not dreading people seeing it or how they're going to react. Quite a few shows have been great and then missed on the finale, and that's tarnished people's relationship with the show, but we're not going to do that," he said. "Ever since I first read that last page of script, the last page of season 8, episode 6, I have been desperate for people to see it. I'm gonna feel that way the second before it starts in five weeks time. It's gonna give the fans and the show itself the ending they deserve."
How exactly Thrones will wrap up its concluding chapter is anyone's — and we do mean anyone's given the countless fan theories circulating through social media at the minute — guess for now. The series has just five episodes left (for a shortened six-episode season), each of which will apparently feel like a feature film. Fingers crossed Sam doesn't have to drop any more life-altering bombshells in the upcoming episodes.
Game of Thrones season 8 airs new episodes on Sundays at 9 PM ET on HBO.