Shazam!: Dwayne Johnson Thanks Fans, Teases Start Of Production On Black Adam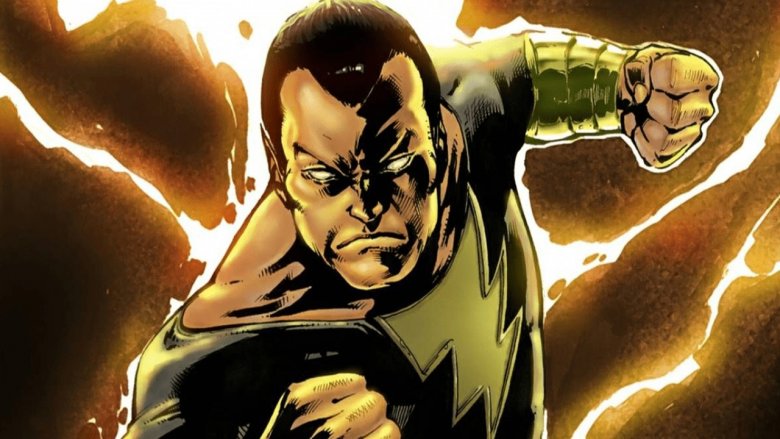 Shazam may have conquered the box office this past weekend, but his biggest challenge is on its way.
Dwayne Johnson, one of the flick's producers, took to Instagram Sunday to thank fans for its success — and also to offer a tidbit of info about Black Adam, the starring vehicle for the classic Shazam nemesis, to which he's long been attached.
A bit of background: Shazam! has been in development for over a decade, long before the DC Extended Universe — or Worlds of DC, as it has now been retroactively branded — came into being. It actually entered pre-production all the way back in 2008, with Peter Segal (Tommy Boy) slated to direct from a script by John August (Charlie and the Chocolate Factory); even at that point, Johnson was attached to star as Black Adam, and throughout all the years of the flick's languishing in development hell, he's been a driving force in making sure that it didn't die on the vine. As the project saw a phalanx of directors, writers, and stars come and go, Johnson remained a steady presence as a producer, never wavering in his assertions that Shazam — and Black Adam — would one day get their due on the big screen.
Black Adam — a onetime Egyptian prince and champion who ran afoul of the wizard Shazam after forcefully installing himself as the dictator-like ruler of his home country of Kahndaq — is a complex character, one whose noble origins and seeming good intentions keep running up against his lust for power and jealousy of young Billy Batson. After all these years of waiting to realize the character onscreen, the Rock is obviously over the moon in his Instagram post — not only because Shazam! finally debuted to critical praise and respectable box office, but because this success means that the time for Black Adam to make his big-screen debut is finally on the horizon.
Johnson begins by offering his profuse thanks to the ticket-buying public (or "a very big package of gratitude," in his words), a mile-wide grin on his face. He quickly runs down all of the specific things he's thankful for — the picture's #1 box office ranking, all those piles of receipts, its glowing Rotten Tomatoes score — before getting to the real reason he's so psyched. "You know, this project... we had some challenges, and we took a risk... as we were developing this a few years ago... [because] we were trying to tell two origin stories in one script," he says. He goes on to elaborate that for most of the flick's development, it was assumed that Adam — his traditional adversary — would be its villain, a notion about which Johnson describes a moment of insight on his part. "Black Adam is an anti-hero, or a villain, who I cannot wait to play. I've been developing this, and it's been with me in my DNA, for over ten years now. We should start shooting that in about a year, I'm very excited about that. But anyway, the challenges were, as you guys can imagine, trying to tell two very big origin stories... in one script. I didn't think it was working, [and] finally I called up Warner Brothers' Toby Emmerich... and I said, brother, we have to split these stories and make two different movies."
Johnson says that Emmerich immediately agreed, continuing, "So we rolled the dice... 'cause you never know with these things. And I did feel in my gut that [two films were warranted] out of respect to both origin stories... [with Shazam and Black Adam having] vastly different backstories." He goes on to offer praise for Shazam! star Zachary Levi and the filmmakers before wrapping up his post with, well, a threat: "I can't wait to play Black Adam. 'Cause they're all getting their ass kicked when I play Black Adam. I'll tell ya, a reckoning is coming for everyone!"
So, there you have it: not only is Johnson absolutely beside himself with joy over the prospect of suiting up as Black Adam to kick everyone's ass, but we can now actually put a tentative timetable on when that's going to happen. Assuming that the picture fires up its production early next year per his comments, we could expect to see it no later than 2021, and possibly even in time for the 2020 holiday season. Thanks for offhandedly dropping that huge bit of news, Mr. Rock, and we'd like to politely ask that you please refrain from kicking our asses. Check out the full video below.