Disney's Aladdin: Alan Tudyk Joins Voice Cast As Iago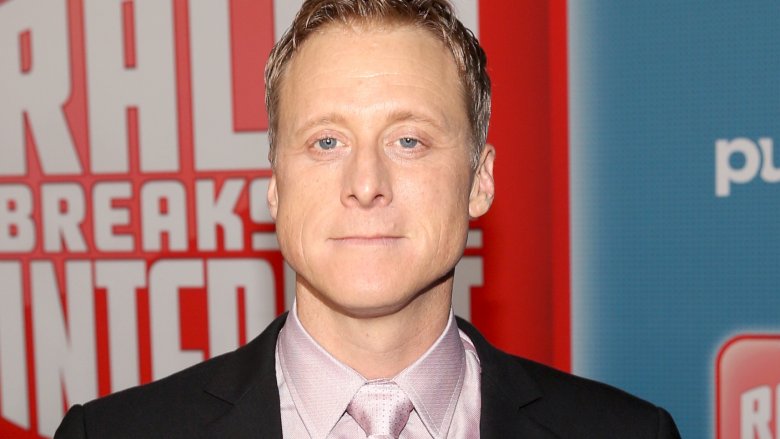 Getty Images
Familiar faces like Will Smith and Naomi Scott are leading Disney's live-action Aladdin, and a familiar voice has just joined the cast. 
The Hollywood Reporter confirmed on Tuesday that prolific voice actor Alan Tudyk is set to voice Iago, the parrot pet of the powerful sorcerer and sinister Grand vizier of Agrabah Jafar (Marwan Kenzari), in the forthcoming Aladdin reimagining. 
Fans have seen Iago flying around Agrabah within the several teasers and one full-length trailer for Aladdin that Disney previously unveiled, but they hadn't heard him speak. While some wondered whether he would have a voice at all, most everyone sat scratching their chins and speculating about which actor would step into the role that Gilbert Gottfried originated in the original animated Aladdin from 1992 and the film's two sequels, The Return of Jafar (1994) and Aladdin and the King of Thieves (1996), that were released straight to video. Now we know it's Tudyk who will rise (fly?) to the occasion.
If you're reading this and trying to place where you've seen Tudyk before and having a difficult time, it's likely because you don't recognize his face. Looking at his list of voiceover work, though, you'll instantly know that you've heard Tudyk speak in plenty of films in the past. He lent his pipes to the droid K-2SO in Rogue One: A Star Wars Story (and gave a motion-capture performance over which the CGI droid was placed), King Candy in Wreck-It Ralph, Alistair Krei in Big Hero 6, Duke Weaselton in Zootopia, and Heihei in Moana. On the television side of things, Tudyk has voiced various characters on series like Young Justice, Robot Chicken, American Dad!, The Life & Times of Tim, Phineas & Ferb, Adventure Time, Star vs. the Forces of Evil, and many more.
For many Disney-lovers, Gottfried's unique, grating voice is the only one that should ever come out of Iago's mouth, and no actor — not even one as talented and well-liked as Tudyk — should ever take his place. 
And Gottfried apparently agrees wholeheartedly. 
After learning that Tudyk was taking over as Iago in the live-action Aladdin, Gottfried re-tweeted several posts on Twitter that slammed Tudyk and criticized Disney for not asking him to reprise his iconic role. One tweet that Gottfried re-shared to his audience reads, "Dear @Disney @DisneyStudios  No @RealGilbert in the Aladdin !!! I hope it f***ing tanks!!! F**k you and that mouse." Another states, "I just said the exact same thing. It makes NO sense once so ever. Disney even brought back James Earl Jones for The Lion King. But yet they couldn't bring @RealGilbert back shame on you @DisneyStudios."
Yikes. Looks like the House of Mouse might have some explaining to do and some fires to put out — which isn't exactly great news for the company considering it just bounced back from an onslaught of online hate after revealing Will Smith's take on the Genie, the larger-than-life character voiced by the late Robin Williams in the original Aladdin. People everywhere roasted Smith's blue Genie, made a total mockery of him, and stated that they wouldn't be seeing the updated Aladdin because it didn't look like it could live up to or properly honor its predecessor. When Disney unveiled the first full-length trailer for the film, directed by Guy Ritchie, on Tuesday morning, those same naysayers changed their attitudes and admitted that they were wrong to judge Aladdin so mercilessly before getting the full scope of the film's look and feel. 
But now, it seems Disney is yet again in hot water, as swapping out Gottfried for Tudyk for the voice of Iago has clearly ruffled plenty of feathers. Hopefully, the studio can make some sort of overture to the fans and to Gottfried to help smooth the situation over and assure them that Tudyk is the right choice for the part. (For what it's worth, we're confident Tudyk can fill Gottfried's shoes. He hasn't disappointed yet!)
Starring Scott as Princess Jasmine, Mena Massoud as Aladdin, Navid Negahban as The Sultan, Nasim Pedrad as Dalia, Billy Magnussen as Prince Anders, Numan Acar as Hakim, and Robby Haynes as Razoul, the live-action Aladdin will take us to a whole new world on May 24.