Dumbo First Reactions Applaud Film As Tim Burton's Best Work In Years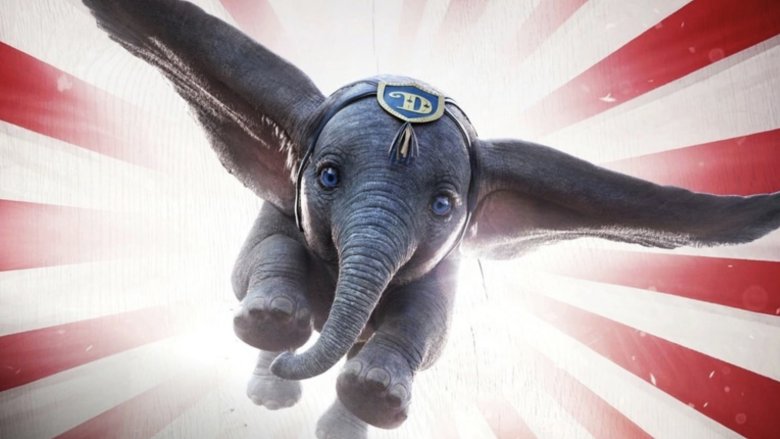 Disney's live-action Dumbo in five words? A three-ring circus of wonder. 
First reactions to the new Dumbo film are here, with those who attended the film's premiere in Los Angeles on Monday, March 11 sharing their thoughts about the flick on social media. By and large, response has been incredible — ranging from people praising the updated Dumbo as "beautiful, surprising, and visually mindblowing" to many calling it the best film director Tim Burton has put out in years. 
Starring Collin Farrell as Holt Farrier, a one-armed war veteran and ex-circus star who works at the Medici circus and cares for the tiny elephant for which the film is named, Dumbo carries the same basic story as the 1941 animated Disney classic and adds a few new touches. Soon after Dumbo and his mother get set up at Max Medici's (Danny DeVito) struggling circus, Holt's children, Milly (Nico Parker) and Joe (Finley Hobbins), discover that the big-eared baby elephant can use his most prominent feature to fly. This attracts the attention of one V. A. Vandevere (Michael Keaton), a charismatic but cruel entrepreneur who owns the illustrious big top known as Dreamland. Vandevere scoops up Dumbo as one of his own, positioning him as the headliner of Dreamland's show, which also includes ringmaster Baritone Bates (Michael Buffer) and French trapeze artist Colette Marchant (Eva Green). As Dumbo learns that not everything that glitters is gold and tries to make a name for himself amongst people who don't believe in him, he also faces heartache when his mother is shipped out of the circus. 
Most everyone is familiar with the core narrative of Dumbo, and it looks like they're also digging the new facets of the story that Burton implemented with his adaptation. 
Peter Sciretta of Slashfilm had high praise for Dumbo, calling it Burton's strongest live-action effort in recent memory and applauding the remake's unique feel of being partially an adaptation and partially a sequel to the original film from the '40s. "I enjoyed #Dumbo. Fantastic art/production design, a surprising/necessary pro-animal rights message. One of the best live action films Burton has directed in years. Unlike most Disney adaptations, its in the unique position to be 35 [percent] an adaptation and 65 [percent] a sequel, which is cool," wrote Sciretta in one tweet.
He added in another post that Dumbo stands far above some of Disney's more recent live-action films, namely the Beauty and the Beast remake from 2017 and the Mary Poppins sequel Mary Poppins Returns. "I know I don't sound too enthused about this movie but it was enjoyable, and it is certainly worlds better than Beauty and the Beast and Mary Poppins Returns," said Sciretta. "For reference, the only Disney live action remakes I liked were Jungle Book and Cinderella."
Gamespot associate entertainment editor Chris E. Haynes also loved how Dumbo isn't a stock-standard remake of the OG pic, but rather comes across its own film entirely. He offered one criticism of the film — its characters aren't super nuanced — but made it clear that he throughly enjoyed Dumbo, completely fell in love with the production design, and agrees that it's one of Burton's greatest movies in years. 
"I really enjoyed #Dumbo⁠ ⁠. It's a beautiful and whimsical movie, starring a CGI elephant with so much heart. It's also a rather simple tale, so don't expect tons of character [d]epth. But I still had a blast with the ride it took me on and it's the best Burton's been in years," wrote Haynes. "What I think it has going for it most is it's not simply a live action remake. The animated original is an hour long and light on humans. This has people like Danny DeVito and Michael Keaton playing over-the-top, and plenty of other characters. Make no mistake, though. It's still the story of a giant-eared elephant that just wants to see his mom again. There just happens to be a good amount of adorable mixed in, and some fun musical nods to the original. Casey Jr was a particular delight for me. And whew. The production design is flat-out incredible. I want to visit this world. All of it."
Film critic Courtney Howard was a big fan of Dumbo's deeper messages woven throughout the heart-warming adventure and lush visuals. She tweeted, "#Dumbo has a blessedly surprising pro-animal rights agenda wrapped in a subtle, rebellious meta-commentary on a band of outsiders shaking up a corporate establishment. Its aesthetic design is dazzling, gorgeous & meticulous. The CG elephant is absolutely adorable." 
Howard did note that Dumbo didn't make her cry, despite her fully expecting to shed a bunch of tears, so take from that what you will. 
Journalist Nick Kazden offered a similar assessment of Dumbo, tweeting that he was blown away by the titular elephant's CGI design and impressed with the cast. "I wasn't sure what to expect, but I can say that #Dumbo is a genuinely heartwarming, entertaining movie that is definitely worth your time," he posted on Twitter. "The cast is enjoyable but the VFX Dumbo is so damn expressive that he steals the show every time he's onscreen."
Legion of Leia writer Sarah Musnicky argued that Dumbo is magical enough to soften everyone's hearts: "The reimagining of #Dumbo in Disney's live-action lexicon soars higher than audiences will expect with its universal storyline, relevant theming, and the adorably rendered CGI-ed elephant that will warm even the coldest of undead hearts." Fast Color and Miss Stevens screenwriter Julia Hart added, "DUMBO stole my heart. I'm totally cool with it."
Film journalist and critic Nestor Cine tweeted that DeVito "steals the show with a hilarious performance," and that Dumbo, though "formulaic and melodramatic," is still "a better film than the Disney live-action adaptations from last year." He also admitted his love for the titular elephant: "The character Dumbo is an irresistible cannonball of tenderness. Every time he flies it lifts your spirit!" 
Not everyone had 100-percent positive reactions to Burton's live-action Dumbo, unfortunately. 
Mike M. of The Nerds of Color wrote, "#Dumbo the character is quite cute. But unfortunately, though it looks great, the movie lacks the sincerity and heart that made the animated original a classic. Too manufactured, and it's super talented cast is a bit wasted on paper thin characters and relationships." 
IGN's Tom Jorgensen felt the same: "Watched #Dumbo last week. Despite some great visuals, a very fun Michael Keaton performance, and an adorable baby pachyderm, the movie never really gets you caring as much about what's going on as the original. The human stories feel undercooked and it really rains on the parade." 
All things considered, it sounds as though Dumbo isn't just another live-action remake Disney is spitting out to capitalize on the growing trend of nostalgic cinema, but is an honest-to-goodness fun, family-friendly film that will leave viewers smiling. That many have exalted it as Burton's best work in a while says a lot — enough to perhaps scrub from our memories the critical failure that was his 2010 Disney adaptation Alice in Wonderland. 
Written by Ehren Kruger with music by Danny Elfman, Dumbo will fly into theaters on March 29.