Us: What The Critics Are Saying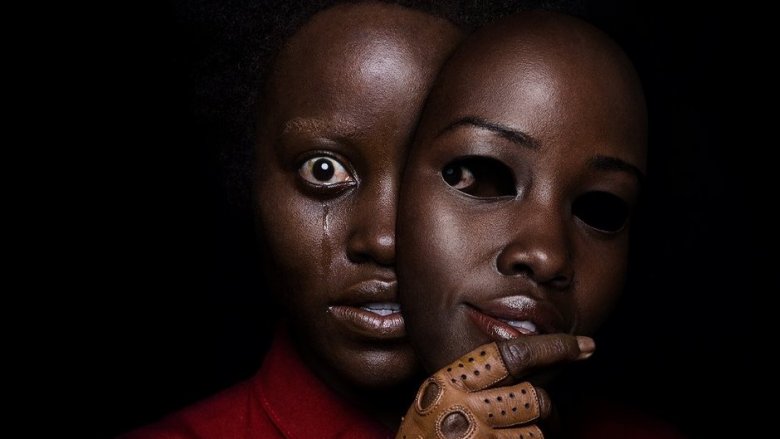 There will be no sophomore slump for Jordan Peele.
Reviews are pouring in for the Oscar winning writer/director's latest fright fest Us, and they are good... all of them. Peele's follow-up to his masterful 2017 debut Get Out currently stands at a sterling 100% on Rotten Tomatoes, with a Critics' Consensus that reads, "With Jordan Peele's second inventive, ambitious horror film, we have seen how to beat the sophomore jinx, and it is Us."
Anticipation for the flick has built to a fever pitch since the first (deliciously unnerving) trailer dropped this past Christmas Day, and critics are so far unanimous in their verdict that Us doesn't disappoint. Consistently singled out for praise: the performances of leads Lupita Nyong'o and Winston Duke, particularly the former. The minor quibbles: Us doesn't quite match the brutal efficiency of Get Out, but any rough edges it might have only serve to make its insanely creepy story even more grounded and relatable.
The film tells the story of the Wilson family, Adelaide (Nyong'o) and Gabe (Duke), who along with their children Jason and Zora (Evan Alex and Shahadi Wright, respectively) head out for a relaxing weekend at their beach house. After meeting up for a day on the beach with friends Kitty and Josh Tyler (Elisabeth Moss and Tim Heidecker), the family retire indoors for an evening which quickly turns sinister, thanks to the appearance of four red-robed figures who turn out to be their exact doppelgängers. They're not there to share in the fun.
It's a bizarre premise which lends itself well to the sort of examination of contemporary themes which made Get Out resonate so strongly, but critics agreed that Us is a different beast altogether. Brandon Katz of Observer called it "one part Wes Craven and one part Rod Serling," fitting for a filmmaker poised to drop a Twilight Zone revival on us in a few short weeks. Katz praised the performances of "a prowess-unlocked Lupita Nyong'o and a wonderfully loose Winston Duke," and noted that the flick contains a surprising amount of humor to go along with the nerve-wracking tension and, yes, buckets of blood. "This isn't a traditional horror movie — there's well-executed humor throughout and even the scariest of scenes are more unsettling than out-right terrifying," he wrote. "That delineation keeps an interesting concept and mystery centered. It is violent and disturbing at times as Peele is most definitely a purveyor of the perverse, but Us very much boasts a perspective on this country and the national undertones are refocused to be expressed through the struggle of this one family. We are, quite literally, our own worst enemies."
Dread Central's Jonathan Barkan gave high marks to the well-drawn characters, comparing the Wilsons' dynamic favorably to that of the beleauguered Freeling family in Tobe Hooper's 1982 classic Poltergeist. "This family that is so easy to love is even more delightful in that they make, for the most part, smart decisions once s— hits the fan," he opined. "They use their personal quirks as strengths to outwit their attackers... Where most horror characters would walk away from an opportunity to end a villain and ensure their survival, the Wilson family makes damn certain that if they're going to finish a job, it'll be done right." He singled out the score by composer Michael Abels (who also scored Get Out), calling it "haunting, jarring, unsettling, and completely arresting," and joined the chorus in praise of Nyong'o: "This year it will be impossible to find a more physical, emotional, or technically astounding performance than what Lupita Nyong'o has done with Adelaide Wilson and her evil counterpart."
Interestingly, virtually all observers agreed that the flick was not without its flaws — but most also conceded that Us works magnificently not in spite of those flaws, but rather because of them. Said Kevin Fallon of The Daily Beast, "Us is far from perfect. Thank God. That's what makes it so fun." It was a sentiment echoed by many, including A.V. Club's Randall Colburn, who called the film "kind of a mess" yet "deeply satisfying"; he pegged Peele's direction as "downright balletic," further demonstrating his mastery of composition. "Every frame bursts with detail, whether it's a thematic dovetail or a murky figure sprinting into the periphery," he wrote. "Us scores its most effective scares not from a stab or a shriek, but from the near-imperceptible, the nightmare lurking in the shadows." Britt Hayes of Birth.Movies.Death summed up this idea most succinctly, saying, "In a sense, the flaws of Us make it even better — more dimensional, more chilling, more relatable. More like us."
Another common refrain among critics: that Us is a film with many thematic layers, one which will reward multiple viewings. Mashable's Angie Han called it "so layered, so diabolically clever and emotionally astute, that it felt an enormous undertaking to process in a single sitting... Several hours and many conversations later, I'm still convinced this film has secrets I haven't uncovered yet, and I'm just eager for my next chance to go digging through it again." David Crow of Den of Geek agreed: "Us... will reward diligent rewatching and debate for years to come," he wrote. "Far [exceeding] its humble home invasion conceit, Peele's sophomore effort holds as many secrets as the families it follows on both sides of the looking glass."
After the stunning success of Get Out — which was about as audacious as debut films get — Peele could easily have been forgiven for even a slight letdown; instead, he has by all accounts turned in his second stone-cold masterwork in as many tries. Virtually every critic had a pile of accolades to heap upon the director, labeling him "a horror auteur," "a game-changing filmmaker on the rise," and "one of the best horror creators of our time"; each reviewer's final words of praise for Us were just as effusive and borderline-hyperbolic, with such phrases as "a tremendous accomplishment," "a masterclass in social commentary horror," and "a magnificent achievement" being bandied about liberally.
All of which is to say that Get Out was no fluke, and indeed, it now appears that Peele was simply warming up. If the words of Nerdist's Lindsey Romain don't set the hearts of horror fans a-flutter, we're not sure what will: "It's a strange, hilarious, fearsome beast of a movie that always keeps you five steps behind Peele's next brilliant twist, questioning the film's intentions until they are slowly, brutally relayed to you. There's nothing quite like it. It'll haunt not only your dreams, but your psyche."
Us opens in wide release this Friday, March 15; watch it, and watch yourself.