Pauley Perrette's New TV Gig Is A Big Change From 'NCIS'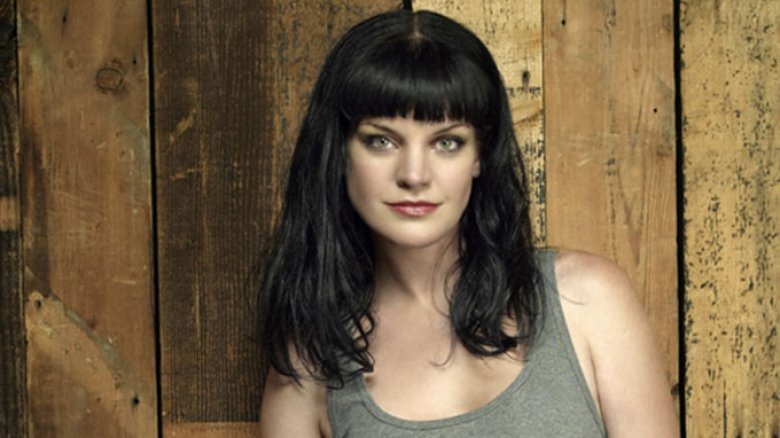 Pauley Perrette is returning to the tube — but if you're an NCIS fan, her new role may be just a bit different from what you're used to.
Multiple sources report that the actress has landed a role on the upcoming CBS sitcom Broke, opposite Jane the Virgin actor Jaime Camil. The new show will focus on Camil's character, a ridiculously rich trust fund baby who finds himself cut off from the never-ending flow of cash by his father. This circumstance forces him, along with his wife, to move in with his sister-in-law Jackie (Perrette), with the close quarters afforded by her tiny condo presumably leading to all sorts of comedic friction. (via Deadline)
Jackie is described as a tough-as-nails, quick-witted single mother to a 9 year-old boy, whose love for her sister overrides her understandable reluctance to share her space with her snobby, entitled brother-in-law. She's a bar manager by profession, but she moonlights in taking absolutely no crap from anyone; her official character description reveals that she is "feisty, not easily cowed, sometimes hot-headed, the kind of woman who knows her way around a tool box and an acetylene torch."
As regular viewers of NCIS can attest, this is a character that sounds light-years away from Perrette's turn as forensic scientist Abby Sciuto, a role which she held down on the long-running NBC series from 2003 all the way up until last year. The heavily tattooed, goth-tinged Sciuto was many things — endearingly quirky, prone to skating right up to the edge of panic attacks in the face of danger, an unabashed caffeine addict — but "tough as nails" and "hot-headed" were decidedly not a part of her makeup.
Perrette announced that she would be leaving NCIS in October 2017, and her final episode aired the following May. Much of its runtime kept fans on the edge of their seats in regard to Abby's fate, as the episode's opening saw her fighting for her life in a hospital bed due to being shot by an apparent mugger (in what turned out to be an attempted hit) in the previous episode's conclusion. Thankfully, she made a recovery, and was able to turn the tables on her attacker (the villainous Robert King, AKA Tom Reese), forcing him to confess by threatening to withhold the antidote to the cyanide which she had surreptitiously slipped into his drink. (It was a ruse, of course — she simply employed her old friend, caffeine, to accelerate his heart rate and trick him into thinking he'd been poisoned.)
Unfortunately, the episode also saw Clayton Reeves (Duane Henry), who was also shot attempting to protect Abby in the attack, lose his life. It concluded with Abby tearfully departing the NCIS team, resolving to start a charity in her fallen friend's honor. Although the final moments seemed to leave the door open for a cameo or two in the future, neither hide nor hair has been seen of Abby since — and with Perrette's new gig now official, NCIS fans may have to accept the fact that the beloved character is gone for good.
Broke was co-created by Jane the Virgin creator and executive producer Jennie Snyder Urman and Alex Herschlag, who has worked as a producer and writer on venerable sitcoms Will & Grace and Modern Family. Herschlag will take the lead on writing the series; veteran TV director Victor Gonzalez, who has helmed episodes of such series as One Day at a Time, The Neighborhood, and Last Man Standing, has been tapped to direct.
Camil and Perrette both took to Twitter to express their mutual admiration for each other and their excitement at the prospect of working together. Camil gushed over his co-star's "talent, personality and beautiful soul," with Perrette responding that she simply chose to work with the "nicest, most decent people in Hollywood." Hey, the cameras haven't even started rolling on the series, and it's already a love-fest; we can hardly wait to see the what comic, snarky sparks begin to fly once these two actually get in the same frame together.
Brother, @jaimecamil I went with the nicest most decent people in Hollywood. YOU and the team! https://t.co/YynlkCHUMZ

— Pauley Perrette (@PauleyP) March 7, 2019
Perrette has certainly proven herself to be one of the more interesting and talented actresses to grace the small screen over the last couple decades, and even though she's jumped networks, news of her impending return has got to be most welcome for her legions of adoring fans. For that matter, Broke just might find itself with a bit more of a built-in audience than the average freshman series, as many an NCIS viewer will doubtless be waiting with bated breath to see their favorite star on the small screen once again.
Broke currently has no premiere date; we'll keep both ears to the ground to keep you up on any developments.