Captain Marvel: What The Critics Are Saying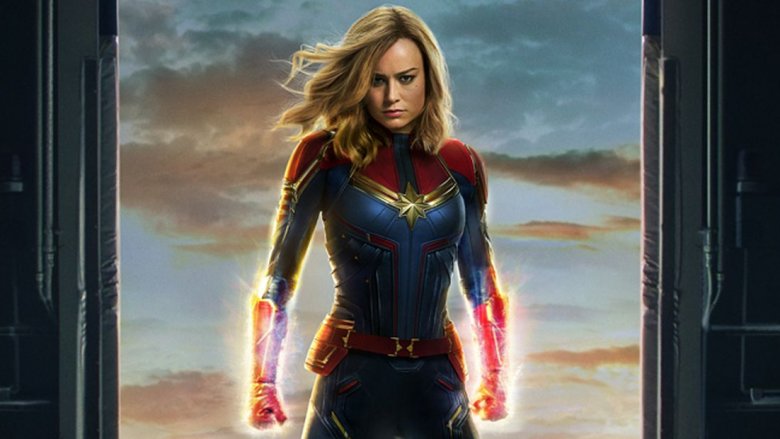 Higher, further, faster.
Advance reviews are pouring in for Captain Marvel, the first female-led solo effort for mighty Marvel Studios, and it appears that the pop culture juggernaut has yet another winner on its hands. As of this morning, the flick stands at a sterling 91% on Rotten Tomatoes, with the Critics' Consensus reading: "Packed with action, humor, and visual thrills, Captain Marvel introduces the MCU's latest hero with an origin story that makes effective use of the franchise's signature formula."
Critics generally agreed that while the film doesn't break any new ground plot-wise, it delivers an enjoyable spacefaring saga anchored by a solid performance as the cosmically powered Carol Danvers from star Brie Larson, who sports an effortless chemistry with Samuel L. Jackson's digitally de-aged Nick Fury (in one of the more seamless examples of that effect's use).
Let's get into the meat of the reviews, beginning with Den of Geek's Kayti Burt, for whom that "buddy cop dynamic" was the film's centerpiece. "Their scenes [call] to mind the chemistry between Tommy Lee Jones' Agent K and Will Smith's Agent J in Men in Black, while shaking up the traditional roles. Here, it is the younger character, Carol, who is the 'straight man' with knowledge about the existence of aliens and the older character, Fury, who gets to be the competent-yet-in-over-his-head one who's along for the ride. They seem to delight in one another's company, supporting each's not-unrelated quest and forming the heart of the film." 
Burt found the film's central mystery — of Danvers' previous life on Earth, and how she came to be an amnesiac space warrior with near-godlike powers — to be a bit thin, and she was not alone in that sentiment. But a good number of observers pointed out that this angle — with our hero being introduced already powered up, then having to dig into who she was before — is an effective way to put a fresh spin on what otherwise could have been more of a by-the-numbers origin story. ScreenRant's Molly Freeman called the device "an undoubtedly non-traditional way to tell an origin story" which "helps to mix up the formula just enough so that the movie manages to stand out amid the dozens of other origin films."
Sure, but what about the action? Directors Anna Boden and Ryan Fleck are known for much smaller, character-driven films, and reviewers were largely split on how well the pair acquitted themselves with Captain Marvel's many fight scenes and space battles. Corey Plante of Inverse called the action sequences "pristine" while praising the flick as a whole as "the most Marvel movie ever"; on the other end of the spectrum, Tim Grierson of Screen Daily found those same action setpieces to be "unspectacular." Hoai-Tran Bui of Slashfilm agreed, while offering a touch more insight. "Boden and Fleck, who made the jump from directing indie darlings to helming Captain Marvel, have never directed a large-scale action scene," she says. "As a result, the action in Captain Marvel is on autopilot — all rapid cuts and no rhythm, and very clearly shot by a second unit who were well-versed in the technical aspects of such a scene. This doesn't become a problem until the big final battle of the film."
Clearly, when it comes to action, your mileage will vary. But Captain Marvel does seem to have avoided what, recent efforts like Avengers: Infinity War and Black Panther aside, has been a common pitfall for the MCU: the lack of a compelling villain. Praise abounded for Ben Mendelsohn's Talos, whose personality we haven't seen much of in the trailers. Meg Downey of IGN nailed the critical consensus on Mendelsohn's performance, saying that the character "will be a surprise to Marvel comics die-hards, but a welcome one — he's a far cry from a traditional MCU villain, but what he lacks in deviousness he makes up for in a genuinely charming sense of humor. He doesn't quite fall in line with other recent villains like Zemo with his devious plot and tragic past or Vulture with his take-no-prisoners family loyalty, but he's cut from a very similar cloth with motivations that stem from complicated, surprisingly nuanced places and give him a real depth of character."
Ah yes, but a good villain in nothing without a compelling hero, and after endless speculation leading up to the film's release, we finally have a verdict on Larson's performance as Danvers: in a word, awesome. Said Robert Daniels of 812 Film Reviews, "Brie Larson proves all the doubters wrong and delivers an origin film that should shoot up many Marvel fans' rankings, while continuing her ascension as a cultural and feminist icon"; Mashable's Angie Han called Larson's performance "vibrant," concluding that "Just as the [filmmakers] wanted, I left the theater pleased to have met Carol at long last, and eager to see her again."
But perhaps the strongest praise for Larson came courtesy of io9's Yolando Machado, who opined that the star more than lived up to Marvel's legacy of casting lead actors who manage to fully embody the characters they portray. "Let's be clear: Brie Larson is the very definition of Captain Marvel. After watching the film, there is no doubt in my mind that there is anyone else that encompasses everything that Carol Danvers is and what she represents to comic book fans everywhere," she said. "Not only did Larson train vigorously to embody the physicality of the 'most powerful hero in the MCU'... but she has an ease with herself that allows her to fully become the hero that women want to be and girls love to look up to. She is smart, witty, and yes, a badass."
Also singled out for accolades aplenty were Jackson, who at this point has settled so comfortably into his role as Nick Fury that it can be tough to tell where one ends and the other begins, and —as we had expected and hoped — Goose the Cat, who is apparently given much more to do than just look cute ("Praise be to Goose the Cat," said Clint Worthington of The Spool; "I look forward to his inevitable solo film"). 
Of course, not all the reviews for the interstellar saga were, well, stellar. Negative reviews tended to compare Captain Marvel to the MCU's earlier, footing-finding Phase One efforts; The Atlantic's David Sims called it "evocative of Marvel's flatter 'origin' movies that introduced big heroes," while opining that the action "reeks of the anonymous house style that Marvel seems to impose on most of its movies." Likewise, A.V. Club's Ignatiy Vishnevetsky called the flick "underwhelming" and snarked that "it's everything you might expect a sci-fi superhero movie to be, if you hadn't seen one in a long time." Johnny Oleksinski of the New York Post called Larson's hero "a total bore" and the film itself "an aimless slog" in perhaps the worst panning of Captain Marvel yet on record.
But the majority of critics were loud and clear on the fact that, as they have had occasion to note roughly 20 times before, Marvel has done it again. Doug Jamieson of The Jam Report summed it up nicely: "Minor quibbles aside, Captain Marvel is a total riot. It's enormously fun. It's overflowing with heart. And it introduces the world to a hero this cinematic universe so desperately needed. Look out, Thanos. Carol is coming."
Captain Marvel hits screens in wide release this Friday, March 8.