Rambo: Last Blood Gets Release Date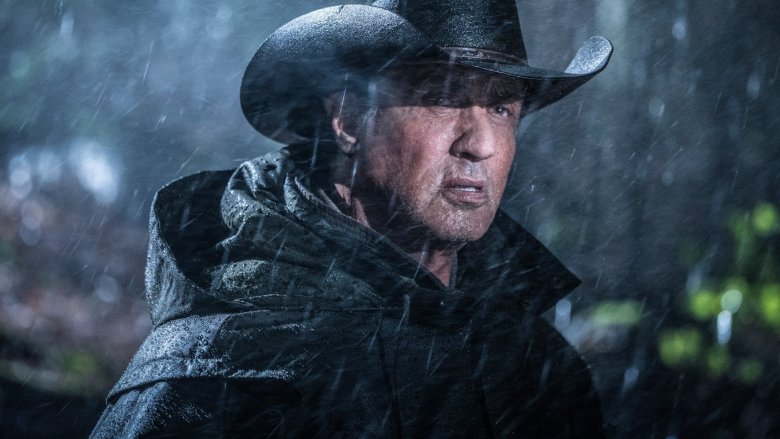 There will be blood.
Lionsgate has announced the release date for Rambo: Last Blood, the fifth and final entry in Sylvester Stallone's venerable action series that began nearly four decades ago. The flick will hit screens on September 20, according to a report by Deadline.
Last Blood will put a cap on the saga of Vietnam vet turned drifter turned one-man-army John J. Rambo, which burned up the box office in the '80s with First Blood (1982), Rambo: First Blood Part II (1985), and Rambo III (1988). The series took an extended hiatus before returning with a surprise (and surprisingly gory) sequel, simply titled Rambo, in 2008. Throughout the series' history, the action has moved from the forests of the Pacific Northwest to the jungles of Vietnam to Afghanistan and on to Myanmar; Last Blood will see Rambo moving south of the border, taking on a bloodthirsty Mexican human trafficking cartel responsible for the kidnapping of a friend's granddaughter.
If it seems a bit shocking to see Stallone (who is a few years north of 70) appearing for one last turn as the iconic killing machine, you're not alone. In fact, as recently as 2016, the actor said in an interview with Variety that he had no intention of revisiting the role again, being happy with where he left the character at the conclusion of the 2008 film. "As an action film, I was very satisfied that it dealt with the Burmese situation. It had one foot in a current event, the longest civil war in history, 65 years at that time. It was so brutal, which civil war is, I was shocked they even gave me an R rating. I didn't want to compromise. I said, 'This is probably going to be the last decent film of this genre that I'm going to do as a solo act.' When that was accomplished, I never felt the same willingness to do it again."
As action-packed and physics-defying as Rambo's adventures have always been, Stallone has always made sure to inject the films with contemporary relevance, and the issue of human trafficking is one that could desperately use more attention, even if it comes in the form of a blood-soaked action flick. Perhaps it was the opportunity to help shed light on the plight of the victims that moved him to unpack his bow and arrow; perhaps it was the fact that Rambo scored $113 million dollars at the worldwide box office despite coming 20 years after the next previous installment; perhaps it was a little bit of both. Either way, Rambo will be saddling up (literally, according to set photos and videos the star has shared on his Instagram) for a most worthwhile cause, once again bringing the pain down on those who would harm innocents. Here's the flick's official synopsis: "Stallone's return to action in the long-running series finds him living in a ranch in Arizona, deeply troubled and wrestling with PTSD as he picks up casual work wherever he can. When a long-time family friend and estate manager Maria informs Rambo that her grand-daughter has gone missing after crossing into Mexico for a party, he sets off with her to find the youngster. What ensues is a violent descent into hell as Rambo uncovers a sex-trafficking ring. He teams up with a journalist whose half-sister has also been kidnapped and must deploy all his skills to save the girls and bring down a vicious crime lord."
As we all know, when Rambo deploys all his skills (or really, even just a fair amount of his skills), it spells serious trouble in the form of explosions, arrows, exploding arrows, and voluminous amounts of hot lead for the bad guys. Co-starring as Maria will be the veteran Mexican actress Adriana Barraza (The Strain); rounding out the cast are Paz Vega (The OA), Óscar Jaenada (The Shallows), Yvette Monreal (The Fosters), Joaquín Cosio (Spider-Man: Into the Spider-Verse), and Sergio Peris-Mencheta (Life Itself, Snowfall).
So far, Last Blood's only serious competition that weekend is another, slightly lower-profile actioner, the Frank Grillo-starring Black and Blue; the TV series adaptation Downton Abbey will also open during the frame in limited release. All signs point to Mr. Rambo cleaning up at the box office one last time, going out with a literal and figurative bang while dealing his own special brand of justice. So many years, so many dead bad guys; all that evil might have gone unchecked, had those overzealous cops just left the poor guy alone back in 1982.