Bond 25: Rami Malek In Talks To Play Villain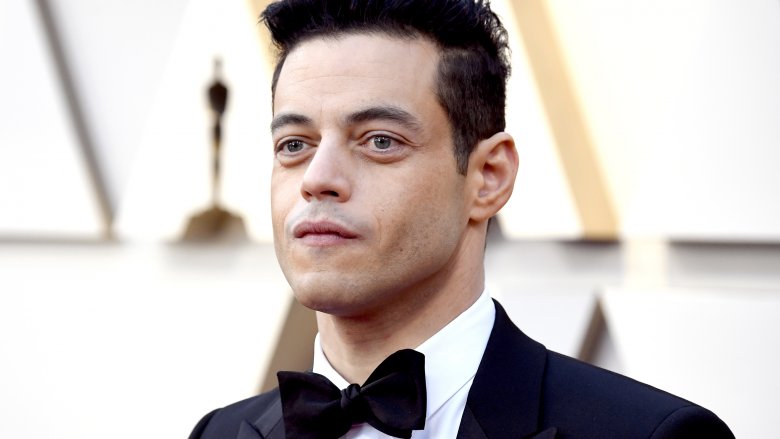 Getty Images
Rami Malek could be moving from belting out iconic tunes in Bohemian Rhapsody to bringing chaos and destruction to the life of the most famous spy in the world in Bond 25. 
A new report published by Collider details that Malek, who recently scored the Academy Award for Best Actor for his portrayal of Queen frontman and all-around music god Freddie Mercury, is in "final negotiations" to play the villain in the next Bond movie. 
The outlet cites "well-placed sources" who relayed the information that Malek will star opposite Daniel Craig for Bond 25, written and directed by Cary Joji Fukunaga. 
Malek's name has been linked to Bond 25 in the past, with Variety noting in December of 2018 that Eon Productions and MGM Studios were eyeing the actor for "the villain role," but that his filming schedule for the concluding season of USA Network's Mr. Robot clashed with that of Bond 25, thus making it "unlikely" that he would accept the offer if the studios extended it to him. This juicy tidbit came as part of a larger piece detailing that Lea Seydoux was confirmed to appear in Bond 25, reprising her role from Spectre as psychologist Madeleine Swann. 
Now, the story has changed: Malek's representatives at talent agency William Morris Endeavor reportedly "negotiated his shooting schedule to accommodate both productions," according to unnamed sources, and that this behind-the-scenes tweaking to the Mr. Robot and Bond 25 production calendars happened before Malek took home the Oscar for his turn in Bohemian Rhapsody. Word is that both parties wanted to hold out until after the 91st Academy Awards to strike an official deal, as Malek's win would mean a higher monetary offer for the actor. 
According to an updated Bond 25 casting roundup from Variety, Malek has been the number-one choice for the part for months now: "While meetings with other talent have taken place, producers never wavered on trying to land the role for Malek and have worked hard for months to accommodate both shoots," the outlet indicates. 
As of right now, there are no details available on the character that Malek is reportedly up for. Rumor has it that the villain of Bond 25 is blind, and that MGM and Eon might have been scouting for an actor from Northern Africa for the part. 
Collider notes that Wonder Woman's Saïd Taghmaoui, the French-American actor of Moroccan descent who portrayed Sameer in the superhero flick, did previously reveal that original Bond 25 director Danny Boyle was considering him for the role of the villain. Taghmaoui was born in France to Moroccan immigrants, and Malek was born in American to Egyptian immigrants, meaning both are of Northern African descent. Since Boyle is no longer directing Bond 25, Taghmaoui is no longer in consideration for the gig. However, the film's team might still want a villain who fits a certain mold — and if Taghmaoui was previously being eyed, it stands to reason that Malek is a logical replacement. This is all speculation on Collider's behalf, of course, so take it with a grain of salt. 
Should Malek actually board Bond 25, he will share the screen with stars equally as talented as he is: there's Craig set up for the lead role as super spy James Bond, Naomie Harris attached to play Eve Moneypenny, Ralph Fiennes on board to portray M, and Ben Whishaw involved as Q. Malek might also star alongside Billy Magnussen, who is rumored to be up for the role of a "CIA operative that crosses paths with Bond" (and who won't act as the film's central villain), as well as Lupita Nyong'o, the Oscar-winning actress said to be in consideration for a mystery role.
Malek's accolades speak for themselves and definitely prove he has what it takes to deliver a gripping performance in Bond 25. Though seemingly sweet and gentle as can be in real life (the guy took a tumble during the 2019 Oscars and completely fell off the stage, if that's any indication of how down-to-earth he is), Malek has no issue sinking into darker roles. He's done it for years playing the anxiety-ridden cybersecurity engineer and genius hacker Elliot Alderson on Mr. Robot, the psychological thriller series that has taken turns into sinister territory throughout its run. A straight-up villain role like the one he's apparently about to step into for Bond 25 would be something fresh for Malek, and we have no doubt he'll do something interesting and enjoyable with it should he accept the offer. 
MGM and Universal Pictures, the international distributor of Bond 25, have the film set to launch in U.S. theaters on April 8, 2020. Production is expected to begin sometime this April, though it looks as though Malek won't begin shooting his scenes until after July, as that's when filming on the final season of Mr. Robot is rumored to last until. We should find out for certain whether Malek (and Magnussen and Nyong'o, too) are actually part of Bond 25 or not in the very near future.