Frozen 2 Plot Details Reportedly Revealed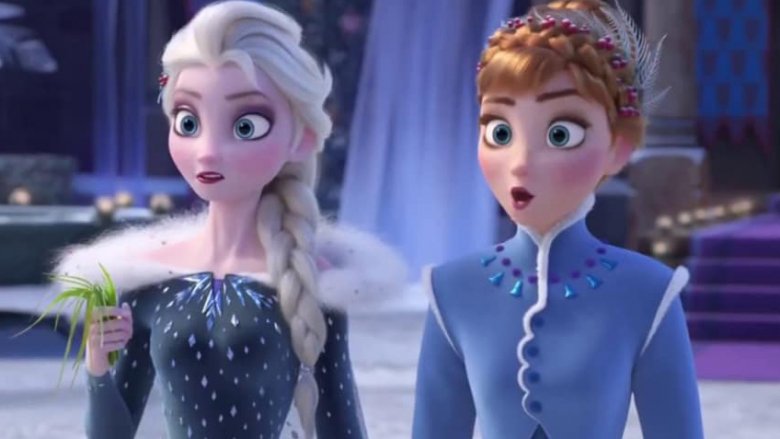 Finding out all the details we can about Frozen 2 before it launches in theaters this fall? Yeah, we'll never let it go. 
Luckily for us, the fine folks at Slashfilm aren't about to abandon that endeavor either. 
On Tuesday, the outlet picked up a scoop from the Fine Tooning podcast, the most recent episode of which included a nugget of information about the Frozen sequel. According to the podcast hosts Jim Hill and Drew Taylor, the second Frozen flick is "about Anna and Elsa searching for what actually happened to their parents," who — spoiler alert for a film that came out over six years ago — died in a boat accident. 
That scene, shown at the beginning of the original Frozen, was alluded to in the very first moment of the Frozen 2 trailer. Elsa (voiced by Idina Menzel) is seen standing on a stony beach and readying herself to sprint across the ocean; she then fires from her palms blasts of chilled air and ice, used to freeze the waves and allow her to run across them. She's clearly trying to make her way toward something — something that many fans theorize is the site of the shipwreck her parents were involved in, or the place their bodies may have wound up. 
The Fine Tooning dudes genuinely know their stuff, especially when said stuff has anything to do with Disney. The duo have broken various stories about projects brewing and building (and sometimes boiling over) at the House of Mouse, and have crafted careers out of keeping up with all things animation as well as all of Disney's developing films. We're inclined to take Hill and Taylor's reveal here as rooted in truth, despite Disney brass not coming forward to confirm it just yet. 
What pushes us to accept the idea that the headstrong, red-haired princess with a punchy attitude and a heart of gold Anna (voiced by Kristen Bell) and her literal ice queen sister Elsa would venture out on a mission to uncover the truth behind their parents' death is our remembering of something that co-director Jennifer Lee once said about Frozen 2. 
Chatting with Variety last year ahead of the Ralph Breaks the Internet premiere, Lee dished that the upcoming film will be "bigger" and "more epic" than its predecessor — and that Anna, Elsa, and the gang (including Josh Gad's snowman Olaf and Jonathan Groff's goofy-but-sweet Kristoff Bjorgman) going "far out of Arendelle." 
Additionally, Lee shared with Slashfilm in a past interview that there is one element present in the first Frozen film that she and co-director Chris Buck didn't fully explore. The pair originally didn't want to make a Frozen sequel, but when they realized that there was more story to tell by looking further into an "important" part of Anna and Elsa's lives, Lee and Buck knew they had to get started on a second movie. 
"I think the big thing for me is; we weren't going to do a sequel. Chris and I were like, 'That story's done.' But then one day we just made the mistake of talking about something and going, 'Oh my gosh. That's the thing we still haven't explored, and it's important.' Then I spent time writing these journals as the girls," said Lee, who added that the sequel won't be a copy of all the greatest parts of the original. "Just like the first one, I approached it from the inside out ... In some ways, it gives it that inevitable feeling and yet surprise. 'Oh, it's going there!' But yet it completely feels like that's the journey they have. So that's my hope."
Lee's remarks paired with what the Frozen 2 trailer teased make up a sturdy takeaway: there's an extremely high chance that the forthcoming follow-up will be a detective-esque story in which Anna and Elsa discover that there is more to their parents' passing than they originally thought. Disney films are notorious for digging into the dead parents trope (to the point of cliche, if we're being candid here), so in opening up the idea of grief in Frozen 2 to bring the two sisters closer together when death can so often tear people apart, the Mouse House would break the mold it has been following for years. 
Perhaps the girls' parents were murdered, and the wreck wasn't accidental but premeditated. Maybe they are actually still alive and Anna and Elsa must gather their resources and embark on a mission to rescue them. Who knows! Not us, though we wish we did. 
There are a ton of details hidden within the Frozen 2 trailer that fans have used as the basis for theories about the film's story, characters, and twists, but this one seems most plausible. Unfortunately, we won't know if it's true until later this year, when Frozen 2 opens in theaters on November 22.