Ghostbusters 3: Melissa McCarthy Responds To Jason Reitman's Upcoming Film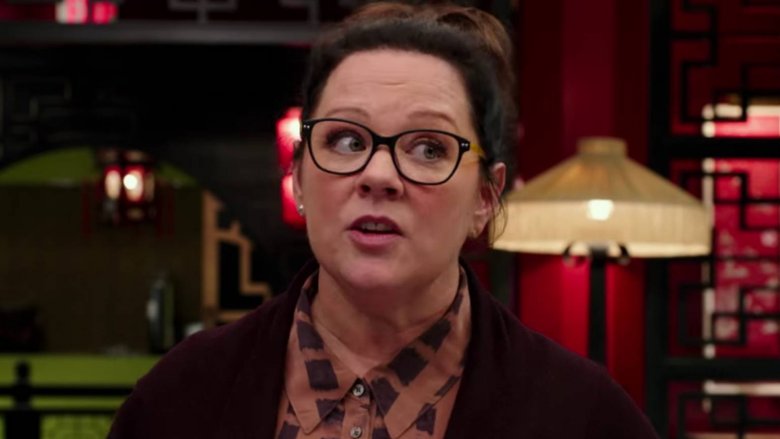 Some diehard Ghostbusters fans may think reboot star Melissa McCarthy won't want to come anywhere near Jason Reitman's in-development sequel. Others might believe she wouldn't be supportive of the project considering all the controversy surrounding it. But, as reality has proven, neither of those assumptions are true. 
McCarthy, who starred as ghost-busting physicist Abby Yates in the Paul Feig-directed Ghostbusters refresh, recently spoke with Entertainment Tonight during the 2019 Oscar Wilde Awards in Santa Monica, California. Chatting with the outlet, the actress opened up about her thoughts on Ghostbusters 3, Reitman's sequel that will disregard the events of the 2016 reboot in which she starred and serve as a more direct follow-up to the original Ghostbusters from 1984 and its sequel from 1989. Reitman's past comments about "handing the movie" back to fans and turning a blind eye to the most recent franchise installment ruffled plenty of feathers — but not McCarthy's. She says she's "all for" Reitman making Ghostbusters 3.
"I'm for anybody who's making movies," the actress stated. "I talked to Jason about it. He's just always had this idea, and his [idea] goes back to the world where the guys did exist and I'm like, 'I want to see that.' I'm all for it. I say like, 'Tell the story.'"
McCarthy isn't the first person involved with the 2016 Ghostbusters refresh — which placed McCarthy and three other funny ladies (Kristen Wiig, Kate McKinnon, and Leslie Jones) front and center where the main men of the franchise (Bill Murray's Peter Venkman, Dan Aykroyd's Raymond Stantz, Harold Ramis' Egon Spengler, and Ernie Hudson's Winston Zeddemore) previously stood — to express their thoughts on Reitman's film. 
Technically the fourth in the franchise though billing itself as Ghostbusters 3 because it skirts around the reboot (which was the true third Ghostbusters entry), Reitman's movie has already rubbed Jones the wrong way. Jones, who portrayed New York Metropolitan Transportation Authority staffer Patty Tolan, took to Twitter after hearing that Sony Pictures had given Reitman's Ghostbusters the green light, sharing her feelings of disdain and disgust over what he intends to do with the film and the franchise.
"So insulting. Like f*** us. We dint [sic] count. It's like something trump would do. (Trump voice) 'Gonna redo ghostbusteeeeers, better with men, will be huge. Those women ain't ghostbusteeeeers' ugh so annoying. Such a d*** move. And I don't give f*** I'm saying something!!" the actress tweeted on January 19, a few days after word of Reitman's film was made public. 
Jones clarified her remarks on January 20, writing, "It's very sad that this is response I get. When the point is if they make this new one with all men and it does well which it will. It might feel that 'boys are better' it makes my heart drop. Maybe I could have use different words but I'm allowed to have my feelings just like them." 
This was in response to one fan who shared in Jones' disappointment over Ghostbusters 3, defended her strong reaction to the upcoming film, and slammed those criticizing her. They wrote in their own tweet, "The only reason dudebros come at @Lesdoggg about another Ghostbusters is because she won't take their s***. She stands up for the women. Let's be real, they don't have access to the others, but they'll get a fight with Leslie. They ain't s*** for thinking anything they say counts."
Feig, who directed the 2016 reboot, also offered in a post on social media his thoughts about Reitman's Ghostbusters 3. He first addressed the hate that many Ghostbusters fans were flinging at Jones following her response to the new Ghostbusters movie, then stated that he is "very open" to Reitman's vision for the flick, despite being upset that his team of Ghostbusters may never get a second shot on the silver screen. 
"An absolute honest to God never ending supply of bulls*** and hate from these trolls. Leslie spoke her truth and I support her," Feig tweeted. "I am very open to Jason's new version of GB but am also sad that our 2016 team may not get to bust again. We all are. We're forever proud of our movie."
Jones' impassioned words, Feig's half-supportive, half-disappointed comments, and McCarthy's statement of support perfectly embody the divide between Ghostbusters enthusiasts. While some are rallying behind Reitman because they hated the reboot and want him to denounce it as much as possible, others are lashing out against Reitman and his supporters, arguing that his plans to return the series to a place that fans (like himself) can enjoy is insulting and feeds into the that angry, vicious people who were nothing but nasty to those responsible for 2016's Ghostbusters. 
As John Scalzi, noted sci-fi author, stated in response to Reitman's comment about handing Ghostbusters back to fans, "Are these the 'fans' who basically s*** themselves in public because the previous Ghostbusters movie because it had women in it? Because I'm not gonna lie, I don't want to see the movie that caters to that sort of dimwitted chucklef***."
It is worth noting that Reitman did say that he has "so much respect for what Paul created with those brilliant actresses, and would love to see more stories from them" when he first announced he would be co-writing and directing Ghostbusters 3. 
At this point in time, we don't know what exactly Reitman has planned for Ghostbusters 3, only that the film will reportedly feature a crew of teenagers in the four central roles. Nothing to that effect has yet been confirmed, though. We're certainly intrigued to discover how the new pic will look and feel, and whether Reitman's intentions to have the story "unwrap like a present" and deliver to the audience "a lot of wonderful surprises and new characters to meet" will end up pleasing audiences or turning them off the franchise entirely. The Ghostbusters fandom is a fierce and incredibly divided one, so either one of those outcomes could materialize. 
Unfortunately, we have quite a while to wait until Ghostbusters 3 opens in theaters. Sony has it set to debut on July 10, 2020.