Arrested Development: New Episodes Get First-Look Photos, Release Date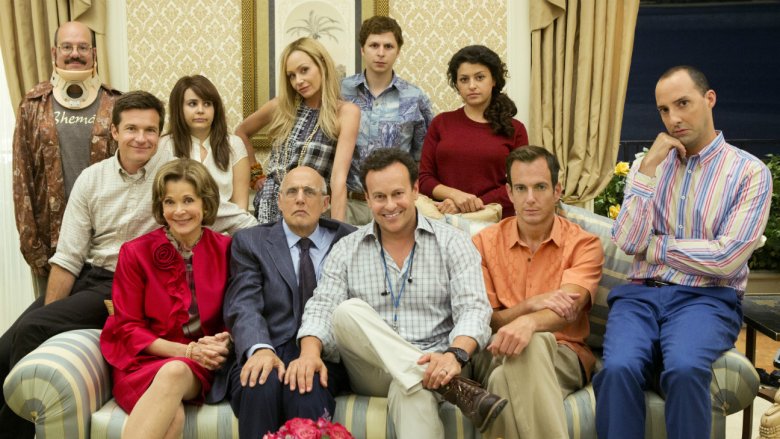 The Bluths are back, and... well, Bluth-ier than ever.
Netflix has announced that season "5B" of beloved comedy series Arrested Development will be premiering on the streamer on March 15. The continuation of the rather eventful season "5A" will consist of eight episodes, according to Deadline.
The series' official Twitter account posted a teaser this morning for the new batch of episodes, with the amazing caption "You Can't Handle the Bluth." (How did nobody ever think of that before?)
You can't handle the Bluth. Arrested Development returns March 15 pic.twitter.com/07UA4hJlgB

— Arrested Development (@arresteddev) February 19, 2019
When season "5A" concluded, Lucille 2 (Liza Minelli) was still missing (having disappeared in the middle of her campaign for Congresswoman), while the Bluths were gearing up to have complete fools made of themselves by way of a true crime series based on their lives, and Buster had completed an ill-advised escape from prison despite having only days left on his sentence (as if a Bluth has ever done anything that couldn't be considered ill-advised). According to a press release containing an official synopsis for the new... er, half-season, here's what everyone's favorite gang of uber-privileged ne'er-do-wells will be getting into this time around: "Pressures mount on the Bluth family as Buster (Tony Hale) heads toward a murder trial. The Bluth company is on the hook to build a 'smart' border wall that puts them in debt and risks exposing a software hoax perpetrated by George-Michael (Michael Cera). Soon the gay mafia is involved, and it appears that even Michael (Jason Bateman) can't save the family this time. And Tobias (David Cross) becomes a Golden Girl."
All of this sounds pretty much like par for the ridiculous course, and we can hardly wait to see how Buster's fortunes are once again reversed, what on Earth the gay mafia (is there really such a thing?) could have to do with software fraud and border walls, and how Tobias comes to channel his inner Betty White. The series famously has a tough time working around the scheduling considerations of its huge cast in order to come up with new episodes; even though we were privy to the fact that season 5 was being split into two parts, the arrival of new episodes less than a year after the last batch premiered seems like some kind of minor miracle. As a point of reference, the original series aired for three seasons on Fox before being canceled in 2006; revived by Netflix, the show didn't make its return with season 4 until 2013, and it wasn't until five years after that that season 5's first batch of episodes dropped.
Yet here we are, with the gang all together again, and Netflix even threw in a bunch of photos from the new installments to help whet our appetites, which you can check out below. In addition to those mentioned above, returning cast members include Will Arnett (Gob), Jeffrey Tambor (George Sr./Oscar), Alia Shawkat (Maeby), Jessica Walter (Lucille), and Portia de Rossi (Lindsay) .We'll be waiting with bated breath to see what kinds of bizarre situations, improbable misunderstandings, and harebrained schemes combine to vex the Bluths in this latest round of episodes; here's hoping it doesn't turn out to be the last batch, as cast members have gone on record stating that a season 6 would prove to be logistically difficult in the extreme. If this does turn out to be the swan song for the saga of the Bluths, we're sure that everything will turn out just fine in the end. (NARRATOR: Everything is not going to turn out just fine in the end.)