Netflix Cancels Friends From College After Two Seasons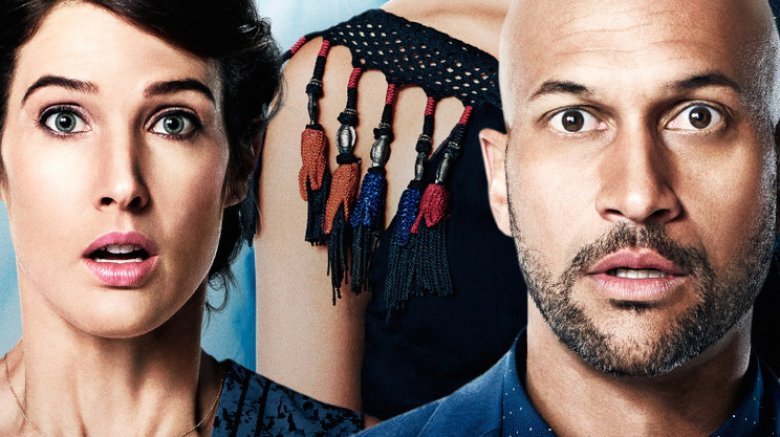 The old gang is splitting up. 
Netflix has canceled its original comedy series Friends from College, Deadline reported on Monday. 
Series co-creator Nicholas Stoller confirmed the news on Twitter, sharing with his followers that the show won't receive a third turn on the streamer. "Friends from College will not be returning for a third season," he wrote. "Thanks to everyone who watched it. Happy Presidents' Day!"
Netflix released a statement further addressing the series' cancellation following Stoller's social media post. "We're grateful to creators Nick Stoller and Francesca Delbanco for creating a wise, funny and supremely relatable show. We also want to thank the hard-working crew, and we raise a glass to the amazingly talented cast including Keegan-Michael Key, Fred Savage, Cobie Smulders, Nat Faxon, Annie Parisse, Jae Suh Park and Billy Eichner," a spokesperson for the streaming site stated, further reiterating that "Friends from College will not return for a third season."
Crafted by Stoller and his creative collaborator and real-life wife Francesca Delbanco, a novelist and screenwriter known for her 2004 novel Ask Me Anything, Friends from College centered on a group of friends who met as twenty-somethings on the campus of Harvard University two decades ago, who are now forty-somethings stumbling through life in New York City. Their lives entangle, their old and complicated friendships bend and break and get rebuilt, and their "ambitious yet clumsy and romantically intertwined" connections all make for some seriously "tragicomic misadventures." 
The series featured a sterling central cast: Keegan-Michael Key as strapped-for-cash writer Ethan Turner; Cobie Smulders as successful hedge fund lawyer and Ethan's wife, Lisa; Annie Parisse as interior designer and long-time paramour of Ethan, Samantha "Sam" Delmonico; Nat Faxon as unemployed trust fund baby (who turned into an adult who still acts like every day is a keg-stand-and-cigarettes frat party); Fred Savage as literary agent Max Adler; and Jae Suh Park as yoga instructor and aspiring actress Marianne. Friends from College also touted an equally dazzling recurring roster that included the likes of Billy Eichner as Max's fiancé Dr. Felix Forzenheim, Greg Germann as Sam's husband Jon Spurling, Sarah Chalke as Nick's girlfriend Merill Morgan, and Zack Robidas as Lisa's boyfriend Charlie. Even stars like Seth Rogen, Kate McKinnon, Billy Magnussen, Chris Elliott, and Ike Barinholtz made guest appearances on the series. 
Unfortunately, even with two bright talents steering the ship and a collection of top-notch actors bringing the story to life, Friends from College didn't fare well will critics. The series sits at an abysmal 24 percent approval rating on Rotten Tomatoes, the majority of professional reviews slamming it as underwhelming, unsatisfying, and "nothing more than a string of skits lumped together, hoping some cohesion, somehow, will happen." In her review of the series in its freshman season, Melanie McFarland of Salon.com wrote, "Stoller shapes each episode to indulge the performers' idiosyncrasies as opposed to servicing the story or character development, and the result is a flimsy story somewhat flogged into shape by hammy eccentricity. Now, whether you previously enjoyed Key, Smulders, Savage or any of the other actors' more successful prior projects is simultaneously irrelevant and precisely the point. The cast's collective and individual familiarity does not save Friends from College from being confusing at best, and irritating in large measure. Chances are it'll put off some viewers almost immediately."
With that in mind, it's not difficult to see why Netflix axed Friends from College. We can't definitively declare that the streamer's sole reason for cancelling the series after just two seasons was down to poor response from critics, but it's fair to say that it played a part in Netflix's decision-making process. Sadly, those hoping that Friends from College would improve after the first season with the second, and then get better from the second to the third, will never get the chance to see that happen. 
The good news, though, is that Stoller isn't out of work without Friends from College on his plate. He's currently working on two TV pilots: Our House, a potential comedy series that follows a couple as they try to "raise their kids without the influence of their crazy in-laws and siblings," and The Story of Us, a "hybrid comedy" Stoller co-created with One Day at a Time's Mike Royce that's billed as "a story told through interviews and vignettes spanning 10 years, about how an unlikely couple becomes an unlikely family."
Netflix has been clearing house lately, slashing series down in efforts to make room for newer, fresher, better originals. Recently, the streamer completely wiped out its collection of Marvel superhero series, axing Iron Fist, Daredevil, and Luke Cage in the late months of 2018 and then cancelling The Punisher and Jessica Jones on Monday. As Netflix continues to shape its content slate for 2019 and further positions itself as the number-one streaming platform in existence, even with new sites like Disney+ and DC Universe cropping up, the shows that aren't up to snuff (whether that's due to quality or the projects simply no longer fitting into what Netflix hopes to do) simply have to fall to the wayside. Friends from College is evidently one of them.