FX Orders Series Based On Comic Y: The Last Man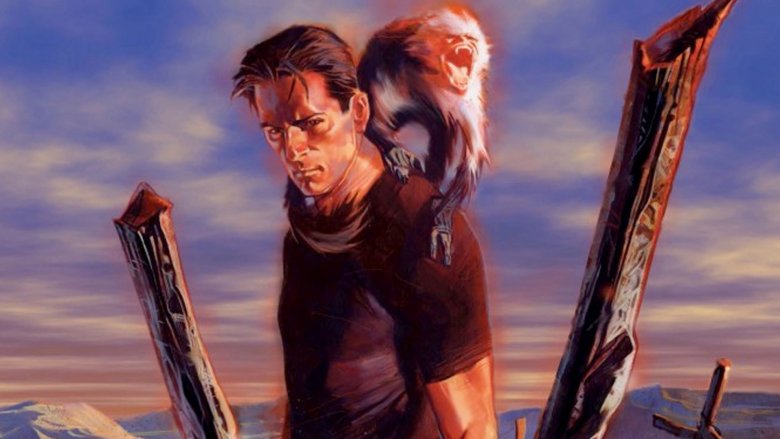 The last man on Earth is finally getting his due.
FX announced that it has ordered Y, based on the beloved DC/Vertigo comic Y: The Last Man from writer Brian K. Vaughn and artist Pia Guerra, to series. The adaptation is expected to hit the screen sometime in 2020. (via The Hollywood Reporter)
Beginning in 2002, Y: The Last Man enjoyed a 60-issue run and has been lauded as one of the greatest comic book series of all time. It told the story of Yorick, an aspiring escape artist who is — say it with us — the last man left alive after an unexplained event causes every Y-chromosome carrying mammal on the planet, including humans, to die all at once. With his monkey Ampersand, he travels across the country in search of a geneticist who might be able to help him unlock the secret of his survival in a last-gasp effort at saving humanity from extinction.
The property has been stuck in that lovely corner of Hollywood known as Development Hell for over a decade. In 2007, the film rights were acquired by New Line Cinema, which had designs on adapting it into a feature film penned by Carl Ellsworth (Disturbia) and directed by D.J. Caruso (The Disappointments Room).  New Line eventually balked at the three-film adaptation Caruso was intent on shepherding to the screen, and the project was passed to Jericho writers Matthew Federman and Stephen Scaia in 2012, with Dan Trachtenberg (10 Cloverfield Lane) being eyed to direct the picture. But the studio's hemming and hawing proved to be the final nail in the coffin of the film adaptation, as the rights to the property reverted to Vaughn and Guerra in 2014.
FX began developing Y: The Last Man for television in 2015, and after considerable time spent searching for suitable talent to bring it to the screen, they finally found the man and woman for the job early last year. The network ordered a pilot from co-showrunners Michael Green (Logan, Blade Runner 2049) and Aida Mashaka Croal (Marvel's Jessica Jones) in April, and apparently the brass liked what they saw enough to finally hand down the series order today.
The pair will be working with quite a cast. In the role of Yorick is Barry Keoghan, who received raves for his role in the BBC TV series Dunkirk and the horror feature The Killing of a Sacred Deer. Featured in supporting roles are veteran actress Diane Lane (House of Cards), along with Amber Tamblyn (Nostalgia), Imogen Poots (Green Room), Marin Ireland (Sneaky Pete), Juliana Canfield (Succession), and Lashana Lynch (who will appear as Maria Rambeau in the upcoming Captain Marvel). 
Green and Croal released a joint statement in the wake of the order's announcement. "Brian and Pia's exploration of a world without men is a favorite for its depth, its humor, its insights and its monkey," they said. "Adapted today, it offers us a cracked mirror to look at our own very cracked world. We thank them for their trust — we thank FX for their support — and we thank the casting gods for letting us work with this incredible group of actors."
Indeed, considering today's... how shall we put this... interesting political climate, it can be argued that the timing has never been better for Y: The Last Man to finally get the live-action adaptation it deserves. Its road was long and arduous, and at the end of the day, it almost didn't happen at all. In a November 2017 interview with THR, Green spoke of the difficulty he faced in tweaking his approach to the series in the wake of the 2016 presidential election. "It would have been a very different show, and very different development process, had the election not been as horrifying as it was," he said. "I had to put the script down for a couple months and really reassess it tonally, because it became a different creature, it became violent protest. It couldn't not be political, and I had to embrace it, and I had to find my way in, and I had to find a way to channel my own dismay, disappointment and rage into it, while still keeping it what it is. For a minute there I almost walked away."
Fortunately, he found a way, and fans of the comic series will be delighted to know that he intends to field a reasonably faithful adaptation which will remain true to the story, and will not be padded to hit a predetermined episode count. "Whether it is 60, 70 or 80 episodes, I'm gonna pick a number, and I'm gonna stick to it," he said. "And I'm gonna write to it. There's so many brilliant things in that comic, [and] the two biggest are the premise, and the ending."
Here is where we should give thanks to Development Lucifer for hanging onto the property as long as he did, because Y: The Last Man begs for the sort of long-form storytelling afforded by episodic television; any standalone feature film would have inevitably given the property short shrift. We've got a while before Y hits the screen, but we're sure to see more casting and production details trickle out over this year; we'll be here to report them as they do.