The Real Reason You Don't Hear From Bear Grylls Anymore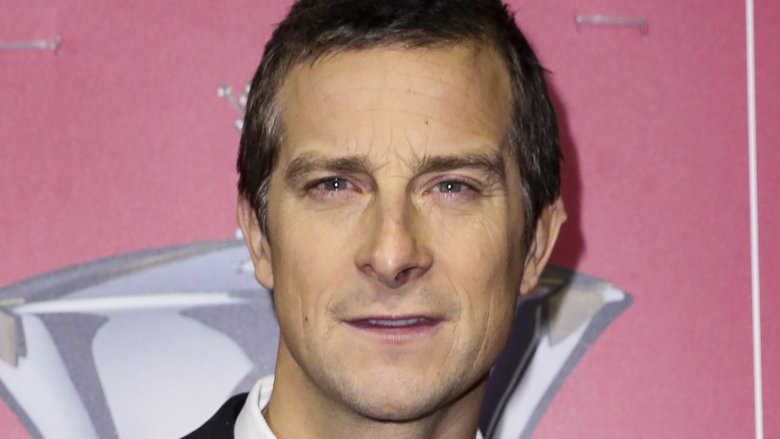 Getty Images
Bear Grylls has never been your typical TV star. Best known for his popular Discovery Channel show Man vs. Wild, which ran from 2006 through 2011, Grylls has made a career out of teaching people how to survive in some of the world's most inhospitable environments. Whether he was making a meal out of local creepy crawlies, running through the woods to escape a forest fire, or climbing up a waterfall, he always made it out alive.
Grylls didn't start learning survival skills with hopes of getting in front of a camera one day. In his early twenties, he gained experience getting out of extreme situations during his service in the British Army reserves. He eventually became a survival instructor and worked in North Africa, but after getting injured in a parachuting accident, he decided it was time to move on to something new.
He took on some other adventures instead, like climbing Mt. Everest, circumnavigating the British Isles on a jet ski, and crossing the North Atlantic Ocean in an inflatable boat. His endeavors eventually caught the attention of television executives. Nothing phases him, which makes him such a fascinating public figure. Since Man vs. Wild ended, though, his career hasn't been getting as much buzz. Here's what Bear Grylls has been up to.
He wrote a children's book series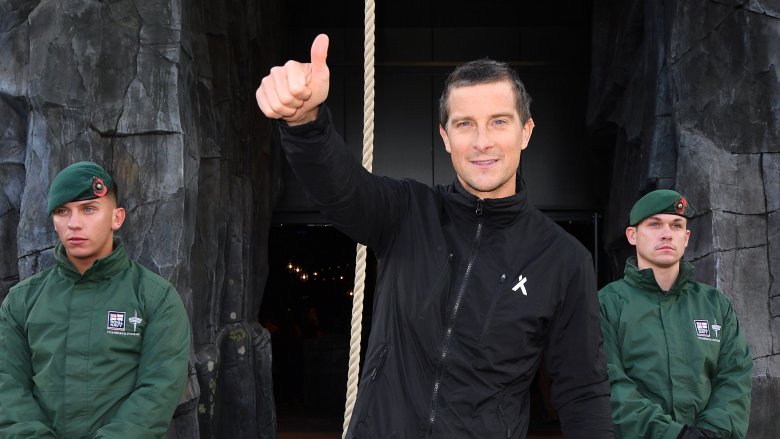 Getty Images
Grylls has written a children's book series titled Mission Survival. Literary pursuits rarely make for good TV, which is why even many of his dedicated fans aren't aware of the fact that he is also a fiction author. This series of adventure survival books is centered on teenage hero Beck Granger and his search for the mythical City of Gold, which is rumored to be located deep in the jungles of Colombia. The series takes readers from the dunes of the Sahara Desert all the way up to the frozen tundras of the Arctic Circle. 
The books also aim to teach valuable survival skills to kids. Grylls includes little guides on everything from basics like tying useful knots to more advanced techniques like navigating unfamiliar places by using the sun. The Mission Survival books are fast paced, quick reads that are full of engaging twists and turns and suspenseful cliffhangers. Grylls definitely knows how to write for a teenage audience.
He wrote a series of thriller novels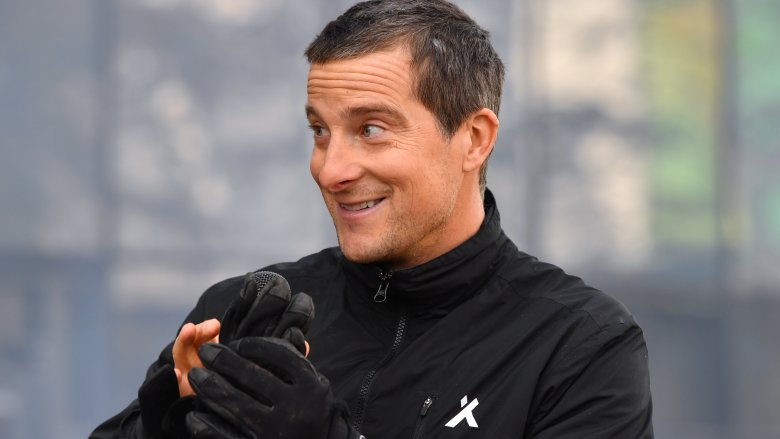 Getty Images
In addition to the Mission Survival series, Grylls has also written several thriller novels intended for a more adult audience. His true love might be the great outdoors, but he's clearly pretty happy to spend time writing, too. Grylls' novels are all about protagonist Will Jaeger, a former SAS soldier (just like Grylls himself), who gets tangled up in a old conflict that has been dragged out decades after the end of World War II.
The first novel, Ghost Flight, follows Jaeger and his crew as they avenge his friend's death in the Amazon rainforest. The follow-up, Burning Angel, takes readers all over the planet as Jaeger is faced with more and more difficult obstacles. The Hunt rounds out the trilogy as Jaeger is put to the ultimate test: rescuing his wife, Ruth, from a group of kidnappers with a sinister motive. Grylls' life is exciting enough, and all of his adventures have clearly sparked his imagination and inspired him to put these stories down on paper.
He's a motivational speaker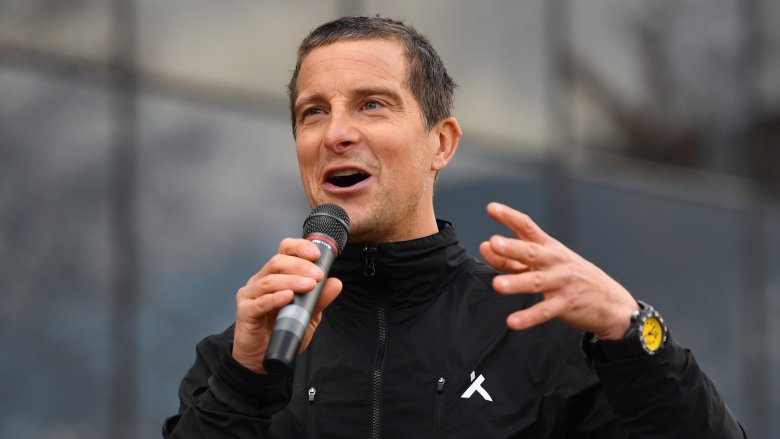 Getty Images
Nowadays, Grylls spend quite a lot of time focused on motivational speaking. He travels the world speaking at schools, churches, and business conferences. He also speaks with many Boy Scout groups — as a dedicated Scout himself, he wants to inspire other young boys to get outside and master valuable survival skills.
Motivational gurus can rub people the wrong way, but Grylls has done it all and lived to tell the tale, so his words carry a little more weight than your average inspirational speaker. His presentations are far from typical. Have you ever witnessed a speaker who ate live maggots on stage? Probably not, but that's Bear Grylls for you. He stays very upbeat and energetic whenever he is in front of a crowd, and when it comes to hyping up his audience, he learned from the best. "I learned one critical lesson from Steve Irwin," he told Outside Magazine, "which is that people love enthusiasm."
His new show is on a smaller network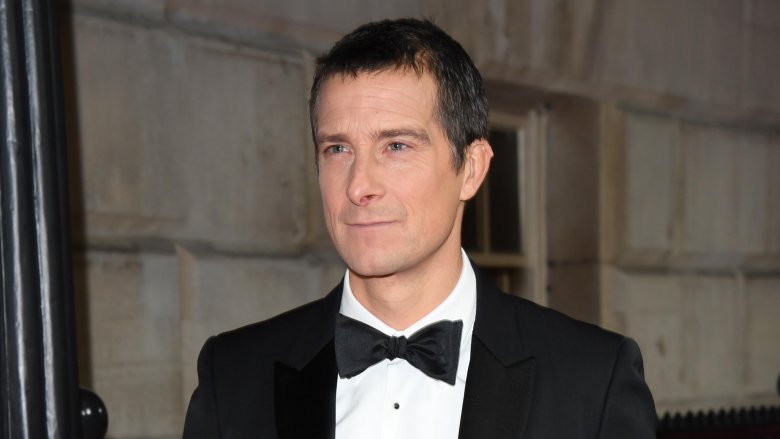 Getty Images
Although Man vs. Wild ended several years ago, Grylls has worked on other TV shows since then. Currently, he stars on Bear's Mission With..., which airs on the British network ITV. Episodes are also available to watch online. However, this network does not have the same budget or reach as the Discovery Channel, so Grylls does not receive the same kind of promotion that he did while starring on Man vs. Wild. Grylls officially parted ways with Discovery back in 2012, but he has occasionally worked with them on projects since then.
What's the premise of Bear's Mission With...? It's based on another one of Grylls' former TV shows, Running Wild With Bear Grylls, in which he went on intense outdoor adventures with big name celebrities and public figures like Zac Efron, Channing Tatum, and even Barack Obama. On each episode of Bear's Mission With..., Bear goes on an overnight wilderness excursion with a different British celebrity.
He has three sons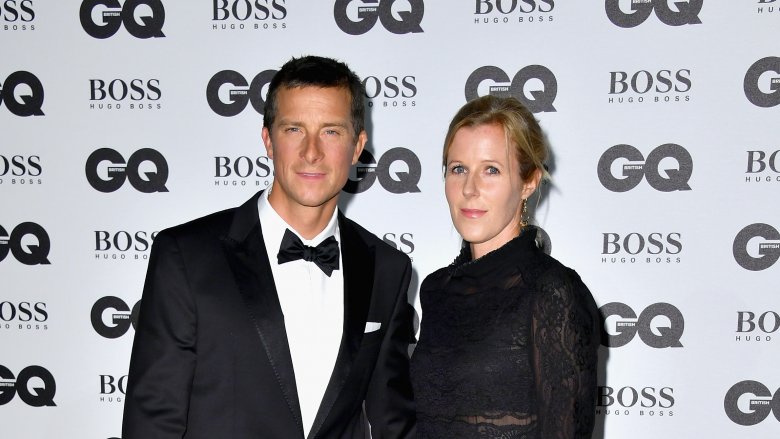 Getty Images
Grylls isn't just a survivalist and a TV star — he's also a family man. He and his wife, Shara Cannings Knight, have three sons, Jesse, Marmaduke, and Huckleberry, and they are more important to him than any media project. He believes that exposing his sons to risk is crucial, and he wants to be very involved with their upbringing. Grylls will be the first to admit that fatherhood is an adventure like no other. He also believes that leading by example is key, but he doesn't want his sons to simply watch him live an exciting life from afar — he wants to be there for them as they grow up and help them learn to navigate challenging situations.
When it comes to his overall parenting philosophy, Grylls sticks to some common sense guidelines. "I try to tell them to go for things, to have dreams and to embrace failure as a way to where you want to get to," Grylls told Fatherly. "To be kind and courageous and to never give up."
He doesn't consider himself a survival expert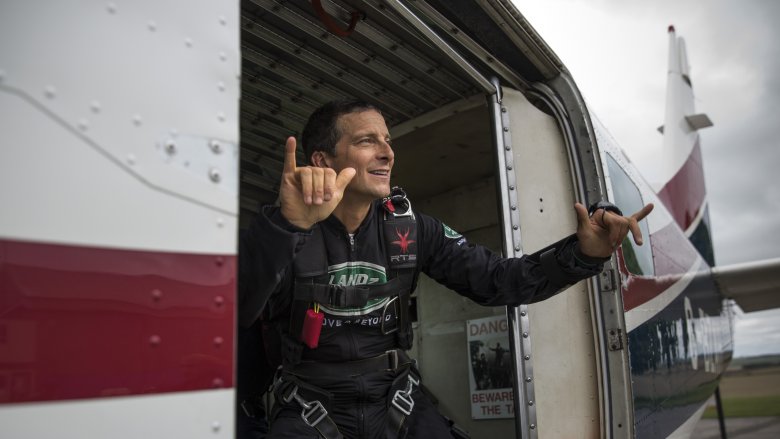 Getty Images
Grylls may know a thing or two (or three) about surviving in the wild, but age has certainly humbled him. Grylls admits when he was young, he was more confident in his specialized abilities because of his recent military training. But over the course of his career, he's realized that there are plenty of people out there who are more skilled than he is.
Although Grylls clearly knows countless concrete strategies to deal with almost any situation he could end up in, he feels that what sets him apart are not his physical abilities, but his core personality traits. Grylls says that his primary strengths are his work ethic, his daring attitude, and his positive mindset. "To be honest, I don't feel like I'm a survival expert," Grylls told Green Global Travel. "The more of this I've done, the more I realize that I'm a jack of a lot of things, but a master of very little."
He runs a survival academy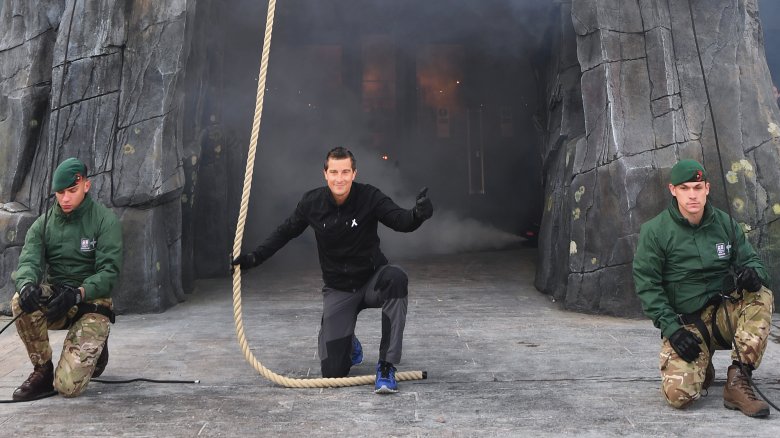 Getty Images
Today, Grylls runs the Bear Grylls Survival Academy in addition to his many other projects, and he's super passionate about it. Participants who enroll in the academy go through a survival course that will challenge them and push them to their limits (with help and monitoring from trained staff, of course). There's the 24-hour course, the family course, the adult course, and more. The ultimate test at the Academy? The Survival in the Highlands course, in which participants have to prove that they can hack it in the Scottish highlands.
The courses aren't just about learning concrete survival skills like navigation and lighting fires. Participants are also highly encouraged to focus on improving group communication, team work, resourcefulness, and the summoning the courage to take initiative and lead in difficult situations. People can participate in these courses in the United Kingdom, the United States, and Zimbabwe, and the team plans to add new locations in the future.
He likes to retreat to his island hideaway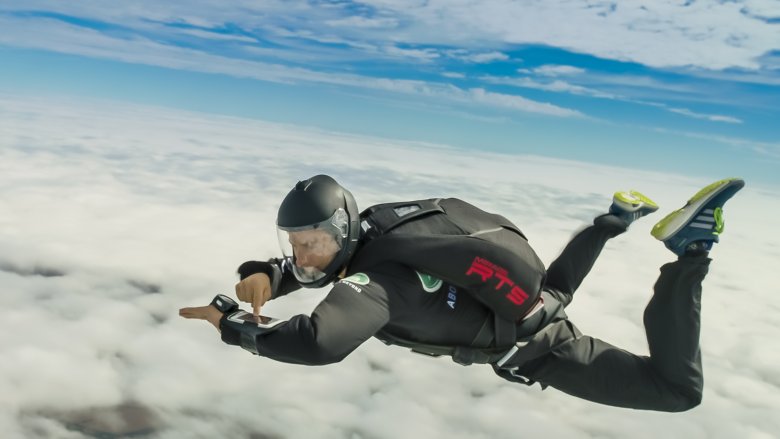 Getty Images
Obviously, Grylls is totally comfortable in isolated locations far away from the rest of society. It should come as no surprise, then, that he likes to spend his time off relaxing somewhere that might not necessarily have all the conveniences of modern civilization. You won't catch Grylls partying it up or rubbing elbows with the rich and famous every weekend. Whenever he can, he prefers to spend time on his family's secluded island, which is located off the coast of Wales. "It is where I spend time with my family and remind myself of all that really matters in my life," Grylls told Kuoni Travel. "We have no mains, electricity, or water, and run everything totally off grid. I love it!"
It's safe to say that neither random photographers nor fans would be making it out there to see what he's up to. He enjoys getting plenty of alone time without the eyes of an audience on him and truly reconnecting with the wild.
He's selective about who he spends time with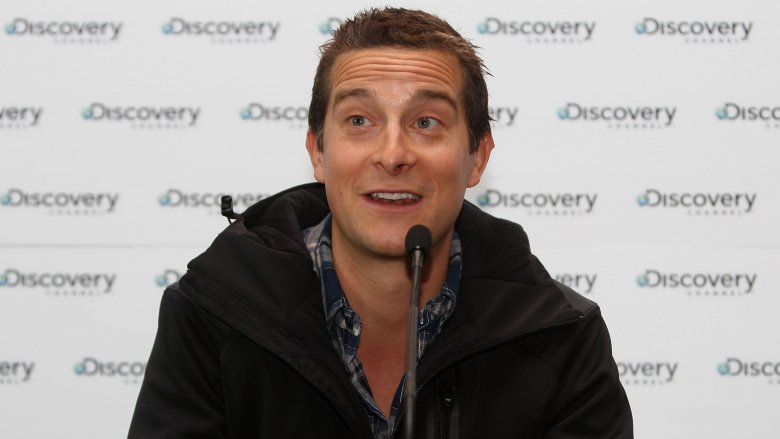 Getty Images
Aside from making appearances on TV for his job, Grylls isn't super concerned with embracing the typical role of a celebrity. He's a survivalist who just so happens to be well known, but he has always been a survivalist first and a celebrity second. He's definitely not interested in living the usual lifestyle that's associated with celebrity status. We're talking about a man who chows down on bugs and parachutes out of helicopters for fun. He doesn't care about how often his name shows up in the press or how many magazine covers he ends up on.
Grylls says that he wants to spend his time around people who share the same values as he does. He cares about people who possess the personality traits that really come in handy out in the wild. So, what does he really value in his friends and coworkers? "It's courage, resourcefulness, determination, teamwork, humility, and kindness," Grylls told Culturated.
He prefers "gentler environments" now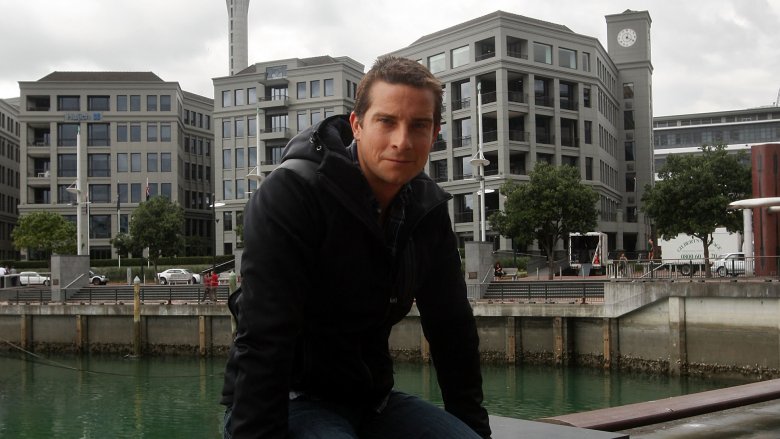 Getty Images
Grylls has traveled to all kinds of rough environments over the course of his career. Time and time again, he has proven that no terrain is too extreme for him. He has climbed mountains in Antarctica, spent time in the Moab Desert, trekked through the Rocky Mountains, and held his own just about anywhere else where the average person would struggle to keep it together. But the environments that generally got the most excited response from his viewers didn't quite match up with the places where Grylls felt the most at home.
"They like to see me up to my neck in the bad stuff, but I've learned to like the gentler ones," Grylls told Cultarated. He pointed out that being in the jungle presented a serious struggle, noting that "the jungle is always hard because of the unseen dangers." It was only natural that over time, Grylls would gravitate towards shooting in regions where he really wanted to be, even if it left his viewers feeling a little disappointed.
He likes spending time away from civilization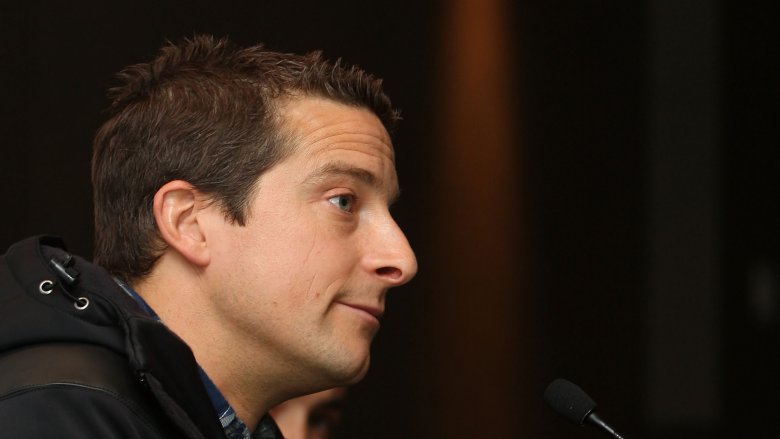 Getty Images
Grylls is the furthest thing from a city slicker — clearly, he prefers to spend as much time as possible outdoors. Sure, this preference doesn't exactly go hand in hand with celebrity status, but he does his best to balance his career with time to unwind in nature.
However, Grylls doesn't seem to mind his fame, because one of his major objectives has always been to encourage others to escape from civilization every once in a while and get in touch with their roots. Without having such a large platform, he wouldn't be able reach so many people–and he thinks that his message is desperately needed right now. "Being an adventurer and learning how to survive in the wild is all about nature, as it's where we started!" Grylls told Source Magazine. "I think a lot of people are starting to grow tired of living in busy cities surrounded by thousands of people and are keen for fresh air!
He doesn't like giving interviews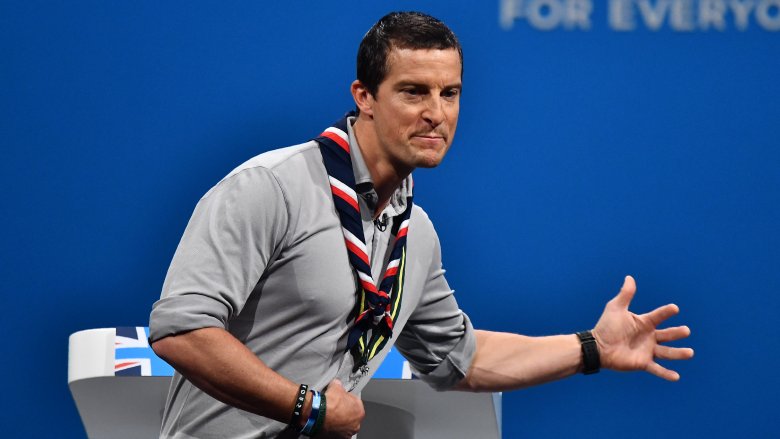 Getty Images
Although Grylls spends a good chunk of his time in front of the camera, he is a very private person overall. He's also not a huge fan of giving interviews, which is a big reason that you might feel like you don't hear from him as often these days. He's a reluctant sort of celebrity, who probably sometimes feels like he just stumbled into the spotlight.
Grylls certainly never set out on his survivalist journey to get famous. But his day-to-day pursuits are so fascinating that his career won't be slowing down any time soon, even if you're not hearing his name as often as you used to. "I've genuinely never liked things that draw attention to what I do, to me," Grylls told the Financial Times. "The irony is I've found myself in a job where it's all about that. I have to always put my head above the parapet."