Toy Story 4 Gets New Bo Peep Character Poster, Synopsis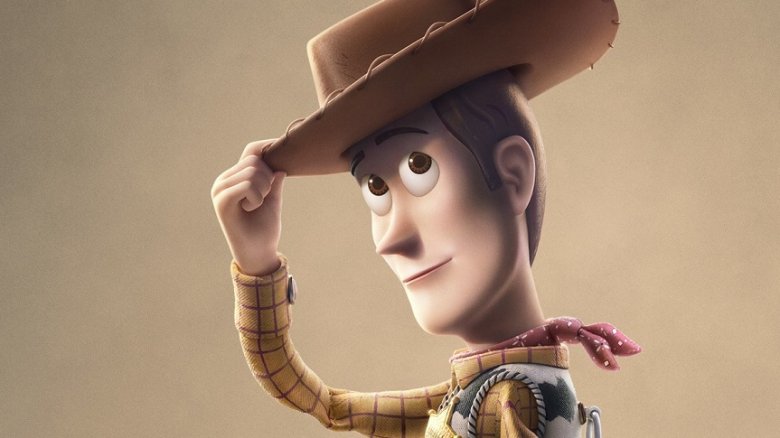 Bo Peep is back, and she's looking... well, totally badass.
The character, voiced by Annie Potts, is featured on a new teaser poster for Toy Story 4 which was released today. It's safe to say that her look has changed just a bit, suggesting that we'll see quite a different Bo Peep in the upcoming film.
Director Josh Cooley explained in a press release (via Collider) that the character — last featured in 1999's Toy Story 2 — has taken quite a different journey from Woody, Buzz Lightyear, and the rest of her friends since we last saw her, which is reflected in her new preferred mode of dress. "Bo's taken control of her own destiny," Cooley said. "While Woody was watching Andy grow up, Bo gathered dust until she took it upon herself to head out into the world. And when Woody shows up, they can't believe that they've found each other again."
Taken control, indeed; this looks like a Bo Peep who would not hesitate to seriously rough you up if the situation called for it. In lieu of a bonnet and frilly dress, she's now outfitted with sensible pants and a cape, along with an oversized pink bow in her hair (hey, nobody ever said that kickass couldn't also be cute). She's striking a defiant pose, gazing off into the distance and wielding her staff as if somebody's about to catch the business end of it, which is honestly something that we need to see in the new movie.
Potts also had a few things to say on her character's growth. "She is modern, independent, capable and confident," said the actress. "Bo is written and conceived to be inspiring, as she has weathered life's ups and downs with grace. I aspire to that."
The release of the new poster coincided with an updated synopsis for Toy Story 4, which fills in a few of the blanks left by the posters and teaser trailer we got late last year. It reads: "Woody (voice of Tom Hanks) has always been confident about his place in the world, and that his priority is taking care of his kid, whether that's Andy or Bonnie. So when Bonnie's beloved new craft-project-turned-toy, Forky (voice of Tony Hale), declares himself as 'trash' and not a toy, Woody takes it upon himself to show Forky why he should embrace being a toy. But when Bonnie takes the whole gang on her family's road trip excursion, Woody ends up on an unexpected detour that includes a reunion with his long-lost friend Bo Peep. After years of being on her own, Bo's adventurous spirit and life on the road belie her delicate porcelain exterior. As Woody and Bo realize they're worlds apart when it comes to life as a toy, they soon come to find that's the least of their worries."
Bo's new look was also featured in a brief, ten-second teaser posted to the Toy Story 4 Facebook page. With the film's release still months away, Disney and Pixar appear to slowly be ramping up the promotion machine, as if it's anything but a foregone conclusion that the flick will rake in roughly all of the money. Released in 2010 after an eleven year hiatus, Toy Story 3 was widely critically acclaimed, grossed over a billion dollars worldwide, and was as utterly charming and heartstring-tugging as any film Pixar has ever produced. The fourth installment is sure to be greeted with open arms and open wallets by the series' legion of fans, and considering the importance of the Toy Story films to Pixar's legacy, it's unlikely in the extreme that the latest installment will disappoint.
We're certain to get plenty of new promotional material to feast our eyes on in the coming months, but until then, check out the sweet new poster below, and prepare for those old heartstrings to get another firm yet gentle tugging when Toy Story 4 hits screens on June 21.