She-Ra And The Princesses Of Power Scores Season 2 Renewal At Netflix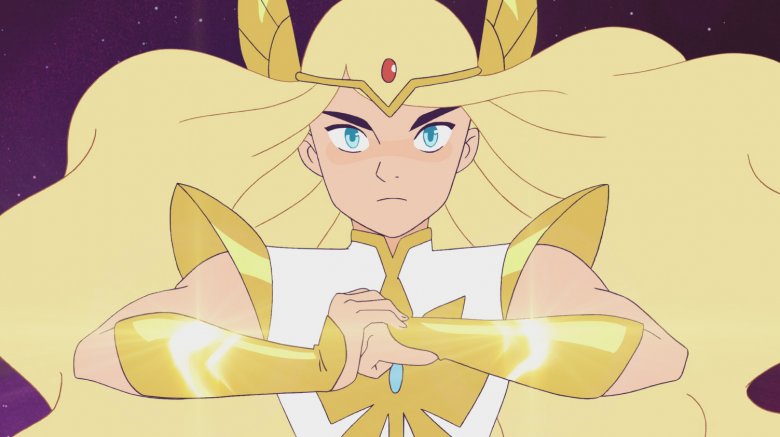 For the honor of Grayskull, She-Ra has the power!
Netflix has officially renewed its critically acclaimed animated series She-Ra and the Princesses of Power for a second season. The streamer broke the news, via an adorably bright announcement video posted on the show's Twitter account, on Thursday, January 24. 
Fans can queue up season 2 of She-Ra and the Princesses of Power, developed for television by showrunner Noelle Stevenson, will hit Netflix in just a few months, on Friday, April 26. Stevenson confirmed the release date in a tweet posted to her personal Twitter page.
A reboot of the 1980s series, She-Ra and the Princesses of Power faced some backlash before it premiered on Netflix in 2018. Some sent waves of hate toward the series' creative team, Stevenson and the art department in particular, for the redesigns of characters like Adora/She-Ra, Glimmer, Bow, Catra. Where the original series from 1985, She-Ra: Princess of Power, depicted the titular heroine as having slender arms and legs, wearing a short dress that showed off her décolletage and just a small amount of cleavage, and seeking justice with perfectly plucked eyebrows and a bright red lip, She-Ra and the Princesses of Power portrays She-Ra as more muscular and broad-chested, wearing a costume that features shorts underneath her skirt and a much higher neckline that covers her chest. Some argued that the redesign made She-Ra "unattractive and manly looking" and that it was reminiscent of the "CalArts-style" of animation that many have used to insult a popular aesthetic amongst modern cartoons, while others were quick to express their delight over the new take on She-Ra. 
When She-Ra and the Princesses of Power finally did arrive on Netflix in all its glimmering glory, critics had nothing but nice things to say about the series — and we mean that quite literally. The show currently sits at a sterling 100 percent approval rating on Rotten Tomatoes, holding a consensus that reads, "She-Ra and the Princess[es] of Power packs a powerful visual punch that hits even harder thanks to layered writing and multidimensional characters — the perfect show for seasoned fans and little ones alike." Reviewers applauded the new iteration of the classic superhero story for its "rainbowtastic visuals," progressive message about accepting yourself and others, interesting characters who are easy to root for, and intriguing story arcs. 
Clearly, the new She-Ra was able to shimmy past the haters and prove super-successful, becoming one of Netflix's greatest original offerings of 2018. It shouldn't shock anyone that the streamer ordered more episodes of the series following the critical and fan response, but it's news still worth celebrating. 
The first season — featuring the voices of Aimee Carrero as Adora, Karen Fukuhara as Glimmer, AJ Michalka as Catra, and Marcus Scribner as Bow — saw Adora discovering the sword that gave her the ability to transform into She-Ra and venturing off to team up with Princess Glimmer, Bow, and a horse named Swift Wind in the fight against the Evil Horde. However, her union with the Princess Alliance meant that Catra was left behind. Feeling alone and betrayed, Catra embarked on a quest for revenge, joining the Horde to battle against the girl who was once her best friend. Things ended with Catra leading an invasion and Adora reassembling the Princess Alliance, so the second season of She-Ra and the Princesses of Power should kick off on an action-packed note. 
She-Ra and the Princesses of Power season 2 will premiere on Netflix on April 26.