The Nasty Sacrifice Sophie Turner Made For Game Of Thrones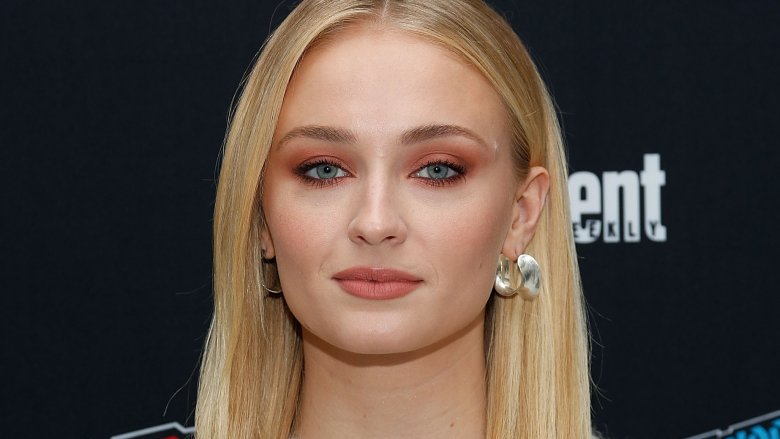 Getty Images
An actor's life is far from easy. Despite their cushy homes, luxurious wardrobes, and ability to play pretend on a daily basis, actors often have to undergo physical and mental transformations to prepare for a role. Some lose insane amounts of weight or take on a new accent, while others dive deep into a character's psyche (and later endure years of therapy to purge them from their systems). For Game of Thrones actress Sophie Turner, who has played Sansa Stark on the fantasy drama series since Ned Stark was still alive and before anyone knew Jon Snow was really a true-born Targaryen, her television gig required her to make a sacrifice she described as "disgusting." 
Speaking with InStyle's Erin Lukas, Turner got to talking about her fiery red locks that made her a standout on Thrones. The actress revealed that at the start of the series, when her character was still a young girl looking to marry into royalty, her hair was kept squeaky clean. But as Thrones progressed and as Sansa matured, escaping King's Landing and later venturing to the Eyrie before returning home to Winterfell, Turner was instructed to not wash her hair so that it appeared as dirty, greasy, and grubby as possible. 
Responding to the rumor that the male stars on Game of Thrones had to abide by the no-wash rule and the question of whether the female actors had to as well, Turner shared, "Well, for the first few seasons I was allowed to wash my hair because I was an aristocratic young girl. Towards season 5 they started asking me to not wash my hair and it was really disgusting. Now I wear I wig so I can wash my hair whenever I want, which is nice. But yes, for a couple of years I was living with pretty greasy hair."
She added that her hair and scalp were "really itchy" from all the build-up of grease and grime — a discomfort that was made worse by the snow machines used on Game of Thrones, which sent tiny bits of white paper floating through the air and directly into her long-unwashed hair. As Turner divulged, "We would have the snow machines going so we would have little snow paper particles that would get stuck in the grease. It was disgusting."
Contrary to what casual watchers may assume, Turner's hair actually carries a great deal of importance to Sansa as a character and to her personal narrative arc.
A natural blonde, Turner dyed her tresses red to become the young Lady of Winterfell when Thrones began in 2011 and kept up that intense hair-coloring routine for years, flip-flopping between being a redhead onscreen and a bright blonde in real life until 2017, when she partnered with haircare brand Wella to be its global brand ambassador. Since then, she's been wearing wigs on Thrones. 
Sansa, on the other hand, has almost always remained a ginger. Save for the time she experimented with black hair after Littlefinger (Aiden Gillen) successfully smuggled her out of King's Landing and Cersei Lannister's (Lena Heady) clutches, the Lady of Winterfell has resembled her redheaded mother, Catelyn Stark (Michelle Fairley), throughout the series' seven-season run. 
And Turner says that's no coincidence — there's a reason why Sansa has kept her red hair and why her hairstyles have evolved as she's grown older. The actress detailed that the fan theories about the symbolism of Sansa's hairstyles are totally true.
"There's definitely a correlation. For so long, Sansa's hair changed season by season depending on who was influencing her. The first few episodes she was a Northerner in Winterfell and took after her mother with a simple braid down the back. Then when she went to King's Landing it was a big, decadent halo that was very much like what the Queen wore. With Littlefinger, she dyes her hair black and wears all black. Then she goes back to Winterfell and returns to her mother's hair," explained Turner. "She created her own identity in season 7 and that kind of runs through to season 8. She's chosen how she wants her hair to be, and she's finally the leader and influencer instead of being influenced by everyone else."
Turner went into further detail about Sansa's hair in a past interview with Refinery29, revealing just how much significance it holds. 
"There's always a pattern. It's never random," she said of the many different hairstyles Sansa has sported over the years. "Sansa's hair is constantly reflecting the people she's learning from, or mimicking, or inspired by at the time. When she's Cersei's prisoner, and she's kind of absorbing all her manipulative techniques, it's reflected in her hairstyle, and when she's finding the spirit of Margaery [Tyrell, played by Natalie Dormer] in herself, she wears her hair like Margaery ... I've always liked when Sansa's hair was dyed black and pulled back in very tight, taut French braids. It was her own look, and something that she'd created."
Even with Thrones producers instructing her to steer clear of the shampoo and conditioner while filming the show and having to endure itchy, greasy hair for long stretches of time, Turner didn't have the most extensive hair routine out of the series' actors. That went to Daenerys Targaryen actress Emilia Clarke, who "needed a bald cap, a wig, and then had [an] intricate design on the wig." Things got easier for Clarke and the Game of Thrones hairstyling team during season 8, when the naturally brunette actress finally took the leap and dyed her tresses blonde to match her ice-haired character. 
Gross as it may have been for Turner to experience, not washing her hair may give some insight into what could happen on the eighth and final season of Thrones. HBO recently dropped a teaser trailer for the series' concluding chapter, and in it, Sansa, Jon Snow (Kit Harington), and Arya Stark (Maisie Williams) are all seen with their hair slicked back away from their faces. Turner offered her own explanation as to why the trio rock the swept-away look: "There's been some kind of explosion in Winterfell. Suddenly, all of our hair just went 'whoop' and stayed there. The grease really helped. Actually, it's all just grease. They haven't washed their hair for so long that they just brush it back with their hands and it stays."
Fans have seen some gruesome, genuinely stomach-churning stuff on Game of Thrones — from Joffrey Baratheon's (Jack Gleeson) death by poison to The Mountain (Hafþór Júlíus Björnsson) smashing Oberyn Martell's (Pedro Pascal) skull into the pavement to the infamous Red Wedding. So in the grand scheme of things, dirty, snow-paper-speckled hair really doesn't seem all that off-putting. You can always scrub away the grease from your hair, but you can't un-burn your preteen daughter after sacrificing her to the Lord of Light, now can you?