Daredevil: Charlie Cox Is 'Feeling The Anger' Over Show's Cancellation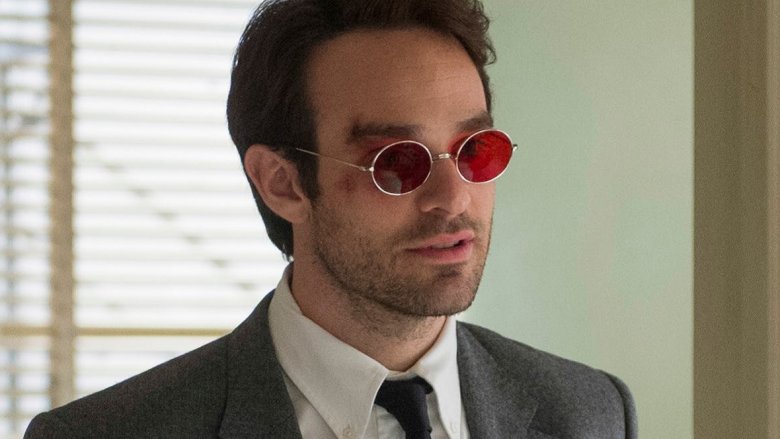 Netflix
Like Miley Cyrus sang, nothing breaks like a heart. And nothing breaks a heart quite like a sudden, seemingly inexplicable series cancellation. Just ask Charlie Cox.
Netflix devastated millions of Marvel fans when it axed the hyper-popular superhero series Daredevil shortly after the series premiered its third (and well-loved) season on the streaming site, offering no explicit reason as to why the pulling of the plug occurred in the first place other than an ambiguous reference to "creative differences" between the company and Marvel Television. Since then, viewers have rallied together to try to persuade Marvel TV and Disney to continue developing a fourth season of Daredevil, which the series' creative team reportedly already had mapped out and ready to go, with their fan campaign #SaveDaredevil. There's been frustration, devastation, and lots and lots of tears flowing through the Daredevil community lately — and lead actor Cox is experiencing all those feelings. 
Speaking with ComicBook.com, Cox, who portrayed Matt Murdock and his superhero alter ego Daredevil on the show, opened up about the heartbreak and anger he's felt after Netflix killed Daredevil. Asked if he wanted to say anything to the fans who started the #SaveDaredevil petition and who haven't given up hope on the series living to see a new day in the future, Cox shared his sincerest thanks and then got candid about his own emotions. 
"Just thank you. Just, thank you, and it's so cool that people care that much, and it's difficult because I love the character so much, I love the show so much that I'm feeling the same feelings. I'm feeling the disappointment, I'm feeling the sadness, I'm feeling the anger about it and I'm trying not to," said Cox. "I don't wanna get my hopes up, because obviously, I know that an online petition doesn't necessarily mean anything's gonna happen, but also, you hope that in this day and age the people who make those decisions do listen to what's going on online and if we make a big enough splash then maybe something can be done."
Cox mentioning that he doesn't want to be blindly optimistic about the situation and oblivious to the facts at hand is important. While, yes, it would be unbelievably awesome if there were a way to revive Daredevil for another season on a different platform (like Disney's direct-to-consumer service Disney+, set to launch later this year), we can't ignore the reality that Marvel isn't allowed to use any characters from the show for at least two years. In the original deal between Netflix and Marvel TV for the four superhero standalones Daredevil, Iron Fist, Luke Cage, and Jessica Jones (The Punisher wasn't a part of the initial agreement) as well as the ensemble series The Defenders, there's a clause that "prevents the characters from appearing in any non-Netflix series or film for at least two years after cancellation." This means fans won't see the return of Matt and co. until late 2020 at the earliest, since Netflix canceled Daredevil in October of 2018.
Daredevil is just one of three Marvel-Netflix series that fell away in 2018. The streamer also cut the cord on Iron Fist, starring Game of Thrones' Finn Jones as the billionaire Buddhist and martial arts expert Danny Rand, and Luke Cage, led by Mike Colter in the title role. Those two cancellations alone were enough to freak people out, but things got really bad when Daredevil bit the bullet unexpectedly. Fans have been on edge ever since, worrying that Netflix would kill Jessica Jones and The Punisher in the near future. (Thankfully, those series are still kicking.)
The good news here, despite all the sadness and anger, is that the characters and stories from Daredevil could still live on in some capacity and at some point. Sure, it will be a few years before that could legally happen, but there hasn't been any true indication that there isn't at least a tiny chance for a Daredevil revival down the line. Like Cox said, maybe if fans make enough noise, something miraculous can happen. Never say never, guys.