Brooklyn Nine-Nine: Andy Samberg Opens Up About Co-Star Chelsea Peretti's Exit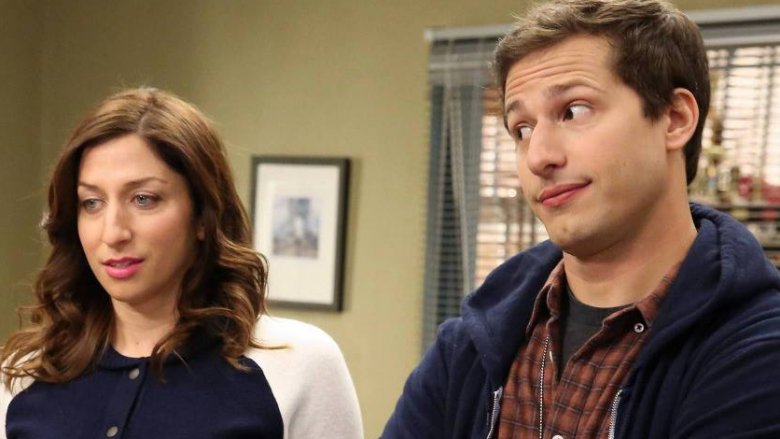 Fox
Brooklyn Nine-Nine finally circled back to the small screen with its sixth season of noice, smort, and cool-cool-cool shenanigans on January 10, airing a premiere episode that was both "uproariously funny" and genuinely poignant. Fans were delighted by the series' long-awaited return, particularly after it was cancelled at Fox before NBC swooped in and saved its life, but a pang of pain may have undercut the evening for some, who remembered that Brooklyn Nine-Nine season 6 will see Chelsea Peretti say goodbye as a series regular. 
Just ahead of the show's season 6 launch, lead actor Andy Samberg, who plays the lovably goofy detective Jake Peralta, spoke with Entertainment Weekly about Peretti's impending exit. 
Samberg told the outlet that the B99 crew knows "for a fact that she's not gone for good," and that the actress will "visit" on future episodes in a guest-starring capacity. And though the team will miss Peretti and her spunky, sharp-witted character Gina Linetti a great deal, they are also excited to see where the actress-comedian will go after she ends her Brooklyn Nine-Nine tenure. 
"It's brutal in that we love Chelsea and she's our dear friend, and it's also a huge loss because she's a killer when she shows up in any scene and is hilarious. So it's a bummer, but we're also really psyched for her, and I know that she's excited to be trying some other stuff that she's been wanting to do," said Samberg, who has known Peretti since childhood. "She's easily one of my favorite stand-ups out there, so I'm really excited at the prospect of her getting back to that, if that's what she decides to do. She and I go way, way back, so it was one of those tough but all-love kind of decisions."
Asked if he was at all surprised when Peretti announced her plans to leave Brooklyn Nine-Nine, Samberg shared, "I was aware that it was maybe on her mind on and off for a little while, just through being a producer on the show and chatting with her as a friend too. It didn't blindside me or anything. I would say it was all really sweet, and really good communicative decision-making made by everyone."
Brooklyn Nine-Nine will send Gina, who has served as the civilian administrator of the New York Police Department's (fictional) 99th Precinct and (for a short time) alongside Captain Holt (Andre Braugher) in the NYPD's public relations office, off with a two-episode arc. Samberg described the upcoming farewell as "really fun," with the first installment sticking to the traditional feel of Brooklyn Nine-Nine and the second taking some risks that reflect Gina as a character. 
"It's really fun, and the first piece of it is a little more traditional to our show, and a really great episode, which I have seen and really love. And the back half of it is a little more breaking the mold, which I think we all felt was really appropriate because it's in Gina fashion — not doing it the way that anyone else does it," said Samberg with a laugh.
Peretti revealed her plans to depart from Brooklyn Nine-Nine in early October 2018, writing on Twitter, "B99 fans. Hiiiiiiiiiiii. Chelsea Peretti, here. I won't be doing a full season of Brooklyn Nine Nine in Season 6. But that doesn't mean I won't ever be back, winky face emoji, heart emoji. I want to thank you for the hours you spent watching Gina be Gina: confident, idiotic-but-smart, pithy, and infused with rhythm and cell-phone radiation." She added in a follow-up tweet that "it is hard for me to know exactly what to say," then referenced the statement actress Emmy Rossum released when she announced her exit from Shameless.
At that time, Brooklyn Nine-Nine showrunner and co-creator Dan Goor promised fans that Peretti would certainly be back for guest appearances, and that they should look forward to seeing what cool new projects she takes on in her post-B99 life. 
"From the moment Mike Schur and I decided to create the show, we wanted Chelsea Peretti to be a part of it, and she always will be. She has brought so much to her amazing, hilarious, unique portrayal of Gina Linetti, which is not surprising since she is one of the funniest people in history. We have tried really hard to create a storyline for her departure that lives up to the character that can only be described as 'the human embodiment of the 100 emoji,'" Goor shared on Twitter. "While it's sad to see a member of the family leave, we are so proud of Chelsea and excited for what she does next. Also, I know for a fact this isn't the last we'll see of Gina Linetti. I mean she got run over by a frickin' bus, and she only missed like a week of work."
The series may be losing one of its brightest stars this season, but Brooklyn Nine-Nine is poised to be better than ever before. As Samberg said, there's no better time than now to tune into the series, "because you want to feel good about the world and you already watched every episode of The Great British Baking Show." (Hey, he's not wrong.)
Brooklyn Nine-Nine airs on Thursdays at 9 PM ET on NBC.