Rambo 5: Last Blood: Sylvester Stallone Shares New Photo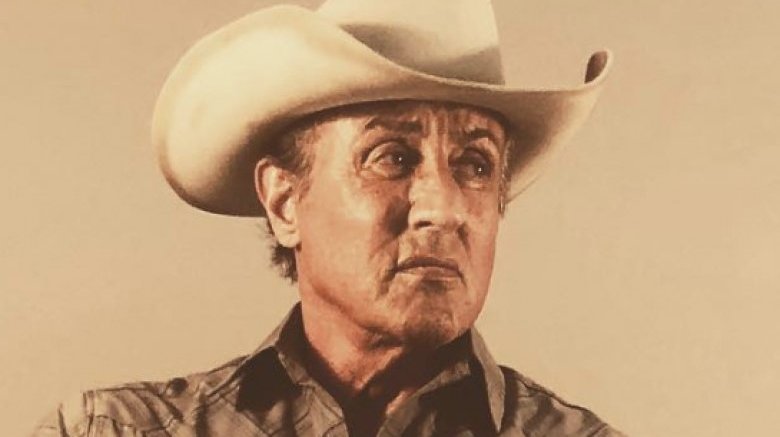 John Rambo is officially a cowboy, baby, and he's going to show off his boots and spurs until the cows come home — or until Rambo 5: Last Blood opens in theaters, at least.
Sylvester Stallone, the man behind the macho former United States Army Special Forces officer, recently took to Instagram to share with his eight million-plus followers a new photo from Rambo 5: Last Blood, due out this fall.
A black-and-white snap that shows the actor saddled up as Rambo, looking out at Rambo's father's ranch as his piebald-coated horse stares ahead, the photo marks the start of Stallone's personal promotional push for Rambo 5. The actor explained in the caption of the picture that from now until the film's release, he will be uploading images (presumably both behind-the-scenes snaps and stills from the movie itself) to his Instagram account. All photos Stallone shares will be monochrome, so expect his social media to take on a whole new visual theme ahead of Rambo 5's theatrical launch.
"Every few days until the MOVIE comes out I'm going to post images from the upcoming RAMBO," wrote Stallone. "See if you can follow along with the story using your imagination. All of the images that I post will be in black-and-white, but the film will be in dramatic color... #rambo5."
Stallone hasn't been shy about giving Rambo franchise fans sneak peeks at the forthcoming installment, directed by Get the Gringo filmmaker Adrian Grunberg. To celebrate the start of production, the actor uploaded a photo of himself in character, sporting a brand-new look that took many by surprise. It was one of the first looks we ever got of Rambo 5, so it was quite surprising to see the titular character dressed in fringed chaps, a cowboy hat, a plaid shirt, and workman's gloves, wearing across his face a glower so intense and focused that it could flatten a city. 
Another photo Stallone posted to social media was captured on set, showing him sitting atop yet another horse (a dun-colored one this time) and looking down at the forest floor underfoot. Rather than rocking typical cowboy garb, the actor was seen in a black coat and matching hat, assumed to be an alternative costume for Rambo in the new film. Stallone typed out in the picture's caption, "Comes a Horseman Wild and Free," referencing the 1972 single "Don Quixote" by Canadian singer-songwriter Gordon Lightfoot. 
Those who associate the Rambo movie series with, well, anything but the cowboy hats, boots, horses, and stables seen in these photos may be a bit confused by. Let us explain and get your brain un-boggled.
Rambo 5: Last Blood will pick up where Rambo 4 left off and see Rambo living on his father's Arizona ranch. Having adjusted to slower and more easygoing days spent tending to horses and basking in the simplicity of a pastoral life, Rambo is eventually drawn back to his aggressive, frenzied past when he learns that members of a dangerous Mexican cartel have kidnapped a young girl named Gabrielle (Yvette Monreal), the daughter of one of his friends. Thus, Rambo takes the situation by the literal reins and journeys to the U.S./Mexico border in search of Gabrielle and the cartel leader Hugo Martinez (Sergio Peris-Mencheta). His mission is a difficult one, described as a "violent descent into hell" made all the more complex by his personal demons and post-traumatic stress disorder that continue to plague his mind.
So, while Rambo 5: Last Blood might look different than past franchise entries, it will apparently feature just as much bloodshed and brutality as ever before — and potentially even more, as it's assumed the film will mark the end of the series and Stallone's final appearance as John Rambo. It's always best to go out on a bang, right?
Not much else is known about Rambo 5: Last Blood, but with the way the franchise has fared with its past entries, something tells us that the pic could end up bombing at the box office when it debuts later this year, or wind up going down as one of the worst movies of 2019. Rambo 4 was a critical failure, as were Rambo 3 and Rambo: First Blood Part II, so unless the fifth installment features a rock-solid script, tight pacing, captivating direction, and stellar performances from the lead and ensemble casts and does some super innovative stuff, Rambo 5: Last Blood might be a disappointment.
Fingers crossed that our worries prove unwarranted when Rambo 5: Last Blood launches sometime this fall.