Watchmen: New Footage From HBO Series Shows Off Ozymandias, Rorschach, More Masked Police Officers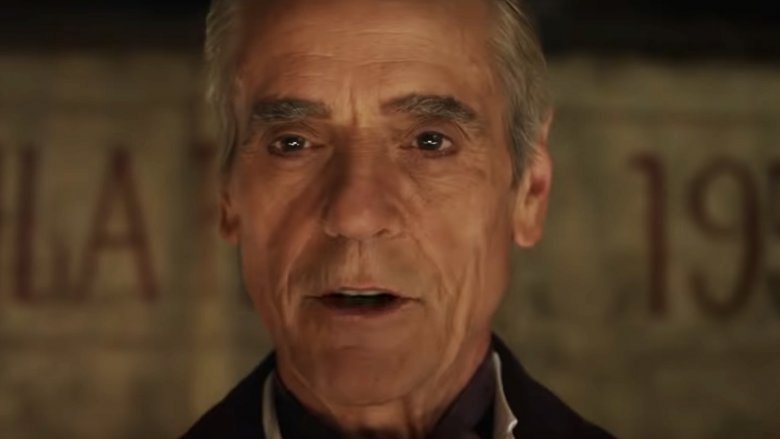 In the lead-up to the series' premiere on HBO, we've been watching Watchmen like a hawk. Luckily for us — and you dear readers out there who are into all the same stuff we are – HBO delivered over the weekend a few new peeks at the Damon Lindelof-created comic book adaptation. 
Uploaded to the official Instagram page for the Watchmen series, a set of three short clips highlight Jeremy Irons as Ozymandias, include a surprise appearance by Rorschach, and feature more of the mask-wearing police officers seen in previous promotional material. 
The first of the trio of teasers depicts one of the law enforcement officers, their eyes covered by their slightly oversized hat and the rest of their face sheathed in yellow fabric, approaching a vehicle. Then, the footage switches to display a mysterious man whose entire head is wrapped in (or simply made out of) what looks like a gold mylar balloon. 
Arguably more intriguing than that video comes the second clip, which features — gasp! — actual dialogue from the series. Again, the clip starts off with a shot of the police — this time two officers rather than just one — and then shifts to show Irons' Ozymandias delivering an impactful line: "It's only just begun." 
Some fans (like Josh Wigler over at The Hollywood Reporter) have speculated that perhaps Ozymandias, the supremely intelligent superhero otherwise known as Adrian Veidt who wound up turning dark and obliterating New York City, is actually saying "Johnny just begun" — a potential nod to nuclear physicist Dr. Jonathan "Jon" Osterman, a.k.a Doctor Manhattan, a member of the Watchmen team. 
It's an interesting thing to consider, for sure, but we're slightly more included to believe that Ozymandias is saying that "it" has only just starting to take shape, that being some kind of grand plan the vigilante-turned-killer has cooking up behind closed doors. (Also of note: The phrase "It's only just begun..." is featured in the bio section of the Watchmen Instagram account.) But who knows? Maybe the scriptwriters turned a blind eye to conventional grammar rules and had Ozymandias leave out a whole verb when making the announcement that Doctor Manhattan's abilities or schemes are only going to get wilder from that moment forward. 
That said, we're certainly not discrediting the possibility that this moment was captured during a scene in which Ozymandias and Doctor Manhattan are in close proximity. In fact, that seems highly likely considering it looks like Ozymandias is standing at the Gila Flats Test Base in the video. (Squint just a little while watching the clip posted on Twitter, and you'll see "Gila" painted on the wall behind Ozymandias.) 
Watchmen comic fans will know that Gila Flats is the particle physics test facility where a young Jon Osterman worked after he completed his doctoral degree. Unfortunately, while he studied the ins and outs of intrinsic field removal, learned how to operate a powerful subtractor, and befriended Wally Weaver and Janey Slater, Osterman got mixed up into a horrible accident. He got stuck in the Intrinsic Field Subtractor, which exploded and disintegrated his body, but he managed to survive, reconstructing and reanimating himself as Doctor Manhattan. This all happened in 1959 — and in the new Watchmen series footage, "195-" can also be seen on the wall Ozymandias stands in front of. 
The last of the new clips features some unmistakable, iconic Watchmen imagery: a shot of a white mask streaked with black paint. This is, obviously, Rorschach, a.k.a. Walter Kovacs, a brutal justice-seeker whose moral absolutism spurs him to see the world entirely in black and white (in terms of morality, that is), and to dole out punishments with no mercy. The mask he wears — a mostly white one dotted with splotches of black ink, just like the Rorschach inkblots used in psychological testing — constantly changes design, reflecting how easy it is to flip from good to evil. 
Rorschach normally wears a fedora in addition to his signature mask, but that headwear is missing from this new Watchmen promo. There's no clear explanation as to why the character goes without it, but it's evident that some version of Rorschach will be alive on the series — unlike in the Watchmen film and graphic novel that both depicted Rorschach dying at the hands of Doctor Manhattan. If the show doesn't include the Walter Kovacs iteration of Rorschach (and we suspect it probably won't), perhaps it will feature someone else who has assumed the vigilante's mantle — like the second Rorschach, Reginald "Reggie" Long. 
Clearly, there's a whole lot of ambiguity here and so many questions left unanswered. Since Watchmen doesn't have an official release date as of this writing (it will launch sometime this year, rest assured), all we can do while we wait for HBO to make that call is continue to theorize what might happen when the series eventually debuts.