Mary Poppins Returns: Emily Blunt Dazzles As The Magical Nanny In New Photo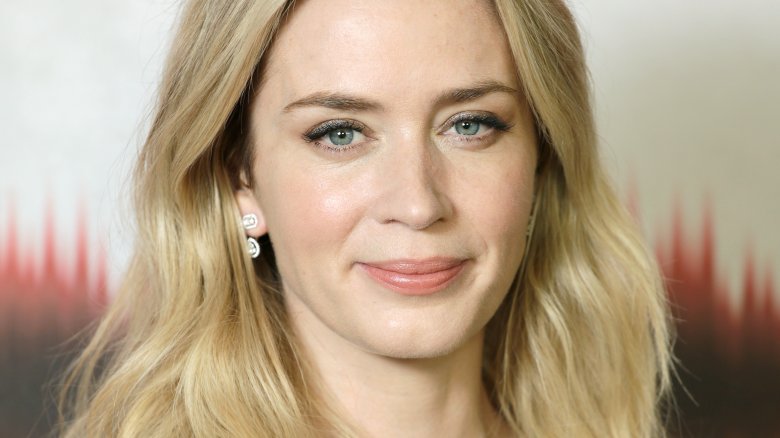 Getty Images
No need for a spoonful of sugar — Emily Blunt is already sweet enough as the new Mary Poppins. 
Entertainment Weekly released a new snap from Mary Poppins Returns, featuring Blunt as the magical, musical, massive bag-toting nanny first featured in P. L. Travers' 1934 novel and later brought to the silver screen by Julie Andrews in 1964. 
Wearing a red, chevron-striped skirt suit, navy polka dot gloves and matching bowtie, and a feathered hat, Blunt's Mary Poppins smiles wide as two men lift her off the ground. In the background, a man is shown grabbing the end of his flat cap as he kicks a leg up. Behind that man are two more, both swinging happily around the lampposts that line Cherry Tree Lane. 
This shot is evidently from an energetic musical number, but we aren't certain what the scene might entail or which famous Mary Poppins song the characters might be singing. We can't see any musicians in the shot, so it probably isn't from the new film's "Supercalifragilisticexpialidocious" sequence. There aren't any children or colorful aircraft in sight, so the image likely isn't taken from a reimagined "Let's Go Fly A Kite" number. The best guess we can make is that this photo comes from Mary Poppins Return's take on "Chim Chim Cher-ee," given the presence of all the men who look like they could be chimney sweeps. 
That said, however, maybe the snap was pulled from an entirely new song-and-dance scene not seen in the original Mary Poppins movie. After all, Mary Poppins Returns isn't a remake of the Andrews-starring classic but a continuation of the story. 
Director Rob Marshall and screenwriter David Magee, along with producers John DeLuca and Marc Platt, take viewers back to Cherry Tree Lane 25 years after the events of the first film and place the focus on an adult Michael Banks (Ben Winshaw), a father of three and recent widower who can't seem to find happiness anywhere. When mystical Mary and the charming lamp-lighter Jack (Lin-Manuel Miranda) enter the Banks' lives, things begin to change for the better. 
Last seen in one of 2018's best horror movies, A Quiet Place, Blunt seems all set up to shine in Mary Poppins Returns, which reunites her in song with her Into the Woods co-star Meryl Streep, who portrays Mary's quirky cousin Topsy.
Mary Poppins Returns will float into theaters on December 19, 2018.