New John Wick 3: Parabellum Photos Show Keanu Reeves, Halle Berry Teaming Up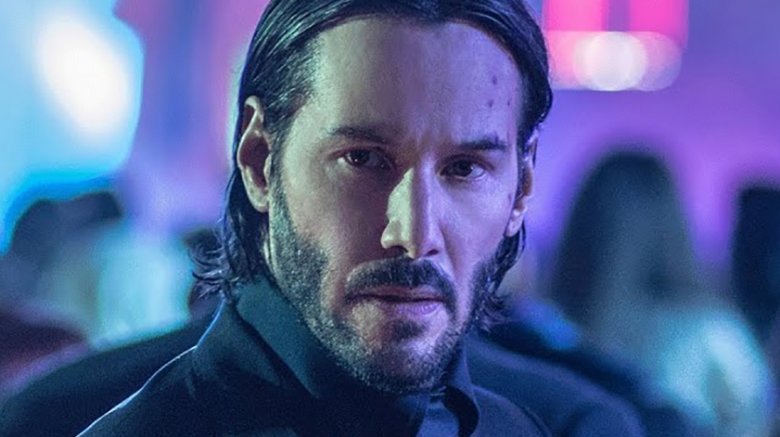 When you're freshly excommunicated from an exclusive organization and have hundreds of people vying for the $14 million contract on your life, you're gonna need a friend to help you live to see tomorrow — and a dog or two to remind you how you got into this mess in the first place.
In a pair of new photos from John Wick 3: Parabellum, John Wick has both. (Smart man, he is.) 
Shared in an exclusive reveal by Entertainment Weekly on Wednesday, December 19, the first image shows Keanu Reeves' expert hitman partnered up with Halle Berry's Sofia, a fellow assassin he meets in the Middle East, while the other sees him running through the rain in New York City.
 It's clear by the very nature of the photos that John eventually escapes the Big Apple and hops across the pond to get as far away as he can from those who want him dead. Once in international territory, he links up with Sofia, who "has a past with John," according to Reeves. "I end up going to find her to see if she can help me," he said. 
John quickly learns that Sofia is a package deal: she comes with two dogs, both Belgian Malinois, which play as important a role in Parabellum as John's dog Daisy did in the first John Wick film. As director Chad Stahelski explained to EW, "Whereas John's puppy was symbolic of his wife, Halle's [Sofia's] two dogs are symbolic of someone she's lost." 
Like the death of Daisy (at the hands of Russian mobster Iosef Tarasov and his pack of underlings) sparked John to begin his life of crime over again and embark on a ruthless killing spree, Sofia's pair of pups motivate and aid her in her endeavors. Stahelski revealed that Parabellum even includes an action scene centered on Sofia's "canine assistants," adding that the dogs work "very well tactically."
Berry's Sofia is just one new character John will encounter throughout Parabellum, which Reeves revealed "starts with John Wick on the run" and "goes crazy from there." Viewers can expect John to cross paths with Mark Dacascos' Zero and Jason Mantzoukas' Tick Tock Man — both assassins like John and Sofia — as well as with Asia Kate Dillon's the Adjudicator and Anjelica Huston's the Director — two members of the High Table criminal council. John's link to the Director is perhaps the strongest, as she's "someone who was responsible for [Wick's] upbringing and his protection." Dun, dun, duuun!
According to Stahelski, Parabellum will also serve as "a little bit of an origin story" as it explores who John Wick really is, and will feature even more deaths than the bloody, dead-body-riddled John Wick: Chapter 2. As for how the franchise might move forward post-Parabellum, the filmmaker said that a fourth John Wick is in the cards, though he isn't ready to make any definitive statements about the possibility of that happening just yet. 
It seems everyone is extremely keen on Parabellum, particularly because John is in a position he hasn't been in before and doesn't have the backing he used to. He has no Continental Hotel to run to and hide out in, ever since he broke the establishment's top rule and murdered someone on the property. He has more people thirsty for his blood and hungry for the cash that comes with it than he ever has. And to top it all off, he has a mysterious underground crime lord called the Bowery King (played by Laurence Fishburne) mixed into the situation somehow. 
For many, John Wick: Chapter 2 was even better than the original because of the new setting (it took the action to Rome before heading back to New York City) and the collection of new characters (like Riccardo Scamarcio's Santino D'Antonio, Claudia Gerini's Gianna D'Antonio, and Common's Cassius). Parabellum is continuing that trend, clearly, but apparently kicking things up a notch by having each fresh face hold some kind of connection to John and his past. Though we can't predict the future or say how Parabellum will turn out, the plot details and exclusive photos we've gotten so far have us feeling confident that the third John Wick could very well end up being the best in the franchise. 
We — and all of you readers out there — will sadly have to wait until May 17, 2019 to find out if that will actually happen. Fingers crossed.