Deadwood: First Images From New Movie Revealed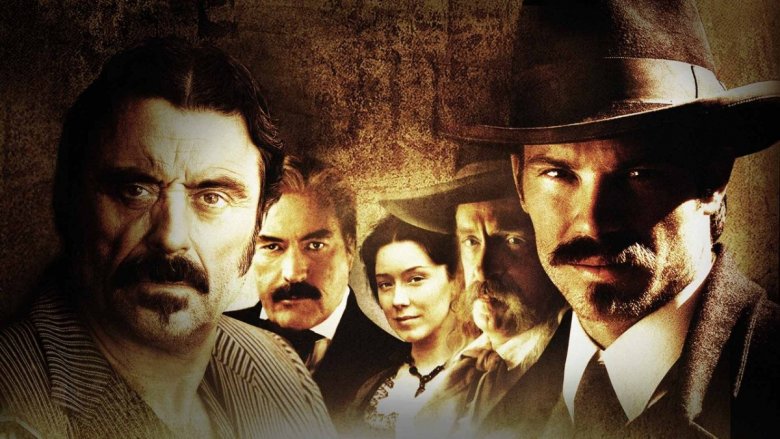 HBO
Believe it or not, Deadwood is about to return to the small screen — and there are pictures to prove it.
HBO released the first images from the feature film revival of its acclaimed series this morning via Entertainment Weekly. While virtually the entire original cast is on board the production, the new stills give us a look at only two characters, albeit iconic ones. The first depicts Al Swearengen (Ian McShane) apparently contemplating his low-down ruthlessness as he sits at the bar of the Gem Theater, and the second is a shot of Seth Bullock (Timothy Olyphant) standing outside his new post, the U.S. Marshal's Office.
Deadwood aired on HBO between 2004 and 2006 and only consisted of three seasons and 36 episodes, but it left an indelible mark on television. The nasty, violent depiction of the machinations of and bloody conflicts between the morally ambiguous denizens of the titular South Dakota town blew away critics and audiences alike, and talk has swirled around the idea of a revival ever since the show's shocking cancellation. The new movie will take place ten years after the events of the series.
Scheduling conflicts with the sizable cast were a main barrier to getting it done, but nearly twelve years later, here we are with a feature-length continuation before the cameras, shooting from a script by series creator David Milch, no less. Shortly after production began in November, several of the cast opened up about the logistical challenges of revisiting the series, and their feelings about finally getting the show back on the road.
Speaking with Penn Live, William Sanderson (who portrays hotel owner E.B. White) expressed his initial shock when it appeared the revival was finally coming together. "Timothy Olyphant couldn't even get the cast together in his backyard for a barbecue," he said, "But it's finally happening... The schedules of all of them — maybe myself excepted — became very busy. Many went on to get their own series... but the reason it came together: David Milch's talent. And of course," he added, with self-deprecating sarcasm, "when they found out they could have me, everybody wanted to be involved!"
In a completely separate interview with radio personality Rich Eisen, Olyphant hilariously echoed Sanderson's assessment by saying, "It's very hard to get people together for a barbecue that lasts an afternoon, let alone to get everyone together for a production that lasts a month or two," leading us to wonder just how many Deadwood cast reunion barbecues were planned and subsequently scrapped. But now that the gang is back together again, everybody seems to agree that the new feature will be nothing short of astonishing. W. Earl Brown, who portrays Swearengen right-hand man Dan Dority, took to Twitter to offer this jubilant and profane praise of Milch's script: "Its emotional and philosophical heft is gargantuan...The hour and half it took me to read was f*ing thrilling and f*ing heartbreaking... I was sitting on an airplane, cheering and crying as I took a journey that only David Milch could create."
In addition to those previously mentioned, returning cast members include Molly Parker (Alma Ellsworth), Paula Malcomson (Trixie), Dayton Callie (Charlie Utter), Brad Dourif (Doc Cochran), Anna Gunn (Martha Bullock), Kim Dickens (Joanie Stubbs), John Hawkes (Sol Star), Gerald McRaney (George Hearst), and Robin Weigert ("Calamity" Jane Canary). Joining the cast is Destroyer's Jade Pettyjohn as a new character named Caroline, per Collider. The flick's official synopsis is as follows: "In the Deadwood film, the indelible characters of the series are reunited after ten years to celebrate South Dakota's statehood. Former rivalries are reignited, alliances are tested and old wounds are reopened, as all are left to navigate the inevitable changes that modernity and time have wrought."
The feature is expected to debut on HBO sometime in 2019; in the meantime, whet your appetite for more old-timey mayhem, betrayal, and just so much swearing with the new images below.