SyFy Renews Van Helsing For Season 4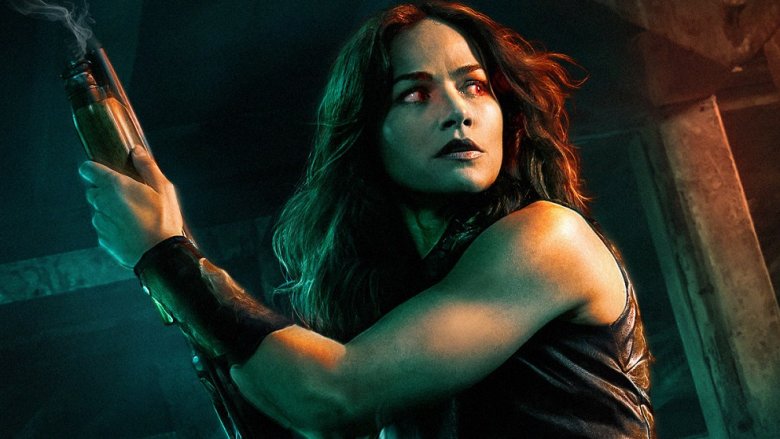 Van Helsing is coming back for round four — and it's bringing some new-ish blood into the mix.
SyFy has ordered an additional 13 episodes of its dark fantasy series, with new showrunner Jonathan Walker taking over from the show's creator Neil LaBute, according to Variety. Walker has served as a writer and producer on all three previous seasons.
"Having been in the writing room on Van Helsing since Season 1 I'm excited to take the reins as showrunner," Walker said in a statement. "Season 4 will delve deeper into the iconic lore of the vampires and their ultimate goals for this world. New villains will rise along with unexpected heroes joining the fight. We have a fantastic build planned for this season and I'm thrilled to share it with our dedicated fans."
The show follows Kelly Overton as Vanessa Van Helsing, the last living descendant of legendary vampire hunter Abraham Van Helsing, as she awakens from an extended coma to find herself in a post-apocalyptic world overrun by bloodsuckers. As her blood is capable of turning vampires human again, she navigates this new world with a gigantic target on her back, teaming with former military man Axel (Jonathan Scarfe, The Equalizer 2) and her long-lost sister Scarlett (Missy Peregrym, FBI) to attempt to put an end to the vampires' reign.
LaBute departs to preside as showrunner over his latest creation The I-Land, which recently received a seven-episode order from Netflix. The sci-fi series focuses on a group of ten people who find themselves on an island, having no idea how they got there; they faces challenges both from within and outside of their group as they navigate their mysterious new world. The show is set to star Alex Pettyfer (Magic Mike), Natalie Martinez (Under the Dome), and Kate Bosworth in key roles.
He leaves Van Helsing in the capable hands of Walker, a man of many talents who sports a mile-long list of acting credits in addition to his producing and writing work. He's cuurently set to star in the TNT series adaptation of Snowpiercer, and also served as a writer and producer on the SyFy series Continuum. 
Although its ratings have dipped slightly in the third season (which is currently drawing to a close), Van Helsing has been a solid hit for SyFy, earning a dedicated fanbase and generally positive reviews from critics. Its performance is all the more impressive considering that it airs on Friday nights, traditionally a wasteland for broadcast programming. Featuring plenty of twisty-turny intrigue, nail-biting suspense, and (of course) more vampire-dispatching action than you can shake a stake at, it's an original offering which perhaps deserves a bit better than its "sleeper hit" status. If you're unfamiliar, now is a perfect time to catch up; Netflix is streaming the first two seasons, and all of the season 3 episodes which have been broadcast are available for free streaming on SyFy's website (at least until early next year). 
Season 4 of Van Helsing is expected to premiere in the fall of 2019.