Ahsoka's Stunt Doubles Are Unrecognizable In Real Life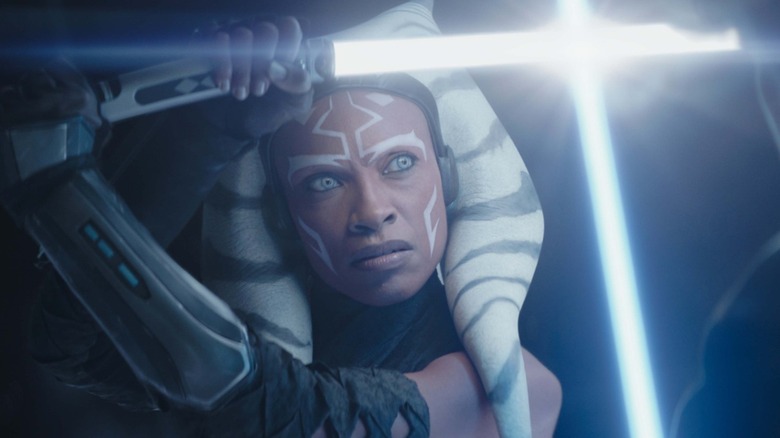 Lucasfilm/Disney+
Actors may get all the glory, but when it comes to sci-fi action shows, they're rarely the only ones bringing their characters to life. Stunt performers are just as critical to productions, providing the skills that wow audiences and bring a level of Hollywood magic. They also help contribute to building out core characters, as fight scenes are often some of the most important in showing us who the heroes and villains really are.
"Ahsoka" is no different. All the space shoot-outs and lightsaber duels wouldn't look nearly as good without the VFX artists, choreographers, stunt directors, and of course, the stunt doubles themselves. "Star Wars" has become pretty famous over the decades for its intricate laser sword battles and high-intensity blaster showdowns, both of which come up time and time again throughout "Ahsoka."
Of course, thanks to that Hollywood magic, you might not even realize while watching that your favorite star has been swapped out in certain shots for a stunt performer. And even if you do, you probably wouldn't be able to pick that person out of a crowd. The stunt doubles of "Ahsoka" are unrecognizable in real life, but they absolutely deserve their flowers.
Michelle Lee - Ahsoka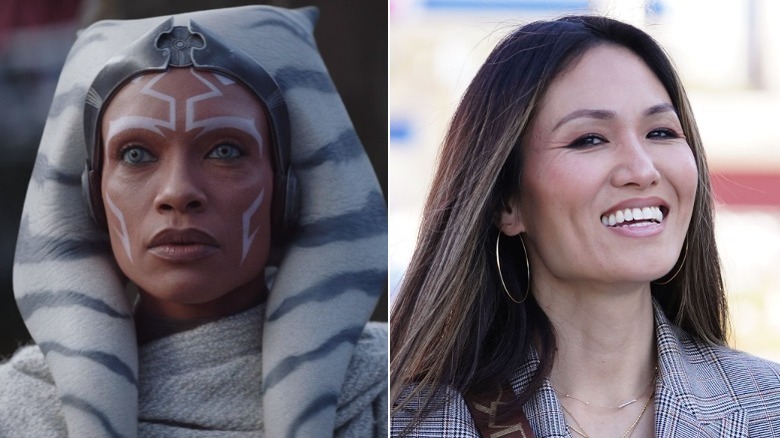 Lucasfilm/Disney+/Hollywood To You/star Max/Getty Images
Standing in as the stunt double for a lead protagonist is no easy job — especially when that protagonist is also a (former) Jedi. Rosario Dawson handles the majority of Ahsoka's scenes in her eponymous show, including a lot of the action, but she doesn't do it all. That's where Michelle C. Lee comes in.
Though Lee is an immensely skilled martial artist and stuntwoman, she's also a talented actor in her own right. You may know her from her Marvel Cinematic Universe role as Oksana in 2021's "Black Widow," or as Violet on the Paramount+ adventure series "Blood & Treasure." Lee's stunt credits are extensive, including everything from "Top Gun: Maverick" and "Suicide Squad" to "Olympus Has Fallen" and "Pacific Rim."
Beyond film and television, Lee has also contributed her skills to a number of major video game properties as a performance capture artist. Those credits include "Uncharted: The Lost Legacy," "The Last of Us: Left Behind," and most notably, the "Mortal Kombat" series. Lee has worked extensively in the latter franchise, even playing Mileena in the 2013 web series "Mortal Kombat: Legacy."
Chau Naumova - Sabine Wren
Sabine Wren has a unique fighting style, to say the least. Her training is multidisciplinary. She's trained under Jedi like Kanan Jarrus and Ahsoka Tano, as well as Mandalorians and even instructors at the Imperial Academy. As a result, her approach in combat is a mishmash, equal parts rebel bounty hunter, Mandalorian warrior, and Jedi Knight.
While Natasha Liu Bordizzo does a lot of the work in bringing that unique fighting style to life, she has help. "Ahsoka" Episode 7 credits Chau Naumova as her stunt double — a younger performer who still seems to be making a name for herself in Hollywood. Though she isn't marked as a stunt performer for the show on IMDb, Naumova's page does credit her as playing the role of Lieutenant Jensu, one of the X-wing pilots who accompanies General Hera Syndulla (Mary Elizabeth Winstead) to Seatos. That particular squadron is apparently full of stunt performers, as longtime Din Djarin stand-in Brendan Wayne also flies a fighter in the same scene.
Apart from "Ahsoka," Naumova's only credit on IMDb is for playing Ibuki in the video game adaptation "Street Fighter: Legends." According to iStunt, Naumova was also a competitor on Season 4 of NBC's "World of Dance." Hopefully, her multiple roles in "Ahsoka" will help to elevate her profile and career.
Morgan Benoit - Baylan Skoll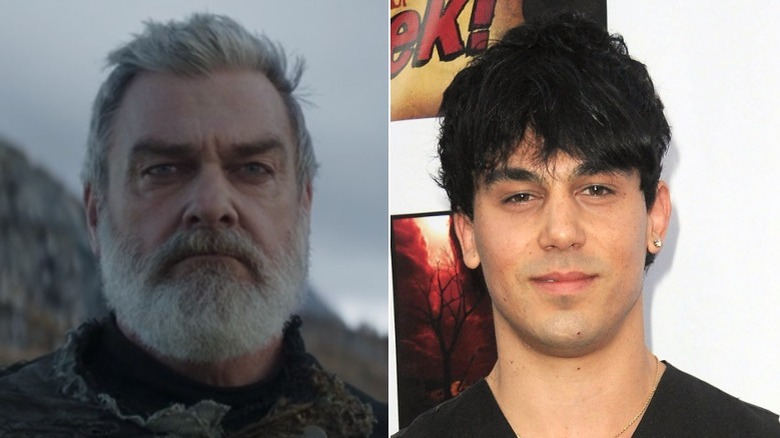 Lucasfilm/Disney+/Albert L. Ortega/Getty Images
For a villain with the poise and presence of Ray Stevenson's Baylan Skoll, you need a stunt double equal to the task. And that's exactly what Dave Filoni and the "Ahsoka" team got when they hired Morgan Benoit.
You may not know Benoit's name, but you've almost surely seen his work. He was a stunt double for Keanu Reeves in 2013's "47 Ronin," and he's worked numerous times as a double for actors like Lewis Tan, Daniel Wu, and Gabriel Luna. He has stunt credits on major action films like "Terminator: Dark Fate," "Renfield," and "Dune," as well as TV shows like "Agents of S.H.I.E.L.D.," "Westworld," and "Mayans M.C."
All of those credits should have been enough to get Benoit the role of Stevenson's stunt double on "Ahsoka," but it probably didn't hurt that he also had experience in the "Star Wars" universe. He's done stunt work for "The Mandalorian" since 2020, and he even lent his talents to the big-budget video game "Star Wars Jedi: Survivor" earlier in 2023. In short, he was the perfect man for the job, and Baylan's lumbering lightsaber fights are a testament to that.
Alicia Vela-Bailey - Shin Hati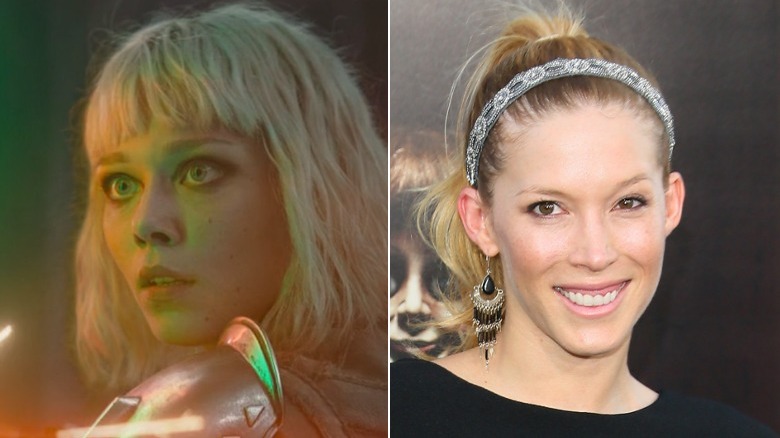 Lucasfilm/Disney+/Jb Lacroix/Getty Images
Having worked on "The Mandalorian" surely wasn't a requirement for stunt performers to get hired on "Ahsoka," but it clearly didn't hurt. Not only did Morgan Benoit move from one "Star Wars" show to the other, but Alicia Vela-Bailey, the stunt double for Ivanna Sakhno's Shin Hati character, did as well.
In addition to her previous "Star Wars" work, Vela-Bailey has earned credits as Gal Gadot's stunt double for "Wonder Woman" and "Batman v Superman: Dawn of Justice." Her other films and major shows include "The Orville," "Westworld," "Lucy," and "Interstellar."
"Star Wars" isn't the only Disney franchise that Vela-Bailey has experience in. She's a true veteran of the Marvel universe, appearing in several of the "Defenders" series, including "The Punisher" and "Luke Cage," as well as "Guardians of the Galaxy Vol. 3" and "Agents of S.H.I.E.L.D.," in which she also played the role of Alisha Whitley. Vela-Bailey has lent her talents to the "Avatar" franchise as well, playing a member of the villainous Recom unit in "Avatar: The Way of Water" in addition to working as a stunt double on the film for both Sigourney Weaver and Zoe Saldana.
Jason Chu - Ezra Bridger
Fans of "Star Wars Rebels" were elated at the end of "Ahsoka" Episode 6 when Eman Esfandi's Ezra Bridger finally made his onscreen debut. The character is instantly recognizable as the beloved Jedi rogue from the animated series, as Esfandi captures Ezra's spirit and personality perfectly. It was even more exciting for fans to see Ezra step into action in "Ahsoka" Episode 7, where Esfandi was assisted by his stunt double, Jason Chu.
Once again, we've got a "Mandalorian" alumnus here. Chu has also worked on Disney projects like "Agents of S.H.I.E.L.D." and "Captain America: Civil War," as well as multiple entries in the modern "Planet of the Apes" franchise. He's been particularly busy over the past several years, lending his skills to "Army of the Dead," "The Boys," "The Equalizer 2," "Blade Runner 2049," and "Free Guy," among other projects.
Ezra's Force-centric fighting style in "Ahsoka" is a lot of fun to watch, and if their social media activity is any indication, Chu and Esfandi had a good bond during production. The actor was commenting on his stunt double's Instagram posts as recently as December 2022, pumping him up over some snazzy pics.