The Kitchen: Tiffany Haddish, Melissa McCarthy, Elisabeth Moss Are Mobsters In First-Look Photo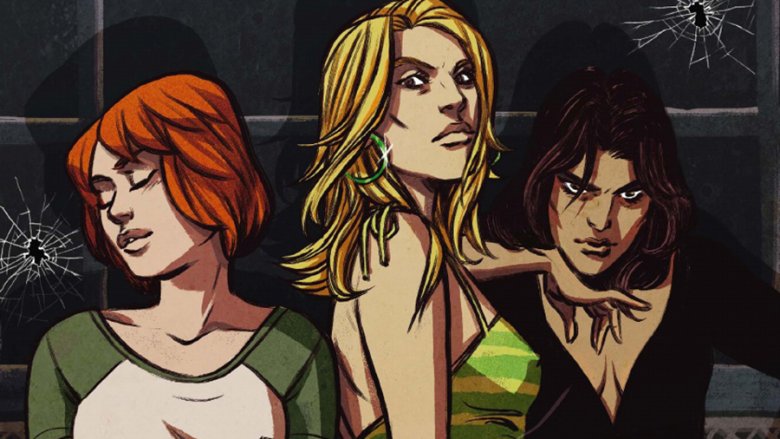 In New York City, you don't earn respect staying at home — you earn it out in the streets. 
Tiffany Haddish, Melissa McCarthy, and Elisabeth Moss are embodying that motto playing Ruby, Kathy, and Claire in Warner Bros.' film adaptation of The Kitchen, the first photo for which the studio unveiled on Wednesday. 
In the snap (via ComingSoon.net), the trio of ladies stand tall and quietly powerful as housewives-turned-rising-mobsters determined to take control of New York's Hell's Kitchen suburb — and the Irish mafia that runs it. The 1978-set film, based on the DC-Vertigo comic series of the same name by Ollie Masters and Ming Doyle, follows the three women as they clean up the mess their mobster husbands made when the FBI seized them and threw them in jail. Ruby, Kathy, and Claire find themselves mixed up in dangerous business, but the ladies soon discover they each have a taste for a life of crime. 
You see, Haddish's headstrong Ruby is "willing to kill anyone who gets in her way," Moss' timid Claire "eventually starts to fall in love with the violence that starts to take over her life," and McCarthy's caring Kathy "leads the charge for the women to take over the business." Sounds like a crew no one would want to mess with — not even the men who locked their husbands in the slammer. 
This first peek at The Kitchen doesn't reveal anything in terms of plot, and it keeps secret what (or who) the women are staring at in the mid-scene shot, but it does offer a nice look at what the lead actresses will look like on screen. All three appear exceptionally badass in the photo, and frankly, Haddish in a snakeskin trench coat is something we didn't know was missing from our lives until this very moment. We have no doubts that Haddish, McCarthy, and Moss' individual talents (Haddish is an Emmy-winner, McCarthy an Oscar-nominee, and Moss a two-time Golden Globe-nominee) will come together and form a magnetic ensemble that just might be cool enough to elevate The Kitchen into one of the best comic book movies of 2019. 
Written and directed by Andrea Berloff — in her feature directorial debut, no less – The Kitchen is set to open in theaters on September 20, 2019.