Melissa McCarthy, Tiffany Haddish To Star In DC Comic Adaptation The Kitchen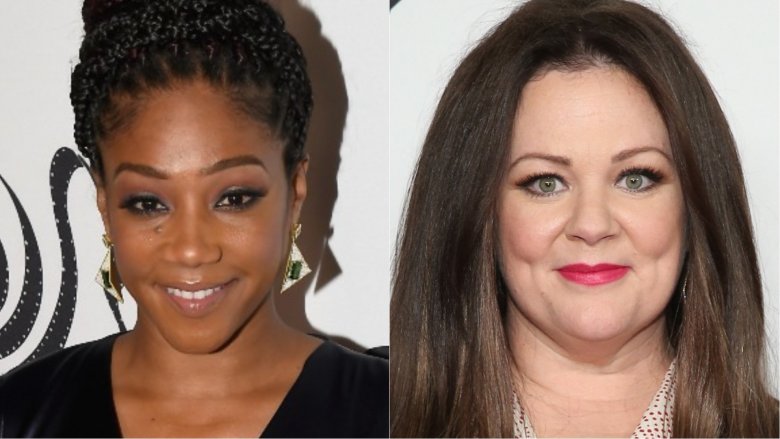 Getty Images
Tiffany Haddish and Melissa McCarthy are teaming up to topline a surprising comic book adaptation from DC Entertainment and Warner Bros.
According to a report by Deadline, the comedic actresses have signed on to co-star in The Kitchen, a gritty crime drama based on the comic book series by Ollie Masters and Ming Doyle.
The series was published by Vertigo, an imprint of DC Comics, running for eight issues between 2014 and 2015. A crime drama with three female leads, The Kitchen is set against the backdrop of 1970s Hell's Kitchen, New York, focusing on the Irish mob groups that have concentrated their power there. When the FBI sweeps up the major male leaders of the mob, their wives take over the continuing criminal enterprises, and quickly prove to be considerably more vicious and ambitious than the old bosses ever were.
The adaptation will be written and directed by Andrea Berloff, a co-writer of Straight Outta Compton, in her directorial debut. It will be produced by Michael De Luca, who is also at work producing Suicide Squad 2 with Gavin O'Connor.
Recent rumors that have been circulating indicate that Warner Bros. is reevalutating its strategy with regards to adapting DC comics for film, and now intends to split its comic book properties into one banner for younger audiences and another aimed at adults. Whether or not that turns out to be true, this certainly sounds like a comic book adaptation firmly for the 18–35 set, and a thoroughly unexpected (but welcome) addition to WB's development slate.
Haddish will next be seen on the TBS TV series The Last O.G. with Tracy Morgan. McCarthy's college comedy Life of the Party is set for release from Warner Bros. on May 11.