Why The AHS: Delicate Cast Including Andy Cohen Makes So Much Sense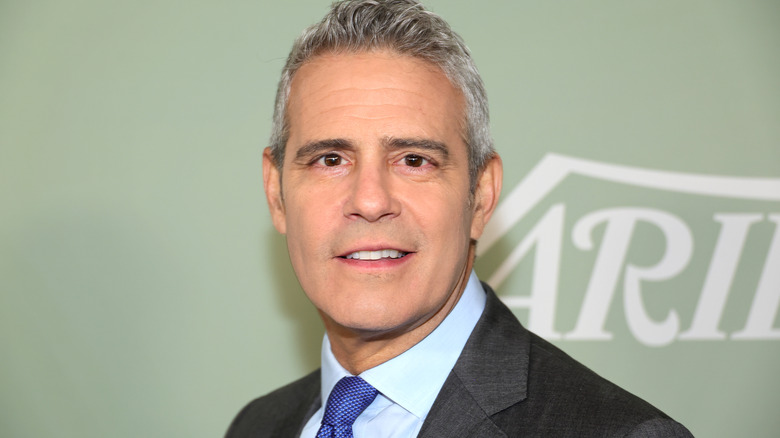 Theo Wargo/Getty Images
Anyone who watched the season premiere of "American Horror Story: Delicate" definitely noticed the conspicuous presence of Andy Cohen, the apparent patriarch of Bravo. During the episode, Anna Victoria Alcott (Emma Roberts) stops by his signature late-night show "Watch What Happens Live" to promote the independent film that elevated her from child star to potential Oscar contender, and Anna jokes that in order to get the part, she definitely killed someone. (More on that shortly.)
There's actually a long-standing link between Cohen and "American Horror Story" creator Ryan Murphy, which probably explains why, in the episode's narrative, Cohen's show marked Anna's official late-night debut. Murphy has appeared on "Watch What Happens Live" — the real version — and some of his cast members have as well, like Max Greenfield (who appeared in the season "Hotel"). Cohen also did a special celebrating Halloween at one point with the cast of "Freak Show," Murphy's circus-centric season, and Patti Lupone weighed in on "Delicate" before it started airing (namely, going after series regular Kim Kardashian for potentially "stealing" her role from another actor). Andy Cohen has always been peripherally a part of the "American Horror Story" universe, and now, it's official that he exists within that world.
Who did Anna say she killed on Watch What Happens Live?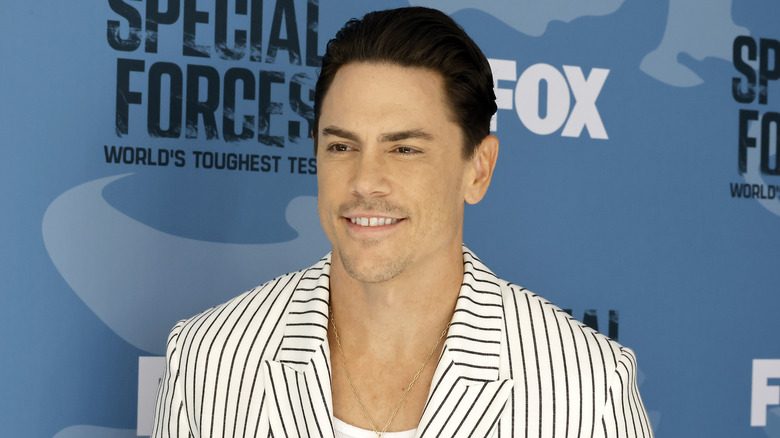 Kevin Winter/Getty Images
Perhaps the funniest — and most meta — part of Andy Cohen's cameo on "American Horror Story: Delicate" centers around deeply disgraced "Vanderpump Rules" star Tom Sandoval, the man behind the now-infamous "Scandoval" that rocked the Bravoverse in March of this year. During Cohen's interview with Roberts' Anna, he says that her role in the film "is so good it seems that any actress would kill for it." Anna fires back, saying, "You are absolutely right. And I did kill somebody for the part ... But I can't tell you who."
Cohen counters, "Well, that was gonna be my next question," and Anna responds, "I can give you a hint though: No one will miss him!" Without missing a beat, Cohen guesses, "Tom Sandoval?" The strangest part is probably Anna's next line, where she admits, "Aww, no! But I f**ked Tom Sandoval to get on this show!"
So why is Tom Sandoval the punchline here? Well, back in March, a bombshell dropped that Sandoval had been cheating on his girlfriend of nine years, Ariana Madix, with the couple's close friend Rachel Leviss — another cast member on "Vanderpump Rules." This sent the Bravoverse into what can only be described as a full-on tailspin, with Sandoval quickly becoming one of the most despised men in reality television history. (Madix, for her part, made a lovely profit after being cuckolded on national television.) The joke about Anna sleeping with Tom Sandoval was definitely odd, but it makes sense to throw him into a conversation about men that nobody will miss.