Chucky Season 3 Trailer Brings Murderous Mayhem To The White House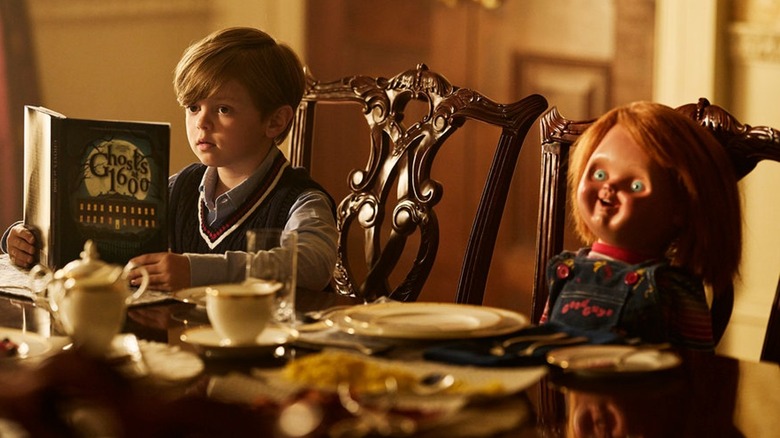 Syfy
After a couple short previews for "Chucky" Season 3 including a teaser trailer that premiered on August 31, Syfy released the first full-length trailer for the upcoming season of its "Chucky" TV series in mid-September. That previous teaser reintroduced Devon Sawa — who plays a new character and eventually dies every season — as James Collins, the president of the United States. His youngest son Henry (Callum Vinson) somehow gets ahold of Chucky (voiced by Brad Dourif), allowing the killer doll to infiltrate the White House.
Now, for the first time since "Chucky" Season 3 was confirmed, this latest trailer shows what protagonists Jake (Zackary Arthur), Devon (Björgvin Arnarson), and Lexy (Alyvia Alyn Lind) are up to. After admitting their feelings for one another in Season 1 before hitting a rough patch in Season 2, Jake and Devon are back together at the start of Season 3. Of course, their seemingly happy life is interrupted once they learn that Chucky is not only still alive but on a murder spree in the nation's capitol. It's Lexy who makes the call that the three of them will travel from their Hackensack, New Jersey home to Washington, D.C. to stop him.
Plenty of familiar faces are back for the new Chucky season
This new "Chucky" Season 3 trailer opens on President Collins' wife Charlotte (Lara Jean Chorostecki) assuring Henry that, even if he's scared, he'll adapt to their new White House home. He looks to Chucky, lying in his bed next to him, for support, before a somber cover of Kim Wilde's "Kids in America" kicks off.
Jake, Devon, and Lexy find out that Chucky's back and in the nation's highest office on a Facetime call, which spooks them despite the spotty White House wifi interrupting Chucky's grand reentrance. Then, Lexy turns to an unlikely ally in Tiffany — still played by and canonically possessing the body of Jennifer Tilly, now in prison following the after-credits scene that closes Season 2. Lexy is looking for her sister Caroline (Carina Battrick) with whom Chucky forms a close bond in Seasons 1 and 2. Caroline, meanwhile, is studying a copy of Voodoo for Dummies, which has been known to teach legitimate voodoo magic in the "Chucky" universe.
Near the trailer's end, the core trio of protagonists attends a Halloween party at the White House, each dressed as a Good Guy doll. Nica Pierce (Fiona Dourif) is perhaps the upcoming season's biggest wild card, appearing only for a moment during a closing montage opposite Caroline and Chucky on a busy metropolitan street. "Chucky" Season 3 premieres on October 4.