Why Was Doc Adams Replaced On Gunsmoke?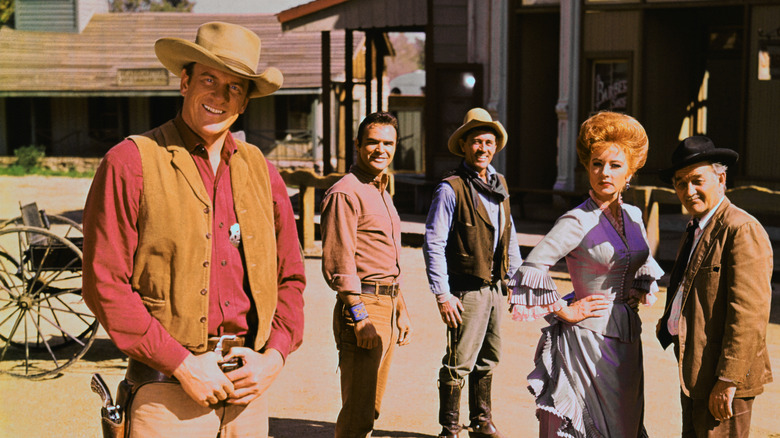 Bettmann/Getty Images
"Gunsmoke" was one of the longest-running TV shows in history, so it's no surprise that it came with a supersized cast. Airing on CBS from 1955 to 1975, the classic television western drama, set in Dodge City, Kansas, included James Arness as Marshal Matt Dillon, Amanda Blake as Miss Kitty Russell, and Milburn Stone as Dr. Galen Adams, as well as a large recurring cast of characters.
Seventeen seasons in, a key character was written off of "Gunsmoke" –- but just temporarily. In 1971, Stone's trusted Doc Adams got out of Dodge for a bit and was replaced by Pat Hingle as Dr. Chapman. The casting change came in the 1971 episode "New Doctor in Town," where it was explained that Doc Adams left town to seek additional medical training after a young girl died under his care. Enter the more standoffish Dr. Chapman, who stuck around for six episodes.
In reality, the doctor switch came because Stone needed to take time off from his "Gunsmoke" role to undergo heart bypass surgery (per SD News). Following recovery from his successful surgery at Alabama's UAD Hospital in March 1971, Stone returned to his role as Doc Adams, much to the joy of the residents of Dodge City. Stone ultimately appeared in a whopping 605 episodes of "Gunsmoke," and died five years after the series finale.
Milburn Stone molded Doc Adams into what he wanted him to be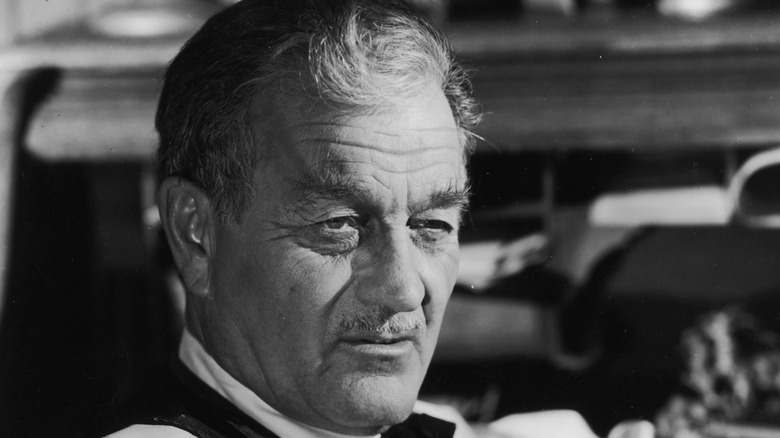 Hulton Archive/Getty Images
There would be no replacing Doc Adams in "Gunsmoke" fans' eyes. From the jump, Milburn Stone took control of the character that he would go on to play for 20 years. In an interview with Kansas State Historical Society, Stone revealed he butted heads with show creator Charles Marquis Warren during his screen test. After Warren questioned his attire, Stone told him, "Look, it's my test, and it's going to be my wardrobe. I know who I'm playing." Warren informed him he would be playing an Eastern doctor, and Stone fired back with, "'Not the Doc I see. I'm going to play what I see.'"
In a move well before its time, Stone also negotiated an iron-clad residual contract." "I wanted to be paid for every 'Gunsmoke' that ever showed, forever, no matter where," he said. CBS granted his terms because he was so perfect for the role. 
Stone even found himself doing medical research for the role. In a 1964 interview with The Asbury Park Press (per MeTV), Stone revealed he was alerted to a major medical mistake in an early "Gunsmoke" script. The actor became upset that the writers hadn't accurately researched and took matters into his own hands by studying medical textbooks. With real Doc knowledge under his belt, Stone then fixed any medical mistakes he found in subsequent "Gunsmoke" scripts.