The Good Place Renewed For Season 4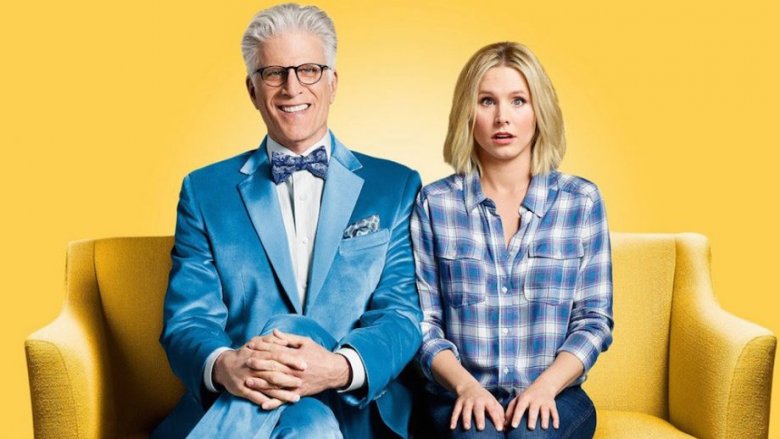 NBC
The Good Place is back for another round of mind-bending madness.
In a not-so-surprising move, NBC has picked up the critically adored series from creator Mike Schur for a fourth season, per Deadline. Although there was no word on the number of episodes ordered, previous seasons have clocked in at thirteen.
Debuting in 2016, The Good Place follows Eleanor (Kristen Bell) after her death, as she awakens in the afterlife. There, she encounters Michael (Ted Danson), the immortal builder of the titular place where they and a colorful cast of characters now live. But Eleanor, having not been a very good person in life, is convinced that she's been sent there by mistake — and a few of her new friends feel the same way, admitting that they too probably should've been shuffled off to the Bad Place. Are they right? Well, it's complicated. Without going into too much detail for the sake of the uninitiated, an insane first season finale revealed that their situation is not quite what it seems, and the series proceeded to get even crazier in season 2, which also ended with a re-shuffling of the deck, so to speak.
Since the current third season also seems to be building toward some paradigm-shifting weirdness, the renewal was expected by fans, of which there are a ton. Although ratings have dipped slightly this year, the series is still NBC's highest-rated comedy, and its numbers are even higher when streaming and DVR viewership are factored in, according to Deadline's report.
In a joint statement, NBC Entertainment's Co-Presidents of Scripted Programming, Lisa Katz and Tracey Pakosta, said, "Congratulations to Mike Schur and an exceptional cast and crew, all of whom collaborate to create a thoughtful, mind-bending and hysterical series unlike anything else on television. We can't wait to see what unexpected stories the new season will bring."
"Unexpected" is a pretty mild way to describe the curveballs Schur and company have thrown at their audience so far, and it's safe to say season 4 probably won't dial back on the crazy. If the show has flown under your radar, now is as good a time as any to catch up; the first two seasons are available on Netflix, and season 3 is winding up its run. The Good Place airs Thursday nights on NBC; Hulu has the latest episodes.