The Office Cast Reunites, Reigniting Talk Of Possible Reboot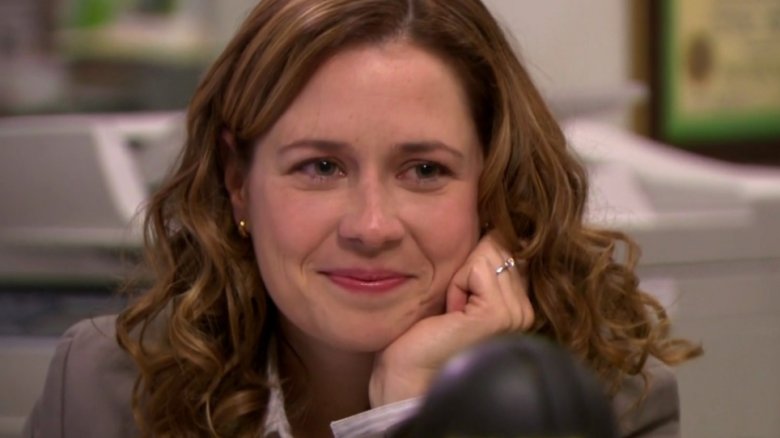 Alright, roll call for the Scranton, Pennsylvania branch of Dunder Mifflin Paper Company. Angela's here, Pam's here, Dwight's here — oh, and there's Andy and Phyllis and Kevin, too! The whole gang's accounted for! 
A few weeks after Steve Carell (better known as Michael Scott from The Office) teamed up with three of his Office co-stars on the Saturday Night Live stage, the crew got back together again offscreen for another mini reunion. 
Angela Kinsey (who portrayed Angela Martin on the beloved sitcom) shared a snap of her standing with The Office showrunner Greg Daniels, Jenna Fischer (Pam Halpert), Rainn Wilson (Dwight Schrute), Ed Helms (Andy Bernard), Phyllis Vance (Phyllis Smith), Brian Baumgartner (Kevin Malone), Creed Bratton (Creed Bratton), Paul Lieberstein (Toby Flenderson), Leslie David Baker (Stanley Hudson), and Oscar Nunez (Oscar Martinez) at Daniels' home. Carell was missing from the meet-up — as were Jim Halpert actor John Krasinski, Ryan Howard actor B. J. Novak, Meredith Palmer actress Kate Flannery, Kelly Kapoor actress Mindy Kaling, Darryl Philbin actor Craig Robinson, Erin Hannon actress Ellie Kemper, and a few other familiar faces — but the reunion was a warm and wonderful one. 
"Some of the old gang got together today... it was so great to see everyone! I turned to Ed and said, 'I feel like we are at a family reunion.' He smiled and said, "We are,'" Kinsey wrote in the caption of the photo tweet, adding a red heart emoji. "Thanks Greg for hosting! For those who couldn't make it... you were missed!"
Fischer posted another snap of the Office cast, one in which the stars attempted to recreate a Christmas photo from the show. The actress captioned the cute picture, "I had brunch with these oddballs today. Love you #officemates #theoffice," then added, "We were attempting to recreate this photo ... Happy Holidays! We missed you Steve, Ellie, John, BJ, Mindy, Craig, and Kate! We will see you soon!"
Naturally, these photos — and Fischer's "see you soon!" mention — have reignited speculation that a reboot of The Office is in the cards. NBC was reportedly tossing the idea around about a year ago, but nothing official has come of the rumored talks. For Carell's part, he's remained firm in his belief that a reboot of the quirky series probably won't happen. 
"No, actually, I don't think so," Carell said of the possibility of an Office revival during his SNL monologue. "It was a great experience, I love all those people but I just don't think it's the best idea. I think maybe we should just leave it alone ... I don't think it would be as good this time around."
Kemper chimed in from her seat in the audience, "People would really love to see an Office reboot. Especially me, 'cause I really need that money. Let's get that money, Steve!" Carell responded, "I'm sorry Ellie, I just don't think it's a good idea," to which Kemper joked, "You're a jerk."
Then Helms added that Carell simply doesn't "understand how much money we're talking about," and that if he signed on for an Office reboot, Carell "wouldn't have to do all those sad movies" — a reference to Beautiful Boy and Welcome to Marwen. 
"Why don't we just have a party instead? We can all catch up, get together, no cameras, just friends," Carell suggested. Helms then laughed, "Oh, we already do that. We just don't invite you."
The Office fans won't know for sure whether the Dunder Mifflin squad will ever join forces again for more episodes until NBC makes an official announcement. Until then, they can remember one thing Michael Scott so profoundly said: "Don't ever, for any reason, do anything for anyone, for any reason, ever, no matter what. No matter where. Or who, or who you are with, or where you are going or... or where you've been... ever. For any reason, whatsoever."