Whatever Happened To Kevin From The Office?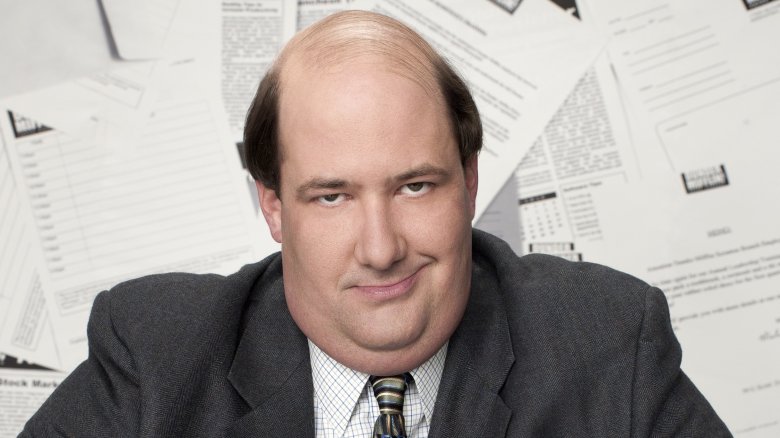 NBC
For nine seasons, Brian Baumgartner was an integral member of the stellar comedic ensemble of the American version of "The Office" as Kevin Malone, one of the three hard-working accountants in the Scranton branch of the Dunder Mifflin paper company — and generally regarded as pretty much the dumbest guy in the office. Kevin was known for his inappropriate jokes, ravenous appetite, and general ability to say the precise wrong thing at any given time about any given situation.
As opposed to some other former "Office" cast members who on to topline movies and TV shows — like John Krasinski, Ellie Kemper, Mindy Kaling, and Steve Carell — Baumgartner has kept a lower profile since "The Office" went off the air, continuing to work in film and TV. Here's a look at what TV's Kevin has been up to both onscreen and off since "The Office" finished up in 2013.
His big post-Office series fell through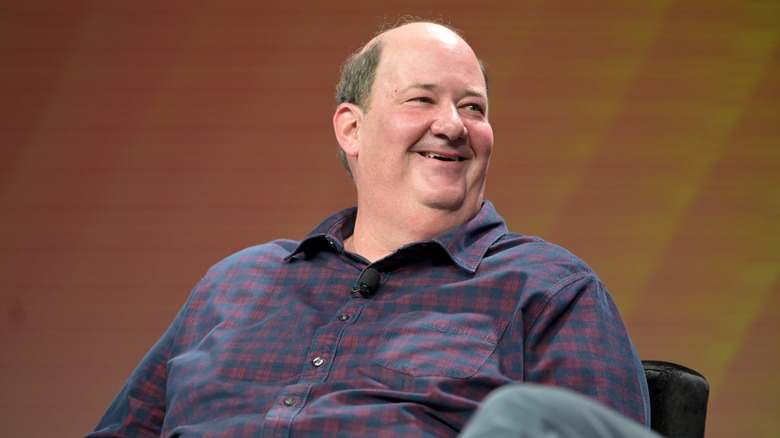 Nicola Gell/Getty Images
In the middle of the final season of "The Office," Brian Baumgartner already had an eye toward what he'd be working on next: it was reported that he'd be starring in a new comedy series for ABC. Like "The Office," it would have been a single-camera comedy set in the workplace. Baumgartner was set to play an airline middle manager named Norman who's bound and determined not to feel like a loser anymore. 
The pilot episode was produced by "Office" executive producer Greg Daniels and written by late "Parks and Recreation" writer Harris Wittels. Unfortunately for Baumgartner, ABC pulled the plug on the series before a pilot was shot, reportedly because executives weren't happy with multiple drafts of Wittels' script. Perhaps not surprisingly, it didn't seem like Daniels and Baumgartner would be able to recreate the magic of "The Office" a second time around.
He was in another pilot that didn't get picked up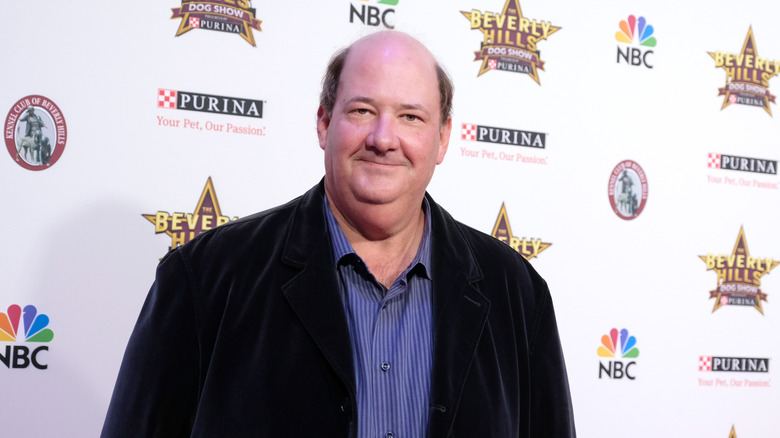 Sarah Morris/Getty Images
Brian Baumgartner moved from one disappointing pilot process into another in 2014, when he landed a role in "Maker Shack Agency." Produced by Amazon to air on its Prime Video streaming service — back in the days before streaming really exploded in the public marketplace — the potential tween series was about a group of kids with a knack for inventing who build stuff to get their classmates out of jams. Baumgartner was cast as the principal of the school the kids attended, which might have been a stretch from his earlier work on "The Office."
Amazon placed the pilot online for viewing by the general public — the service's way of testing out new programming content at the time — but when the streaming net announced its next round of shows, "Maker Shack Agency" didn't make the cut. (At least this time, Baumgartner got to actually film his scenes.)
He's done lots of TV guest-star work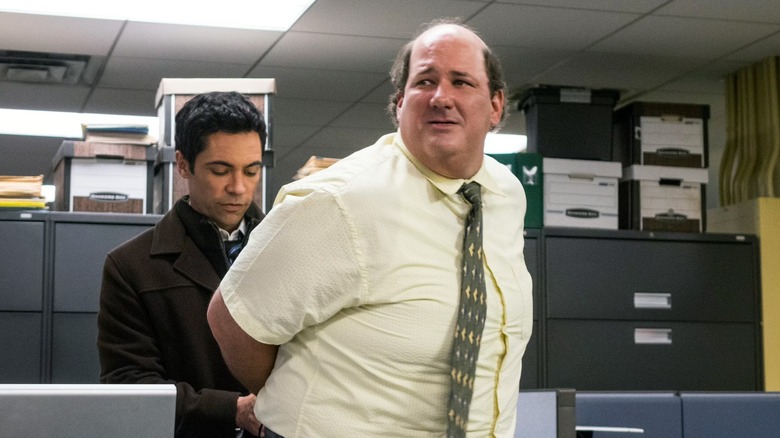 NBC
Baumgartner was a work-a-day character actor before he landed the cushy regular role as accountant Kevin Malone on "The Office," which he held from 2005 to 2013. Since the series ended, he's returned to being an actor of the small-screen "hey, it's that guy" variety. But Baumgartner works a lot.
Since 2013, he's landed about two dozen guest roles, spanning an episode or two, on a wide variety of network, cable, and streaming shows. Among his many guest bits and recurring appearances are stints on both dramas and comedies, including "Mike and Molly," "Criminal Minds," "Law and Order: Special Victims Unit," "The Bridge," "Hot in Cleveland," "Scream Queens," "Blunt Talk," "Chicago Fire," "Hand of God," "Melissa and Joey," "Sneakerheads," "Life in Pieces," "Good Behavior," and "The Goldbergs." He's also lent his voice to kids-oriented projects like "Trash Truck" and "Summer Camp Island."
He's had a number of small parts in indie movies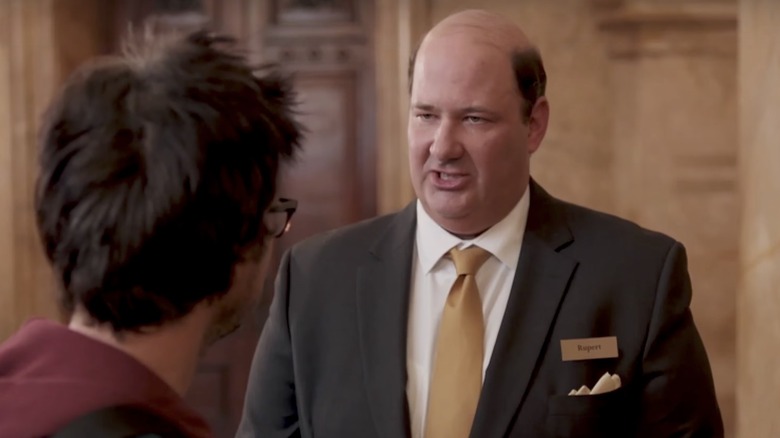 Universal Pictures
The man once and probably forever known as Kevin Malone has popped up in several small films after "The Office" shut down production in 2013. Brian Baumgartner was among the cast of comic actors and musicians in "Ordinary World," a comedy about an aging punk rocker dad starring Billie Joe Armstrong of Green Day as well as Fred Armisen, Selma Blair, and Judy Greer. Baumgartner played a hotel employee in the movie, which was written and directed by Lee Kirk — who's married to Baumgartner's former "The Office" co-star, Jenna Fischer. Baumgartner also acted in the chef comedy "Diagnosis Delicious" and played Escott, the obnoxious villain (receiving third billing on the poster) in the 2018 romantic comedy "One Last Night." 
Baumgartner was the lead — even seeing his name above the title — for the 2020 streaming comedy "Electric Jesus," portraying the cheesy and sleazy manager of a 1980s hair metal band. Baumgartner's last movie role to date came in the 2021 Paramount+ animated monster wrestling movie "Rumble," where he voiced a creature named Klonk.
He's a family man now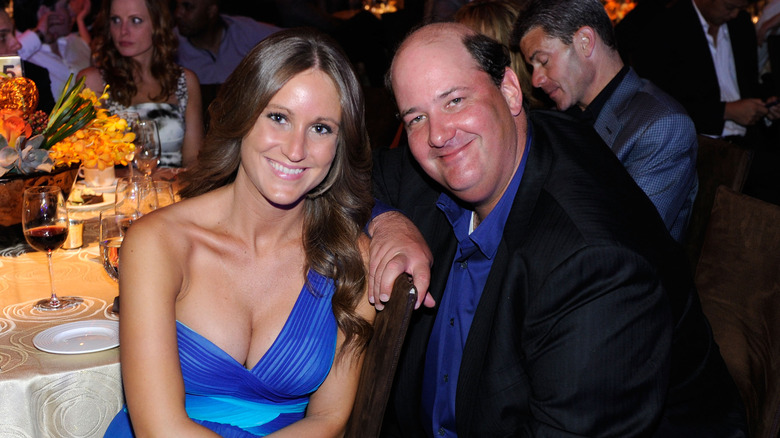 Getty Images
With the rigorous shooting schedule of a network sitcom behind him, Baumgartner has had more time to focus on his personal life. In April 2014, he tied the knot with his longtime partner, Celeste Ackelson. The wedding went down in the backyard of Baumgartner's Los Angeles home, and also served as a mini-"Office" reunion a year after the show wrapped, with Jenna Fischer (Pam), John Krasinski (Jim), Oscar Nunez (Oscar), and Angela Kinsey (Angela) in attendance. 
About a year later, Baumgartner and Ackelson welcomed a baby girl named Brylee Bea. Baumgartner joked on Instagram that his daughter "looks forward to catching up on all the old episodes of 'The Office' once her eyes adjust to life." We can only hope that her dad has been by her side to guide her through some of Kevin Malone's more, shall we say, cringeworthy moments on the show.
He spends a lot of time golfing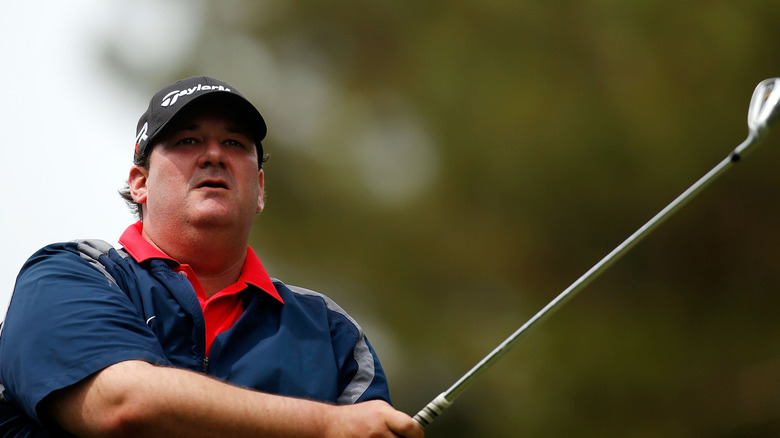 Isaac Brekken/Getty Images
Before he settled into a screen acting career, Brian Baumgartner worked primarily in theater — and that's when he got really into golf, as a way to decompress while traveling around and performing a grueling eight-shows-a-week schedule. Baumgartner told The Daily Beast, "There's no opportunity to get outside and be in the world, and I was trying to find something where I could be in theater and I could get outside, and golf was perfect." 
Now he's a regular on the celebrity golf tournament circuit, duffing it up in the Drew Brees Celebrity Championship and the American Century Championship. But he adds, "To the weekend warriors, the once-a-week guys, I'm really good, but when I go play in these celebrity tournaments with these athletes and retired guys, I'm not really good." In 2007, Golf Digest ranked Baumgartner at #49 on its list of "Hollywood's Top 100 Golfers" with a handicap of 13, although the actor reported a few years later on Twitter that he'd gotten it down to 9.2.
He's a pretty good poker player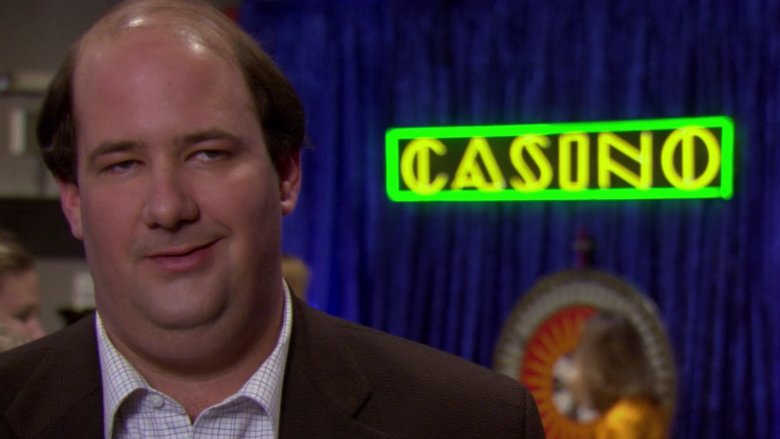 NBC
"Casino Night," the second-season finale of "The Office," revealed a surprising truth about Kevin Malone: He was an extremely skilled poker player who won the "2002 World Series of Poker $2,500 No-Limit 2-7 Draw Tournament" in Las Vegas. "One of the things that the show wanted to do with the characters was to develop their backgrounds," Baumgartner told Poker News in 2013. "As we kept going we wanted to be able to find out more about these characters ... There were a few things about Kevin, the fact that he won a World Series of Poker bracelet was one."
While Baumgartner isn't a poker champion like his character, he is an avid player, often anteing up for celebrity and charity tournaments. "I play quite a bit, actually," Baumgartner revealed. "I do mostly charity stuff. I did one and won a seat at the World Series of Poker. Unfortunately, or fortunately I guess, because of work I had to give it up."
He's produced sports content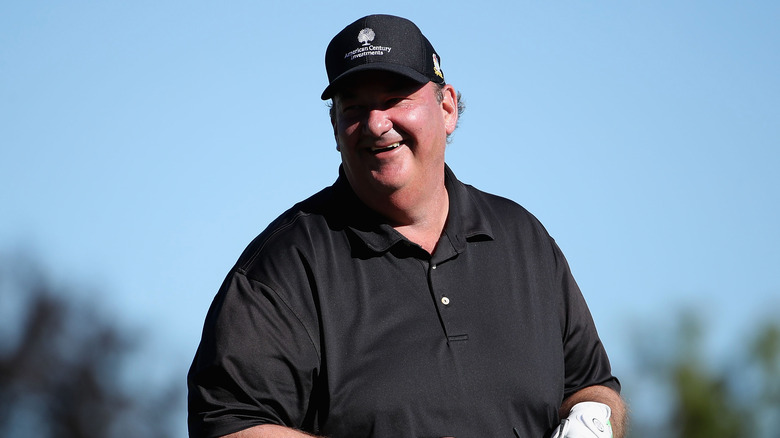 Christian Petersen/Getty Images
Not only is Baumgartner a veteran of the entertainment industry, but  he is a big sports fan. At one point in the early 2010s, he combined the two and started his own company, 3 Bees Entertainment (which refers to the three Bs in his full name — Brian Bruce Baumgartner), with the goal of making sports-themed productions. The company's website describes it as "a production company that serves as the nexus between the entertainment industry looking to partner with athletes and members of the sports community who aim to expand their brand into TV and film."
Among the company's projects are an NBC Sports feature called "Golf Therapy: Life," "Lessons and the Pursuit of Par," and a scripted comedy called "Turtle Racing." 3 Bees has also made branded videos for Golf Digest, although the company does not seem to be an active concern at this time.
Brian Baumgartner wrote a chili cookbook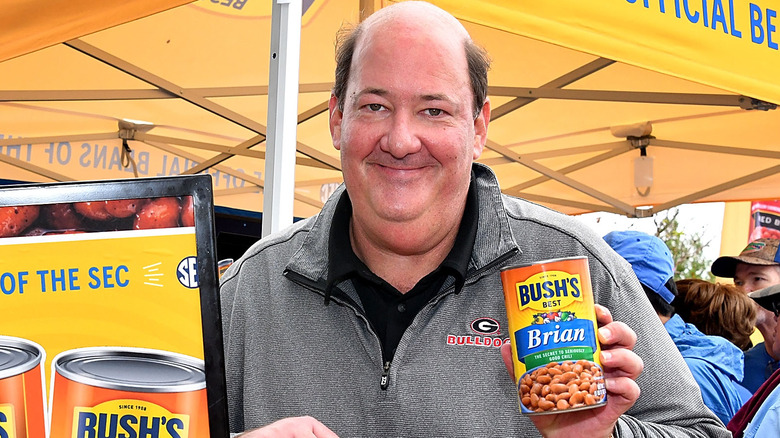 Gerardo Mora/Getty Images
In the cold open of a Season 5 episode of "The Office," Brian Baumgartner is largely responsible for one of the show's most memorable sight gags. His character proudly brings in a massive pot of his "famous chili" for his coworkers. "It's a recipe passed down from Malones for generations. It's probably the best thing I do," Baumgartner-as-Kevin says before dropping the chili everywhere and desperately trying to salvage it.
That memory of that chili looms large with both NBC's corporate family and Baumgartner. A TikTok user discovered that the full recipe for "Kevin's Famous Chili" was embedded deep in the Peacock streaming service user agreement. That lauded list of ingredients and steps also figures into "Seriously Good Chili Cookbook," published in 2022 by Baumgartner and FoxChapel Press. Baumgartner didn't devise the 177 globe-spanning chili recipes in the book (apart from his own personal one), but he did collect them and write about them, along with chapters on the history of the dish, and a discussion about the inspirational chili scene from "The Office."
He's huge on Cameo
Brian Baumgartner hasn't been as active on TV or in movies as some of his co-stars from "The Office," like Steve Carell, John Krasinski, or Mindy Kaling. But Baumgartner is a certified superstar on Cameo, the smartphone app through which customers can request a personalized video of a celebrity be sent to a loved one as a gift. Of all of the thousands of big names across many major fields, Baumgartner made more money than anyone in 2020 — charging $195 per video and banking $1 million in the process.
"There's a comedy that I'm known for, which is helpful, but really what happened during this time is that people wanted to make a connection," Baumgartner told the Hollywood Reporter about the video-making, which works out to the actor churning out around 14 every day. As of 2023, Baumgartner is still among the top Cameo draws, and he still charges less than $200 for a 24-hour turnaround.
Brian Baumgartner makes a lot of podcasts
"The Office" stopped producing new episodes in 2013, but the series remains so beloved — with constant reruns on streaming services — that recapping, analyzing, and demystifying the show has emerged as its own subgenre of online content. One of the chief purveyors of fan-friendly after-the-fact "Office" material is "An Oral History of 'The Office,'" a Spotify-exclusive podcast miniseries produced and hosted by Brian Baumgartner. On this exhaustive and intricate 12-part look back at his most famous work, Baumgartner guides listeners and special guests (like "Office" writers, crew members, and co-stars) through every aspect of the show, from casting to filming to behind-the-scenes drama to cultural impact.
Just months after "An Oral History of The Office'" wrapped up in 2020, Baumgartner started another podcast about his successful sitcom. "The Office Deep Dive with Brian Baumgartner" took a more intimate and personalized approach to the show, with more than 60 episodes consisting of one-on-one, uncut interviews with "Office" stars, supporting players, writers, and crew members.
Following the end of "The Office Deep Dive," Baumgartner kept on podcasting. Adopting the format of his previous show, he started the ongoing interview podcast "Off the Beat," interviewing actors and getting them to tell behind-the-scenes stories about their most treasured work experiences on movies and TV shows.