Daredevil Showrunner Opens Up About Series' Cancellation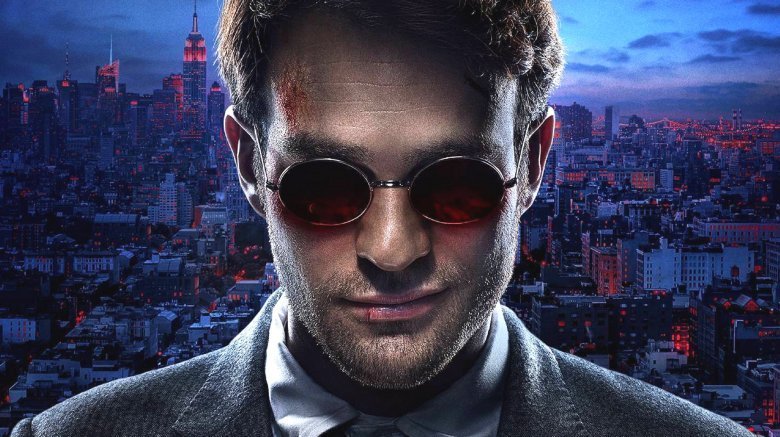 For Erik Oleson, working on the third season of Daredevil was "magical." Hearing the news that Netflix gave the series the ax shortly after that season premiered? Less so — but it hasn't gotten Oleson totally down in the dumps.
Following Daredevil's cancellation, which took fans and members of the media alike by complete surprise in late November, the Daredevil season 3 showrunner took to Twitter to open up about the situation and reflect on the time he spent crafting what turned out to be the show's final 13 episodes. Though Daredevil is no longer, Oleson counts himself lucky to have helped bring the superhero series to life.
"Sometimes a gig is just a paycheck. When we're lucky, it's so much more. There was something magical about working on #Daredevil Season 3. We all felt it," wrote Oleson in the first post in a string of tweets. "It was a dream to show up for work. To write for and collaborate with Charlie [Cox, who plays Daredevil] and Vincent [D'Onofrio, who plays Kingpin], Deb [Deborah Ann Woll, who portrays Karen Page] and Elden [Henson, who portrays Foggy Nelson], Wilson [Bethel, who plays Bullseye] and Jay [Ali, who portrays Ray Nadeem] and Joanne [Whalley, who plays Sister Maggie] and the rest of our insanely talented cast... It was just plain fun to break stories and draft scripts alongside writers who learned from and supported each other, who made me a better writer and became like family."
He continued, "And don't even get me started about our crew. Who taught me so much and made filming the impossible look easy. Who captured the quietest of character moments with the same expertise as they did epic 12 minute, one-shot stunt sequences... Not to leave out the tireless Post team and passionate editors, the genius sound design team, patient VFX team who spent weeks laboring over single frames, and amazing composer and music team. Seriously — I'm still pinching myself that I got to be a part of this."
Oleson thanked several people at Marvel — namely Marvel Television executive vice president Jeph Loeb — and others at Netflix, then turned his attention to Daredevil enthusiasts: "And to all the #Daredevil fans who have made running this show the most fun experience of my career. Thank you. Thank you. Thank you!"
Daredevil stars Deborah Ann Woll and Vincent D'Onofrio also commented on the show's cancellation, each posting emotional messages to their Twitter accounts. 
"I'm so sad that we won't be continuing this story. Mostly I'll miss seeing the friends I've made everyday," Woll tweeted. "Thank you to every person who contributed to this series over the years. And to @erikoleson because of you we are going out on a high. @Daredevil #Daredevil."
D'Onofrio shared on his Twitter, "@Daredevil @netflix canceled. Yet Daredevil is still out there blood stained high up poised in the moonlight. Movement below him on the street. A flash of white moving through the sea of darkness Hell's Kitchen. This image folds into a black suburban screeching into the night."
It's wonderful knowing that Oleson is keeping a positive attitude about the grim situation, both because no one wants to see anyone involved with the show devastated over the loss of the series and because countless fans have their fingers crossed that Daredevil isn't completely dead. In the company's official statement announcing Daredevil's cancellation, Netflix affirmed that "the Daredevil character will live on in future projects for Marvel." Whether this means lead actor Charlie Cox will reprise his role as Matt Murdock for a different Daredevil series — perhaps one that will launch on Disney's new streaming service, Disney+, as many have pondered — is still a mystery, but at least it's a bit of hope to hold onto. 
With Netflix having pulled the plug on Daredevil after cancelling Iron Fist and Luke Cage, all that's left in the Marvel-Netflix series catalogue are Jessica Jones and The Punisher. Hopefully the pair can live to see their next seasons on the streamer.