Blue Beetle Movie In The Works With Writer Gareth Dunnet-Alcocer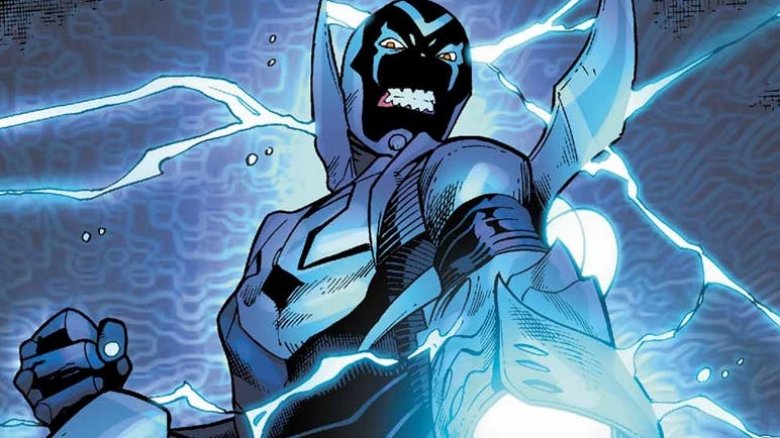 DC Comics
He's the Blue Beetle — and the thing about those Blue Beetles, they don't need no stinking powers. 
Still, Warner Bros. and DC Films have a ton of interest in the Blue Beetle, as the companies have just announced plans for a film all about him. 
TheWrap confirmed on Thursday that a Blue Beetle movie is indeed in the works, and that Warner Bros. and DC Films have tapped Scarface remake and Miss Bala scribe Gareth Dunnet-Alcocer to pen the script.
While there have been a number of versions of the Blue Beetle — from the original hero Dan Garret, who initially obtained his powers from a vitamin before it was explained that a mystical scarab granted him special abilities, to the second iteration known as Ted Kord, who used his skills in science rather than any super powers to take down bad guys — the forthcoming film will center on the Jaime Reyes version. 
Keith Giffen, John Rogers, and Cully Hamner created the third iteration of Blue Beetle for DC Comics in the mid-2000s. Jaime made his print debut in the February 2006 issue Infinite Crisis #3, and has since gone on to strike up a friendship with Ted Kord's old pal Booster Gold and become a member of the Teen Titans. A teenager from El Paso, Texas, Jaime takes on the Blue Beetle mantle when he stumbles upon a scarab super-charged with alien technology — the same type of scarab that imbued Dan Garret with his abilities. The scarab bonds with Jaime's spine, gifting him with enhanced speed and strength as well as the ability to don the Blue Beetle battle suit, travel through the skies, and fight crime whenever someone is in trouble. 
The Blue Beetle movie joins a slew of in-the-works projects housed at Warner Bros. and DC Films, and though one could easily assume that the film would get lost in that swirling sea of cinematic ventures, Blue Beetle actually stands out for a big reason: it will mark the first live-action superhero solo movie featuring a Latino lead. The DCEU has featured Latino characters before — like El Diablo (Jay Hernandez) in Suicide Squad — and plans to include more — namely Renee Montoya (Rosie Perez) in the upcoming Birds of Prey (And the Fantabulous Emancipation of One Harley Quinn) – but this would be the first instance in which a Latino has been the starring character in the DC film universe. 
It will definitely be a while before Blue Beetle gets behind cameras (it doesn't even have a director on board as of this writing), but hype for it should be high by the time it does — so long as it doesn't wind up getting, gasp, trapped in development hell.