November 2018 Trailers That'll Get You Excited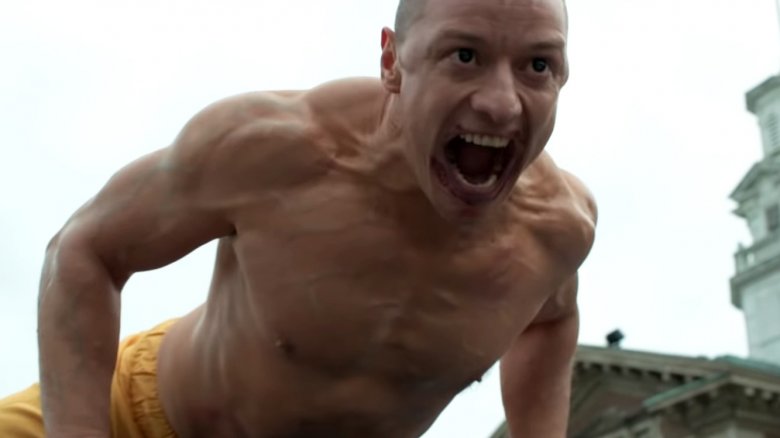 From undersea battles to crime-solving Pokemon, November was filled with exciting glimpses of upcoming movies. Now that the holiday box office season is in full swing, most of the new trailers are for films slated for release in early 2019, such as Alita: Battle Angel and the hotly anticipated Glass.
But not all the November trailers looked so far into the future. Aquaman and Mortal Engines both had final trailers with just weeks to go before their widespread releases, and we even got a surprise visit from Deadpool himself, promoting his family-friendly version of Deadpool 2. Beyond that, November also brought a few first looks as far into the future as far as summer 2019, with teasers for Toy Story 4, The Lion King, and Detective Pikachu, to name a few.
And that's just the start of the mayhem. Here are the November 2018 trailers that showcased some of the best-looking upcoming movies.
Once Upon a Deadpool — December 12
Will the merc with a filthy mouth still bring enough of his trademark charm in a PG-13 film? That's the experiment 20th Century Fox is running this December by releasing a cleaned-up version of Deadpool 2 to theaters. As our hero is more than happy to point out, Deadpool hasn't historically made the best PG-13 character, but at least this time he'll still have a mouth by the end of the film.
Between all the takes Deadpool 2's actors clearly performed and the fact that you can't tell what Ryan Reynolds' mouth is doing under that mask, it can't be too hard to dub in some more family-friendly jokes. Once Upon a Deadpool will also apparently feature some entirely new scenes featuring Fred Savage back in his role as the little kid in bed from The Princess Bride. Hopefully the new movie will feature the same framework, with Wade telling the story of Deadpool 2 to a kidnapped Savage just like Peter Falk read Princess Bride's tale to his grandson. Find out when Once Upon a Deadpool hits theaters on December 12.
Mortal Engines — December 14
Peter Jackson is a director who knows a thing or two about big, epic films, and few stories fit that description better than Mortal Engines. Although he won't be directing, Jackson is producing and co-writing this dystopian story about massive rolling cities that eat other cities.
In the movie, Icelandic actress Hera Hilmar stars as Hester Shaw, a mysterious woman who's hellbent on stopping the giant predator city of London. She'll have to face off against Thaddeus Valentine, who's being portrayed by Hugo Weaving.
While we've had plenty of glimpses of Mortal Engines in the past months, November saw an extended look trailer that focuses more on the crazy world of the film. Sky cities, ocean cities, and aerial battles fill the trailer, teasing a lot more to the film than a large-scale version of Battlebots. Take a look when Mortal Engines premieres on December 14.
Aquaman — December 21
Just when everyone thought the DCEU had nothing new to offer, along comes Aquaman, the last hero anyone expected to save anything. After becoming the surprise star of Justice League in 2017, Jason Momoa is back in the role in a standalone movie that'll see him fighting to save Atlantis from his half-brother Orm and taking on a swarm of deep-sea monsters called the Trench. Oh, and Black Manta is in there, too. Visually at least, the film is staying remarkably faithful to its comic book origins.
Warner Bros. is heavily marketing the new superhero adventure, with three full-length trailers along with a five-minute extended look at the film. Clearly, they have a lot of faith in it, and all signs point to an outrageously fun big-screen adventure for DC fans. James Wan of The Conjuring and Saw fame is directing, and you can take the dive when Aquaman arrives on December 21.
Replicas — January 11, 2019
Keanu Reeves headlines this sci-fi thriller as a scientist who finds himself in dire straits after he clones his dead family. Apparently, he broke some rules while he did it, because now the government's gunning for him and his loved ones. What's a simple scientist to do but fight back to save those closest to him — again?
If we're being completely honest, Replicas has B-movie written all over it, but that shouldn't stop it from being a whole bunch of fun. It's also been a long time coming — it was announced in 2014 and began production in 2016, marking a nearly five-year journey to the big screen. Hopefully, it was worth the wait.
Alice Eve, Thomas Middleditch, and John Ortiz costar, and Replicas hits theaters on January 11, 2019.
Glass — January 18, 2019
M. Night Shyamalan's Glass is building some crazy hype, with each new trailer revealing a little more of the epic clash between Bruce Willis' David Dunn and the dastardly duo of Samuel L. Jackson's Glass and James McAvoy's Kevin Crumb. November's short, minute-long TV spot highlights Crumb's "Beast" persona with more scenes from some kind of battle against the police, which presumably happens right after he breaks out of the psychiatric hospital where he's being held prisoner. Whatever the circumstances are, it doesn't look like it ends well for the cops. We also get a few clips of Crumb going head to head with Dunn in a few different locations, promising multiple showdowns between the two superhumans.
Of course, being an M. Night Shyamalan film, we don't doubt that Glass is going to feature plenty of twists that aren't being touched on in the trailers. Tellingly, none of them show what Mr. Glass is up to during all of this. That's all the more reason to check it out when Glass breaks into theaters on January 18, 2019.
Serenity — January 25, 2019
Serenity has equal potential to be either a harrowing, mind-bending thriller or a whole bunch of crap. It's hard to tell at this point. Matthew McConaughey stars as the captain of a fishing boat enjoying the quiet island life in the tropics. He's reunited with his Interstellar costar Anne Hathaway, a battered wife who comes to him asking him to kill her husband.
From that launching point, the trailer dives into a world of paranoia and backstabbing, with hints that there's a bigger plot line at work behind the scenes. All of this could lead up to a bang, or it could fizzle out. Again, it's kind of hard to tell.
Fortunately, there's plenty of talent behind the scenes. Serenity was written and directed by Steven Knight, who previously put out 2013's Locke, starring Tom Hardy, and wrote the screenplay for David Cronenberg's Eastern Promises. Look for Serenity to drop into theaters on January 25, 2019.
Alita: Battle Angel — February 14, 2019
Hollywood's history with manga and anime adaptations is littered with misfires, but Alita: Battle Angel could still be the one that breaks the mold. Well, maybe. Right now, there are two camps when it comes to the upcoming film. On one side, people seem to be having a little trouble dealing with the decision to make Alita's eyes big and anime-like. On the other side, you have people who are genuinely excited to see the beloved manga come to the big screen. Ultimately, it'll come down to how well the film handles the story. Sure, some of the CGI looks a little goofy, and Alita's relationship with the boy in the trailers smells a lot like high school melodrama.
But fingers crossed that none of that will drag the film down. With both Robert Rodriguez and James Cameron working behind the scenes to bring Alita to life, there's still a chance this could be one of the surprise hits of 2019. Find out when it lands on February 14.
Captive State — March 2019
The future just got a lot more interesting with the release of the second teaser for Captive State. Wait, did we say interesting? We meant terrifying. Like the first teaser, this one showcases a world in turmoil as humanity tries to win back its freedom from a ruling class of extraterrestrials. Taking place almost 10 years after the initial invasion — in 2027, based on one of the shots through a security camera — Captive State is a unique blend of political themes and science fiction that's bound to offer some interesting ideas.
Rise of the Planet of the Apes director Rupert Wyatt is helming and co-writing the film, with Ashton Sanders, John Goodman, and Vera Farmiga starring. Hopefully the intervening months will give us a few more trailers for this film that show off more of the story, but either way, we can all check it out in March 2019.
Detective Pikachu — May 10, 2019
Every few years, Pokemon reemerges as an all-new global phenomenon. In 1998, everyone dropped their Game Boy Colors to stand in line for Pokemon: The First Movie. In 2016, Pokemon Go made sure you couldn't step outside your door without accidentally catching a Pidgey. And in 2019, Ryan Reynolds is set to star in Detective Pikachu as the title character. It just never ends.
The story sees Pikachu teaming up with a young man named Tim Goodman to find Goodman's father, a detective who went missing. Since Goodman is apparently the only human who can understand what Pikachu is actually saying, they have to work together to navigate the magical world of adorable Pokemon critters to solve the case. It should be a lot of fun, and you can look for Detective Pikachu in theaters on May 10, 2019.
Toy Story 4 — June 21, 2019
It's been eight years since Toy Story 3 left Buzz, Woody, and everyone else in the care of little Bonnie while Andy left for college. It was an ending that was both heartbreaking and heartwarming, and it made the perfect close to the relationship between Andy and the lovable gang of toys.
Until now.
Disney/Pixar is coming back into our lives in 2019 with Toy Story 4, which will follow the toys on a new adventure that promises to be just as touching as the preceding three films. Rumors suggest that the story will revolve around Woody searching for Bo Peep, and some promotional images suggest that will take them to a carnival. More importantly, the main voice cast is returning, with Tom Hanks and Tim Allen voicing Woody and Buzz, respectively. Tom Hanks has remarked that the ending of Toy Story 4 is particularly emotional and went so far as to call it "a moment in history."
In other words, theaters might want to give out free tissues with the tickets when Toy Story 4 arrives in June 2019.
The Lion King — July 19, 2019
After months of anticipation, Disney finally released the first trailer for their upcoming live-action remake of The Lion King — and it kind of looks exactly like the original film. The teaser mostly focuses on the opening scene from the 1994 version, showing baby Simba on Pride Rock as Rafiki anoints his head with red baboon juice — or in this case, dust. Most of the shots are near-perfect recreations of the beloved childhood classic, which, to be honest, is more likely a nostalgia play to rope in the older generation than a concrete indication that the entire film will be a pixel-by-pixel remake.
Another shot the trailer shows is a sweeping view of a herd of wildebeests stampeding into a gorge, timed to coincide with Mufasa's voice over saying, "The sun will set on my time here." That's clearly some not-so-subtle foreshadowing that the 2019 movie will probably recreate the scene that made our six-year-old selves realize that life was a meaningless void and God had abandoned us. You know the one.
Look for The Lion King in July 2019.