Live-Action Cowboy Bebop Series Is A Go At Netflix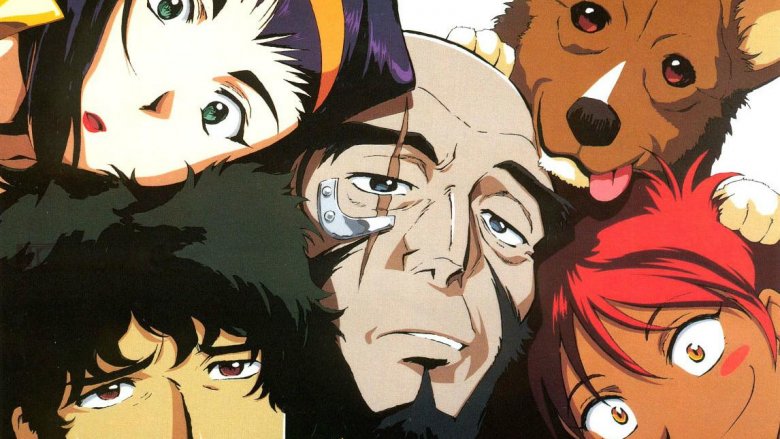 You see, space cowboy, Cowboy Bebop is getting the live-action treatment — and at Netflix, no less. 
Variety confirmed on Tuesday, November 26 that the streaming giant has officially ordered a live-action adaptation of the famed 1998 anime series Cowboy Bebop, which hailed from animation studio Sunrise, director Shinichirō Watanabe, writer Keiko Nobumoto, mechanical designer Kimitoshi Yamane, character designer Toshihiro Kawamoto, and composer Yoko Kanno. 
Netflix has been working on the project since June of 2017, when the company teamed with Tomorrow Studios to start mapping out the adaptation, but just now committed to 10 full episodes. Thor: Ragnarok and Max Steel scribe Chris Yost will pen the premiere episode of Netflix's Cowboy Bebop, with Lost and Helix writer Javier Grillo-Marxuach offering his scripting talents to the project as well. 
Described as "jazz-inspired" and "genre-bending," the live-action Cowboy Bebop follows the bounty-hunter foursome Spike Spiegel, the cavalier yet compassionate Martian; Jet Black, the ex-cop who often foils Spike's big plans; Faye Valentine, the powerful, cigarette-smoking sort-of femme fatale who has secrets and tricks up her sleeve; and Radical Ed (real name: Edward Wong Hau Pepelu Tivrusky IV), the free-spirited and androgynous young girl who likes to walk on her hands, create silly rhymes, and provide comic relief in more serious situations. Together, the crew ventures across the solar system in the fishing trawler-turned-spaceship Bebop in search of the universe's most dangerous criminals. 
The original Cowboy Bebop ran for only 26 episodes, but its short life on the small screen didn't stop it from becoming one of the most critically beloved and commercially successful anime series in recent memory. After the show aired its final episode on June 26, 1998 (in its original TV Tokyo Broadcast run), Cowboy Bebop inspired a manga series of the same name, an anime film entitled Cowboy Bebop: The Movie that debuted in Japan in 2001 and the U.S. in 2003, and the Japan-exclusive video game Cowboy Bebop: Tsuioku no Serenade. Prior to the series' conclusion, the manga Cowboy Bebop: Shooting Star was serialized in Asuka Fantasy DX, and Bandai Namco released a Cowboy Bebop game for the original PlayStation console. 
Fans of Cowboy Bebop should find comfort in learning that original director Watanabe is on board the live-action project, set to serve as a consultant. A handful of bigwigs from studio Sunrise are also attached; Yasuo Miyakawa, Masayuki Ozaki, and Shin Sasaki will help executive-produce Netflix's Cowboy Bebop alongside several other creatives. 
News that a live-action Cowboy Bebop is coming to Netflix soon follows hot off the heels of two big anime-centric announcements the streamer made recently. Earlier this month, Netflix revealed that it's working on anime series based on the Guillermo del Toro-directed sci-fi monster film Pacific Rim and its own live-action cyberpunk series Altered Carbon. The streaming site also confirmed in September that it had put into development a live-action take on the animated series Avatar: The Last Airbender. 
Responses to Netflix adapting Cowboy Bebop into a live-action series have been, well, mixed at best. 
Forbes' Ollie Barber argued that the project has bad news written all over it given Netflix's historical inability to do right by source material the company has translated in the past. "Getting a series like this wrong will be just painful to watch and after the likes of Dragon Ball Evolution and the live-action Ghost in the Shell, I am just depressed that Cowboy Bebop will now be next," Barber wrote, adding that he feels having Watanabe involved as a consultant "isn't enough" since the entire creative team needs to be on board in order for the adaptation to work. 
Plenty others agree with Barber's assessment of the situation, particularly the fan who believes that "any remake of Cowboy Bebop is automatically invalidated, irrelevant, and objectively bad" if original composer Kanno "isn't involved in the soundtrack," and the one who questioned whether the announcement was a delayed April Fools joke.
On the flip side, some Cowboy Bebop faithfuls, though still worried about what the end product will be, remain hopeful that Netflix can create something wonderful and treat the original series with respect. 
"I'm really worried about this for obvious reasons but I've got high hopes all the same. This is my favorite series and I hope they do it justice," one fan wrote on Twitter. Another added in response to Netflix's announcement tweet, "I have feelings...Hopeful but concerned. I hope y'all find a way to pull this off. If you do it'll be out of this world. Otherwise...there could be so much drama/hate, because internet. Cowboy Bebop is my favorite sci-fi show, so please do your best!" 
At the end of the day, Netflix's live-action interpretation of Cowboy Bebop could go one of two ways: it might be better than anyone predicted it would be, surpassing all expectations and converting cynics who said it would fail, or it might end up crashing and burning in a manner similar to that of the streamer's majorly loathed Death Note movie. Since Netflix hasn't revealed when the live-action series will be available to stream (we're anticipating several months to a year at the least), it'll be quite a while before we learn the outcome.