Aquaman: Julie Andrews Has A Surprise Role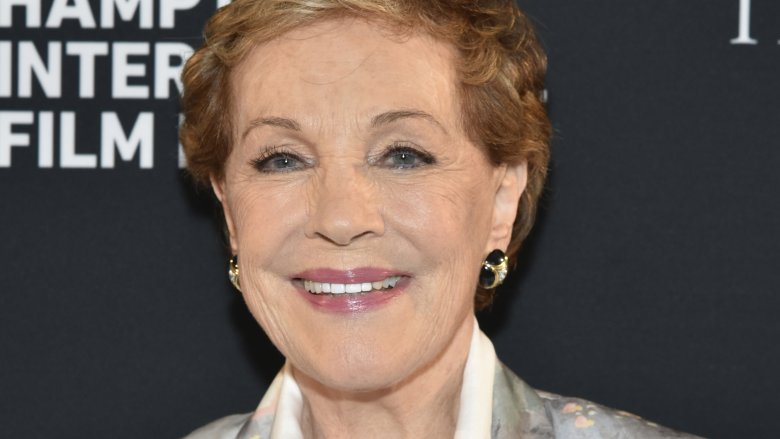 Getty Images
Well, this explains why she isn't in the new Mary Poppins movie. 
Over the weekend, Entertainment Weekly revealed that Julie Andrews has a surprise role in Aquaman. 
Andrews — the Oscar-winning actress who has graced screens big and small, capturing hearts with her iconic roles as the magical nanny Mary Poppins, Maria von Trapp in The Sound of Music, and countless more — won't physically appear in the James Wan-directed film, but she will lend her voice to an important character: the mythic aquatic creature Karathen, the entity who "holds the key to Arthur Curry's quest to unite the Atlantean and surface worlds."
While someone like Andrews — a prolific talent who has received dozens of accolades from Grammys to Golden Globes to a Screen Actors Guild Lifetime Achievement Award, earned legend status with the Walt Disney Company, and became a literal Dame in 2000 — play a part in a superhero movie that has been promised to be over-the-top in just about every way imaginable seems a bold decision given her refined aura and her unmistakable voice, there's actually a reason why she was chosen for the role.
Aquaman producer Peter Safran explained that the film's creative team specifically wanted "the Karathen to have the voice of a classic British actress, albeit somewhat digitally altered." Andrews actually expressed interest in the part, and the rest was history. "When we found out Julie was interested and available and excited to do it, casting her was a no-brainer," he said. 
Andrews' involvement in Aquaman is quite exciting — and even evokes the memory of fellow famous Brit Benedict Cumberbatch voicing Smaug in The Hobbit. But it's also pretty ironic considering when the Jason Momoa-starring movie will debut in theaters. While Aquaman launches on December 21, the Mary Poppins sequel Mary Poppins Returns will open two days earlier, on December 19. Andrews won't appear in the follow-up film, which sees Emily Blunt step into the title role, and made that call reportedly because she didn't want to take attention away from Blunt. According to Mary Poppins Returns director Rob Marshall, Andrews supports the film "one thousand percent," absolutely adores Blunt, and feels that she is the "the perfect person to carry the torch" (via Entertainment Weekly).
"Julie was incredibly gracious, and we talked about it in a very general way but she made it clear right up front," Marshall shared in June 2017. "She said, 'This is Emily's show, and I really want it to be Emily's show. I don't want it to be, "Oh, here comes that Mary Poppins." I don't want that. I really want her to take this and run with it, because she will be brilliant.'"
Speaking of the fact that the Andrew-less Mary Poppins Returns will go up against the Andrew-featuring Aquaman, Safran joked, "Who knew that Aquaman would have the real Mary Poppins this Christmas?"
Aquaman will mark yet another film to which Andrews has offered her voice. Over the last few years, she has voiced Queen Lillian in Shrek 2, Shrek the Third, and Shrek Forever After; the Narrator in Enchanted; and Marlena in Despicable Me and Despicable Me 3. Andrews' last physical film appearance came in 2010, when she portrayed Lily in the Dwayne Johnson-topped fantasy comedy movie Tooth Fairy. Prior to that, she starred as Queen Clarisse Renaldi in The Princess Diaries 2: Royal Engagement. 
Also starring Amber Heard as Mera, Patrick Wilson as King Orm, Nicole Kidman as Queen Atlanna, Yahya Abdul-Mateen II as Black Manta, and Willem Dafoe as Vulko, Aquaman will swim into cinemas on December 21.