Hulu Developing Two Shows Based On George R.R. Martin's Wild Cards Book Series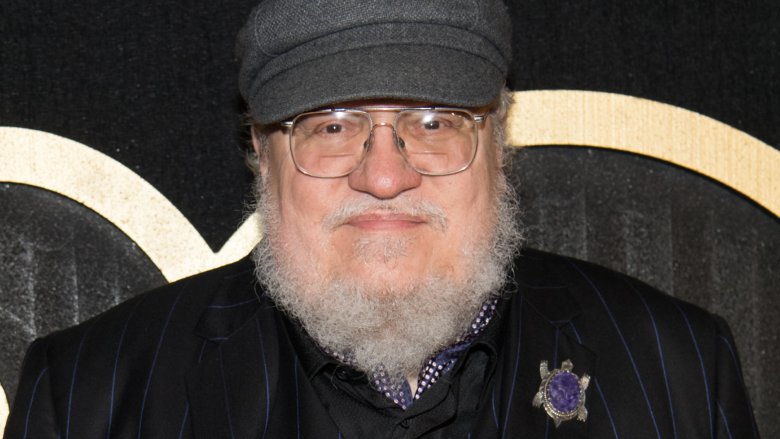 Getty Images
George R.R. Martin is headed to Hulu. 
As detailed by Variety, Hulu is developing "multiple shows" based on the Wild Cards book series, edited by Martin and co-edited by The Imperials Saga author Melinda M. Snodgrass. Martin got the idea for the Wild Cards collection from serving as a gamemaster when playing the superhero-themed role-playing game Superworld.
The outlet cites several sources that have confirmed Hulu is gathering a writers room for two television series that take place in the shared world of Wild Cards, which mostly takes place in an alternate United States following World War II and centers around humans who contracted the alien "Wild Card" virus that altered their DNA. Ninety percent of the people who were infected with the virus died, but those who survived were left with horrific deformities and were thereafter referred to as "Jokers." But not everyone was so unlucky, as a small subset of surviving humans acquired "god-like" superhuman powers and earned the collective moniker "Aces." (See where the Wild Cards series gets its name?)
Since the Wild Card virus can remain dormant for years before a "traumatic event" awakens it, humans ride a fine line between a "normal" life and a life as a Joker or an Ace. Once those who aren't killed by the virus are turned, they're "vulnerable to reverence or ridicule on a deeply personal level," as the effects of Wild Card hinge on the contents and contexts of the victim's psyche and emotional make-up. But that will all change soon. After experiencing years of worship and oppression, exploitation and ostracization, the Wild Card virus victims will rise up in efforts to take their lives into their own hands and "define their own future."
Released in 1987, the Wild Cards books are comprised of sci-fi superhero anthologies, short stories, solo novels, and one-off chapters written by more than 40 authors — including Martin, of course, who has contributed to several volumes over the years. The two most recent volumes, Low Chicago and Texas Hold 'Em, launched this year as Book II of The American Triad and Book III of The American Triad, respectively. Next year, the series will release its 27th volume, Knaves Over Queens. 
Both Hulu and Universal Cable Productions are attached to produce the Wild Cards projects. Andrew Miller, who directed Syfy's Tremors reboot pilot (which didn't end up moving to series), will write and executive produce the forthcoming shows. Naturally, Martin and Snodgrass are set as executive producers, as is Emmy Award-winning Game of Thrones producer Vince Gerardis.   
The pair of Wild Cards series mark yet another big commitment for Martin, who already has his hands full executive-producing Nightflyers, scheduled to debut on Syfy on December 2, and the Game of Thrones prequel series cooking up at HBO. Not only that, but Martin is also gearing up for the final season of Game of Thrones, which will premiere on HBO in April 2019, and is trying to finish the sixth novel in his A Song of Ice and Fire novel series, The Winds of Winter. Martin recently revealed that he's been "struggling with it for a few years," and one can't help but wonder if taking on more responsibilities in the television world will make his writing job even harder.
Hopefully work on the Wild Cards series will at least come after Game of Thrones debuts its very last episode next year, clearing but one item off Martin's ever-full plate and allowing him the time and freedom he needs to focus on the exciting projects. 
We'll have more details on the Wild Cards shows as Hulu announces them.