Deadwood Movie Begins Shooting With Original Cast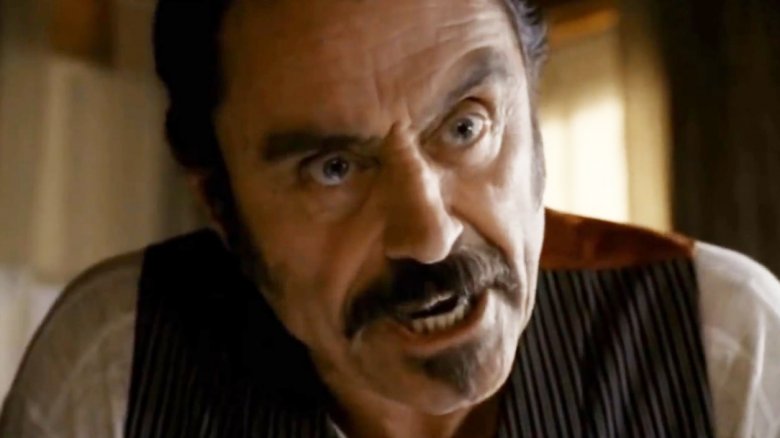 Deadwood is no longer dead in the water.
Deadline reports that 12 years after the conclusion of the acclaimed HBO series, a two-hour film continuing the story is finally before the cameras, with no fewer than a dozen original cast members returning. 
Around this time last year, we reported that HBO was finally looking to begin production on the long-awaited feature, with creator and writer David Milch having finished a script. At that time, it appeared that the logistical difficulties of reuniting the series' giant ensemble cast would mean that it might be a long time — perhaps years — before the project would come to fruition. Apparently, those stars took less time to align than anyone thought possible.
Per HBO, the film will take place a decade after the events of the series, which ran for 36 episodes between 2004 and 2006. Returning cast members include Ian McShane, Timothy Olyphant, Dayton Callie, Brad Dourif, Paula Malcolmson, Molly Parker, John Hawkes, William Sanderson, Kim Dickins, Anna Gunn, and Gerald McRaney. Also joining the cast is Jade Pettyjohn (Destroyer), who will portray a new character by the name of Caroline.
Veteran prestige TV director David Minahan has been tapped to direct the film. Minahan most recently helmed three episodes of American Crime Story: The Assassination of Gianni Versace, and has also worked on such critically lauded series as House of Cards, Game of Thrones, and True Blood.
This is truly exciting news for fans of HBO's gritty Western drama, who have been holding out hope for a feature ever since the series ended. In fact, fans did more than hope; in the wake of the cancellation, they put together a massive campaign to save the series, even taking out a full-page ad in Variety threatening to blackball the network unless it saw fit to give them more Deadwood. Tentative plans to produce a pair of feature films in lieu of a fourth season never materialized, but rumors of a Deadwood movie have popped up frequently ever since the series bit the dust.
But now, it appears fans' wishes are finally coming true — and against great odds. As late as March of this year, co-lead actor Olyphant opined that despite HBO being into the idea of a Deadwood feature, it was unlikely to ever happen giving the difficulty of getting the entire band back together. And, he didn't mince words: asked for an update on the project by Entertainment Weekly, Olyphant stated flatly, "There's no f**king way it will ever happen."
Fortunately, Olyphant is nowhere near as awesome a prophet as he is an actor. Despite HBO president Casey Bloys' admission that the project has been a "logistical nightmare," all systems are finally go. It's the kind of minor miracle that fans of great television drama receive all too infrequently. We may never know exactly what happened to Tony Soprano or even Walter White, but over a decade later, we're getting a return trip to the gritty, violent, and profane town of Deadwood — proving that every once in a while, good things really do come to those who wait.
The Deadwood flick is expected to premiere on HBO sometime in spring 2019.