Bohemian Rhapsody Scores $122.5 Million Box Office Opening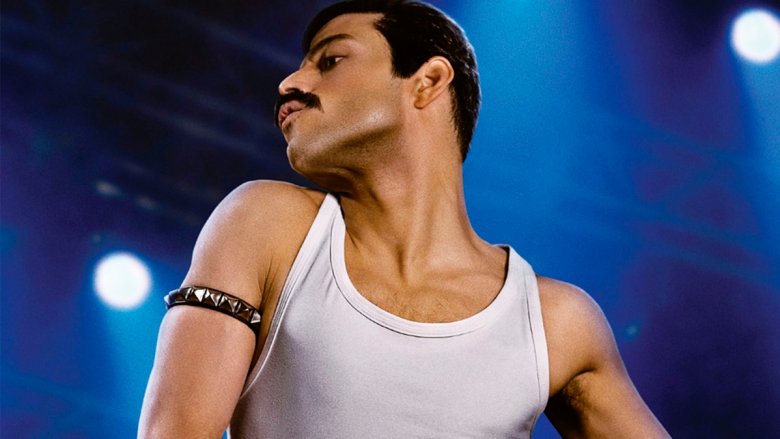 Bohemian Rhapsody rocking the box office this past weekend? It's the real life, not just fantasy. 
The Rami Malek-starring biopic, which chronicles legendary British rock band Queen's rise to fame and pays particular attention to its frontman Freddie Mercury, earned a cool $122.5 million worldwide when it opened on Friday, November 2. 
Variety details the figure as being comprised of a $50 million domestic yield and a $72.5 million international take-home across the film's first three days out. As of Monday, November 5, Bohemian Rhapsody has earned $141.7 million across the globe. 
A worldwide pull of this amount means that Bohemian Rhapsody has already recouped the cost of production — a reported $52 million — and yielded $89.7 million in actual revenue. It also blows expectations out of the water, as industry analysts had predicted the film to earn between $35 million and $40 million domestically upon opening. With a $50 million stateside weekend, Bohemian Rhapsody reigned supreme — and its competitors didn't even come close to earning as much as the Bryan Singer-directed flick did. 
Disney's The Nutcracker and the Four Realms, a reimagining of E. T. A. Hoffmann's "The Nutcracker and the Mouse King" and Marius Petipa's The Nutcracker that debuted the same day as Bohemian Rhapsody, came in second place at the weekend box office, managing $20 million. Tyler Perry's R-rated comedy Nobody's Fool also launched on November 2, but only earned $14 million across domestic theaters. Rounding out the top 10 movies from Friday, November 2 to Sunday, November 4 were A Star Is Born ($11.1 million), Halloween ($11 million), Venom ($7.9 million), Smallfoot ($3.8 million), Goosebumps 2: Haunted Halloween ($3.7 million), Hunter Killer ($3.5 million), and The Hate U Give ($3.4 million).
While Bohemian Rhapsody was a killer queen in terms of the revenue it took in over the weekend, it hasn't seen the same sweeping success with audiences — some of whom thoroughly enjoyed all that the film had to offer, and others who were left with a sour taste in their mouth. A handful of critics have published brutal reviews of the film, calling it everything from "a baroque blend of gibberish, mysticism, and melodrama" to "squawky, sexless, and shallow" to a movie that punishes Mercury "27 years after his death." The majority of viewers who don't analyze and interpret films for a living seem to have liked the film (95 percent of registered users on Rotten Tomatoes gave the film a positive score after seeing it), and the fact that it has already made nearly double its budget proves that Bohemian Rhapsody isn't all bad in the eyes of every moviegoer — and that it will likely continue on this path of financial gain. 
After the drama that went on behind the scenes – production shutting down, Singer getting fired due to his "unreliability" and "unprofessionalism," 20th Century Fox hiring Dexter Fletcher to take Singer's place, and actors briefly quitting the movie altogether – Bohemian Rhapsody at least deserves to score some cold, hard cash to cushion all the mid-filming blows.